Rena Lovelis of Hey Violet Talks About The Band's Hit "Guys My Age," Their New Single "Hoodie," And Their Songwriting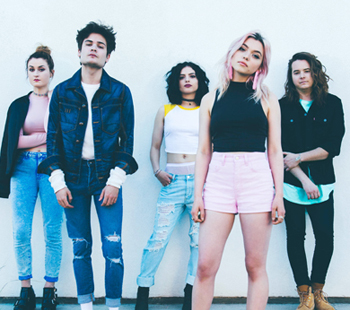 During the past year, Los Angeles-based band Hey Violet has emerged as a cutting-edge pop/rock/electronic group that is definitely on the rise. Led by lead singer Rena Lovelis, the young, five-member band has had a pop hit with their provocative song, "Guys My Age," and in June (2017) they released their excellent debut album, From the Outside. The band is signed to 5 Seconds of Summer's label, Hi or Hey Records, in conjunction with Capitol Records.
Hey Violet uniquely combines a punk-rock attitude with a fresh, modern pop/electronic sound. With the help of hit producer/writer Julian Bunetta (who is known for his work with One Direction), the band has created a debut album that is influenced by classic groups like Blondie and the Go-Go's, but has a very modern style and approach a la Lorde and Charli XCX.
The band's new single, "Hoodie," could be a breakthrough song for them. It not only has a hooky title, but it presents a heartfelt lyric story combined with high energy production. The band has just released a visually-compelling video which spotlights Lovelis.
SPECIAL FEATURE: STREAMING AUDIO

Here's an excerpt of our interview with Rena Lovelis of Hey Violet, who tells how she co-wrote the band's hit song, "Guys My Age."
Hey Violet consists of five members: Rena Lovelis (lead vocals), her sister Nia Lovelis (drums), Miranda Miller (keyboards), Casey Moneta (lead guitar) and Iain Shipp (bass). All five members contribute to the songwriting.
Three of the band members—Rena Lovelis, Nia Lovelis & Miranda Miller—were young teenagers when they played in a rock band called Cherri Bomb. The trio eventually decided to form a new band, Hey Violet, and they added Moneta and Shipp.
Since signing with 5 Seconds of Summer's label, Hey Violet has toured extensively with the group, opening for them in 2015 & 2016. More recently, they've also toured as headliners. As for their recordings, Hey Violet released two EPs, I Can Feel It (in 2015) and Brand New Moves (2016), plus their 2017 album, From the Outside.
We are pleased to do this new Q&A interview with Rena Lovelis of Hey Violet. She tells how the band got started, how they signed with 5 Seconds of Summer, and she discusses the band's songwriting.
DK: Three of the members of Hey Violet started out in a band called Cherri Bomb. Can you talk about your early days with this band?
Rena Lovelis: I really think of the band as two separate entities (first Cherri Bomb, and then Hey Violet). Going back to Cherri Bomb, I'd say a lot of the early days consisted of rehearsals at our home studio in California, and you know…just being so young, it was a learning experience for us. We had four girls in that band including myself, and eventually we broke it off with one of the other girls, because she wanted to go in a different direction. We weren't really agreeing on things musically and stylistically, and so we decided that it would be best if we parted ways with her.

Here's the video of Hey Violet's single, "Hoodie."
We then got a new member, Casey (Moreta), and that was when Hey Violet was formed. We're really the founding members of Hey Violet, and then we finally got a bass player (Iain Shipp) so that I could focus on singing. And that's our current lineup.
DK: Hey Violet is signed to the band 5 Seconds of Summer's label through Capitol Records, and you've toured with the band. How did you hook up with 5 Seconds of Summer?
Lovelis: Well, we knew somebody who was working with them, and this person reached out to us and said, "Hey, 5 Seconds of Summer are looking for a band that they kind of want to take under their wing and take on tour." And we said, "Yeah, we're absolutely open to that—that sounds amazing." So the group eventually came over to our house, watched us play a few songs, and they were totally into it. And I just remember that we immediately clicked and got along really well. Then we went on tour with them for about two years—we went with them on their Rock Out With Your Socks Out Tour (2015) and Sounds Live Feels Live Tour (2016). And we're just really grateful to be around other musicians who respected us as much as we did them.
DK: I like your hit song "Guys My Age," which helped the band reach a higher level. How did you come up with this title and write this song?
Lovelis: It was an experience that I was going through at the time, that made me feel like, you know, a lot of younger guys don't have the maturity level that an older person might. But it's really about maturity level…it's about being able to carry yourself in a way that shows that you're a mature person. Whether you're a man, woman, child…it's really about mental age.
I remember that Nia (Lovelis) and I wrote the song when we were in Palm Springs. We were at a writing camp, and there were a bunch of writers involved. We were all sitting in this living room throwing out ideas until like 2 or 3 in the morning. It was so fun. There was definitely a feeling that I had about the song, that there was something special about it.
DK: On your album, I like that your music tracks are really fresh and modern, and the production is excellent. Was it a conscious decision by you and the band to go with a new, electronic sound rather than a raw punk sound?
Lovelis: Yeah, it was definitely a switch for us. You can hear [the transition] from our first EP, I Can Feel It, to our second EP (Brand New Moves) and ultimately to the new album. You can hear the switch sonically as well as lyrically. I feel like we definitely delved into some more emotional capabilities that we have, that we really touched upon, because we just wanted to go in that direction. We felt there was even more that we could do and experiment with, and that really opened us up to a whole new world of what we could do musically. So yeah, it was a very conscious decision to try out this different pop style and more modern sound. But it definitely came naturally with the music that we wanted to write, and the lyrics that we were writing with it. It just kind of brought itself out.

Here's the video of Hey Violet's hit single, "Guys My Age."
DK: In a recent interview, I read that you and your sister Nia would often go to writing sessions together, rather than the whole group. Is that true?
Lovelis: When we started to do writing sessions, four of us—me, Miranda (Miller), Casey and Nia—would all go to the session, but it just wasn't working, only because there were so many people in the room. It would be the four of us, plus the people that we were collaborating with. So it just got to be a lot. It wasn't that we didn't write good songs—it just took a lot to get there because there were so many opinions. So we decided that it would probably be me plus one other person in the band going to the writing session. This time around, Nia and I went in a lot. But it really was anybody in the band that wanted to come in, anybody who felt like writing that day. We all write—Casey's really good at music, Miranda's really good at lyrics and music, and Nia's really good at melody and lyrics. And I think all of those things put together can make a great song, and getting the different perspectives on each song really helps. For instance, when two of us would go into a session, we would come back and get [the other band members'] feedback, and see how we can make the song better. So it's really a collaborative effort.
DK: Would you say that each of the band members write pretty equally? Or do you see it evolving, where you might do more of the writing in the future?
Lovelis: I was probably more involved in the writing process this time, and I think that that comes from having more of a cohesive story line throughout the album. What's so amazing about this band, is that there's no struggle about who needs to write more and who needs to do this or that. It's really like, "Hey we know Rena's probably gonna write more because she's the lead in the band, and everyone's okay with that and completely backs it." And otherwise, it's me, Miranda, Nia and Casey [doing the writing]…that's how it was for this album.
DK: I like your new single, "Hoodie," and the new video is excellent too. Can you tell me about this song?
Lovelis: "Hoodie" is one of my favorite songs on the album. Basically, it's about when you break up with somebody, you have to hang on to something that's sentimental, that means something and reminds you of them, i.e. a hoodie (laughs). We've just been playing that song non-stop. And I'm really excited about the video for "Hoodie." This video is visually completely different from our other music videos so far—it's not nearly as stylized. It's almost like an indie film and it's very moody, and I'm just so into it. So I'm very excited for everyone to see it.