Hank Williams Jr. Talks About His Album It's About Time, And Writing His Classic Songs "All My Rowdy Friends Are Coming Over Tonight" And "A Country Boy Can Survive"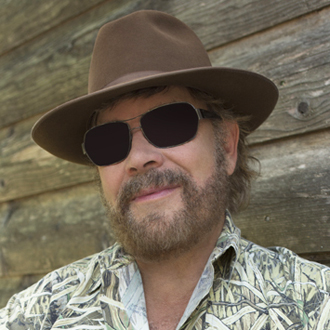 Country music icon Hank Williams, Jr. has enjoyed a remarkable career for close to half a century. The legendary performer has won the country music Entertainer of the Year award several times and reached beyond the country world when he became the singing voice of Monday Night Football. Reworking his number one hit, "All My Rowdy Friends Are Coming Over Tonight" into a pre-game theme song, Williams became the first ever country singer to win an Emmy award, which he won four straight times for "All My Rowdy Friends Are Here On Monday Night."
Nicknamed "Bocephus," by his legendary father Hank Williams, the singer/songwriter has 13 #1 albums to his credit and 10 #1 singles starting with the 1970 chart-topper, "All For the Love of Sunshine," and continuing with Hank Jr. classics like "Born to Boogie," "All My Rowdy Friends Have Settled Down," "Texas Women," "Dixie on My Mind," Honky Tonkin'," "Mind Your Own Business," and "Ain't Misbehavin'.' Two near misses—"A Country Boy Can Survive" and "Young Country"—landed at number two but became successful signature songs for Williams. In 2008, Williams was honored as a BMI Icon for his "unique and indelible influence on generations of music makers."
From 1979 through 1992, all 17 of Hank Jr's albums went either gold or platinum. He added to his precious metals collection again at the Country Music Festival in Nashville this June, when he was awarded with a gold plaque for more than 500,000 sales of the single, "Family Tradition," and a platinum plaque for more than a million sales of "A Country Boy Can Survive." Williams remains an in-demand touring artist, consistently selling out large venues. Earlier his year, he released his 37th studio album, It's About Time.
We are pleased to present this new interview with Hank Williams, Jr. He talks about the story behind his classic hits "A Country Boy Can Survive" and "All My Rowdy Friends," his history with Monday Night Football, and how the songwriting process works for him.
BC:  Congratulations on your recent gold and platinum plaques. What does it mean to you to know that you're still going strong in the music business after all this time? Why do you think you've had such a strong staying power when many don't have that sort of longevity?
Williams: Well, you know the business has changed so much and as my daughter, Holly, told me "nobody is buying albums anymore," so I guess when I got the plaques for selling a gold single and platinum single, it reminded me of the days when we would release singles and the record company would sell 45's. I guess it's like old times, but with a quicker way for people to get music. At the same time, I shouldn't complain about how they get it or they got it as long as they paid for it. Knowing that those songs went gold and platinum means that the fans are still buying my music and certain songs still resonate with the newer generation of fans.
BC:  You released your 37th studio album It's About Time (on Nash Icon Records) in January. Are you pleased with the way the album came out?

Here's the video of Hank Williams Jr.'s single "Are You Ready For
The Country?" featuring Eric Church.
Williams: Hell yes, I am. This record was an easy one to make. When my manager, Ken Levitan, told me that Scott Borchetta wanted to sign me to Nash Icon, it really made me get into that creative space that I hadn't been in for a long while. Scott is the man behind Taylor Swift, Florida Georgia Line, Justin Moore and so many others, so you can only imagine how thrilled it made me to think I was going to be on a label that was happening. Scott allowed me to make the record that I wanted, and it debuted at #2 on the Billboard chart, so of course, I think the record came out perfectly!
BC:  Tell us about your latest single, "Are You Ready for the Country" (written by Neil Young)?
Williams: Julian (Raymond), the producer helped find some of the songs that I didn't write. On "Are You Ready for the Country?" I was joined by Eric Church, someone that I took on tour several years ago and we became friends. I have taken him out metal detecting to find Civil War relics, so when we asked him to be on the record, he easily agreed.
BC:  All your shows have sold out. Do you still get as excited to get on the stage as ever before?
Williams: I only do about 25 shows a year. I am a lucky man. I get to perform when I want, for whom I want and where I want. I have some of the most loyal hardcore fans in the business. I do shows the way I want to do them, whether I am performing several instruments in a fast-paced rocking sound or whether I am doing an acoustic set.
BC:  You've had a slew of top songs that you've written. How does the songwriting process work for you, and how does inspiration strike you?
Williams: Songs come to you from all different places. Some while I am sitting in a deer stand, others while I am watching TV or just driving in the car. One never knows when a good idea will just come to you.
BC:  Which comes first—melodies or lyrics?
Williams: Every song is different. Sometimes the lyrics come to mind, and then we put the music bed behind it. Then other times, I get a rhythm in my head, and I start to put words to it.  So it varies.
BC:  Do you ever enjoy co-writing, or do you prefer to write by yourself?
Williams: I don't do co-writing. I write when I want to and when the inspiration comes to me.

Here's the video of Hank Williams Jr.'s classic song, "All My Rowdy
Friends Are Coming Over Tonight," which became the theme song
for Monday Night Football for 22 years.
BC: "All My Rowdy Friends Are Coming Over Tonight" is one of your huge hits. What's the story behind that song?
Williams: Well, that was a decade after the Montana/Idaho fall that nearly killed me. I was looking for a new image and new song since I was always compared to daddy, and no matter where I performed people wanted me to sing daddy's songs.  I started writing new material and was defining my own image. Family Tradition really started that new era for me and then in '81 I released "All My Rowdy Friends Have Settled Down," which became a #1 hit, and then I started to think about all my buddies that were still rocking and having fun. I changed up the song some, and "All My Rowdy Friends Are Coming Over Tonight" was born. Then out of the blue the head of ABC called Merle Kilgore, my late manager, and asked if they could use that song for the opening of Monday Night Football, and a one year deal turned into a 22-year thing.
BC: How did "A Country Boy Can Survive" develop?
Williams: It was a song for the times that has resonated with the fans and still to this day is a fan favorite. It was the way of life. It was the way I grew up. It was something that just came to me.
BC:   How have you seen the music business change over the last several years?
Williams: Music goes in cycles, some years pop is a big thing, other years country is a big thing. So you have to go with the flow, or you will not stay relevant. The business, as a whole, had changed since I started. When I put out my first album, it was released as an actual 78 vinyl with 45s sent out as singles. Then, we went to 8-tracks to cassettes to CDs to now downloads. Times have changed for sure!
Bill Conger is a freelance writer for various publications including Bluegrass Unlimited, ParentLife, Homecoming, and Singing News and is currently writing a biography on The Osborne Brothers with Bobby Osborne. He can be reached at [email protected].He is also on Google+