Country Singer Gretchen Wilson Talks Her Hit Album All Jacked Up, Her Hit "All Jacked Up," And Writing Her Songs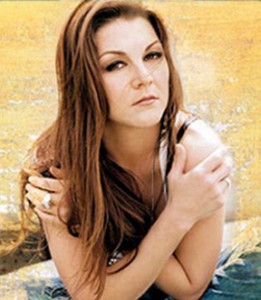 Country star Gretchen Wilson's career is rolling along in fine form this spring (2006). Her latest album All Jacked Up is approaching double platinum and has spawned three hit singles: 'All Jacked Up,' 'I Don't Feel Like Loving You Today' and 'Politically Uncorrect." Currently, Wilson is headlining shows across the U.S. with her Redneck Revolution Tour, and she has concerts booked through the end of this year. In addition, she has just announced that she is writing a book, Gretchen Wilson: I'll Tell You What A Redneck Woman Is, which will be released by Warner Books in November.
Wilson has also been the recipient of many awards over the past 18 months, most recently from the Country Music Association (Female Vocalist of the Year), Grammy Awards (Best Country Female Vocal Performance for 'Redneck Woman') American Music Awards (Favorite Female Artist) and Academy of Country Music (2005 Top Female Vocalist).
Her album All Jacked Up, which was released last September (2005), has proven to be a strong follow-up to her breakthrough, debut CD Here For the Party. In an interview, Wilson took time out to talk in-depth about the songs on All Jacked Up. She recalled how she co-wrote seven of the songs for the album, plus how she selected the other four songs that she recorded. Wilson provides excellent insights into her songwriting process, including how she collaborates with her main writing partners, John Rich & Vicky McGehee. She also stated that she is open to hearing songs that are pitched to her from other songwriters and publishers.
For her hit single 'All Jacked Up' (which she wrote with Rich & McGehee), Wilson said that she wanted to create a Southern-rock flavor. 'The sound is a cross between ZZ Top and Charlie Daniels Band,' explained Wilson. 'It starts with the licks of 'The Devil Went Down To Georgia' and ends with 'The South's Gonna Do It Again.' I loved how the song turned out, enough to make it the title track and first single. It's good ole rockin' American country music.'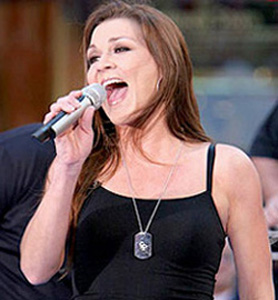 Another song which Wilson wrote with Rich & McGehee for the album is 'Skoal Ring.' 'I had John and Vicky out and we cooked a big pasta dinner, cracked a bottle of wine and sat to write 'Skoal Ring.' One of the funniest things that happened, was I'd never seen John Rich laugh as hard as he laughed while we were writing this song. We were sitting there writing a song about tobacco (Skoal), so I just loved it immediately because it sounded so Loretta (Lynn). When we got to the second verse, we came up with the line 'I've always been a Bandit Girl and he's a Long Cut Man.' And we got stuck there for awhile ' we tried to figure out what the next line was. I remember saying something about 'I'm A Bandit Girl, he's a Long Cut Man,' those are so…different. The idea is that we still get along even though we have different-colored cans. When I said that, John almost fell out of his chair backwards. I said, 'What's so funny about that?' And he said, 'Gretchen, that is so truly you to think that we could be so different because we chew different flavors of Skoal. That's the most redneck thing I've ever heard in my life. But we gotta use it because that's true ' that's really how you feel and think.' So we did.'
One song Rich & McGehee wrote on their own is 'One Bud Wiser.' Wilson talked about how she liked this song title, and the importance of coming up with great titles for songs. 'I didn't write 'One Bud Wiser,' she said. 'This one was written by John and Vicky. They write a lot of songs without me, and I wish they wouldn't. I tell you what, though. Vicky and John come up with those [great] titles. It was probably John's title — 'One Bud Wiser.' And on my first record Vicky's title was 'When It Rains, I Pour.' She had that one. It's just mind-boggling that no one has written it before. Songwriters just rack their brains trying to find that catch phrase. How those two titles had never been written…I just don't get it.'
Wilson did find some excellent songs by outside writers to record for her album. She recalled how she first heard and liked the Matraca Berg/Jim Collins song, 'I Don't Feel Like Loving You Today.' 'We got the demo and the next day I listened to it. It went from John Rich's hands to my hands. I said, 'hey John, have you had a chance to listen to that song by Matraca, and he said, no, and I said, 'well then, hey, give it to me. I'm going to the boot store, and I'll listen to it on the way.' My daughter rode with me, and she said 'I love that song, Mommy.' She never says anything like that. And I thought, 'And so do I.' It's a great song ' it's so real. I think it's one of those songs that every woman in the world will be able to relate to and just feel like they've been there, or maybe they haven't been through it themselves but just know someone who has. It's my favorite song on the record.'
Another outside song Wilson recorded was 'He Ain't Even Cold Yet,' which was written by Billy Lawson & Cyril Rawson. 'This was a song that, you know, when you're an artist and getting ready to make records a lot of people come and pitch you songs,' she said. 'I listened to a lot of songs. Anything that gets personally handed to me, I listen to. I don't just look at the publishing company or the songwriters. I listen to it. Because you never know when you're gonna strike gold.'
Dale Kawashima is on Google+