U.K. Pop Legend Graham Gouldman Tells How He Co-Wrote 10cc's Hit Songs "I'm Not In Love" And "The Things We Do For Love," And Other Hits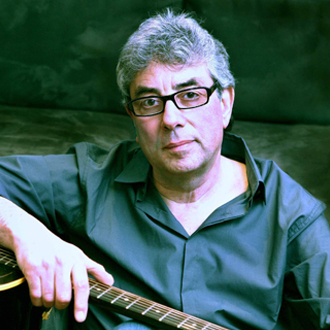 Singer/songwriter Graham Gouldman is best known for being a founding member of British pop band 10cc, which had U.K. and worldwide success in the 1970s. He co-wrote most of the group's hit songs, including their two biggest hits: the classic ballad "I'm Not In Love" and the upbeat "The Things We Do For Love."
In addition, Gouldman is known for writing several big hits in the 1960s for other British groups. Impressively, he wrote the hits "Bus Stop" and "Look Through Any Window" for the Hollies, the hits "For Your Love" and "Heart Full of Soul" for the Yardbirds, and "Listen People" and "No Milk Today" for Herman's Hermits.
Currently, Gouldman has released a solo album called Play Nicely and Share, and he has just completed a concert tour in the U.K. called the Heart Full Of Songs Tour. On this tour, Gouldman performed a wide range of his songs that he's written over a span of five decades.
SPECIAL FEATURE: STREAMING AUDIO

Here's an excerpt of our interview with Graham Gouldman, who tells how he wrote (with Eric Stewart) 10cc's classic hit song, "I'm Not In Love," and how he helped create the lush harmonies that the record is known for.
We are pleased to a new interview with Gouldman. But before we get started, here's a rundown of his work with 10cc and his other projects.
10cc released a total of 11 albums during the period of 1973 to 1995. The band's four, founding members were Gouldman, Eric Stewart, Lol Crème and Kevin Godley. After their fourth album, Crème and Godley left 10cc, and the group carried on with Gouldman and Stewart as its leaders. In addition to their worldwide hits "I'm Not In Love" and "The Things We Do For Love," the band had many other hits in the U.K., including "Rubber Bullets," "Donna," "The Dean And I," "The Wall Street Shuffle," "Life is a Minestrone," "Art for Art's Sake," "I'm Mandy, Fly Me," "Good Morning Judge" and "Dreadlock Holiday."
Here's a list of 10cc's 11 albums: 10cc (1973); Sheet Music (1974); The Original Soundtrack (1975); How Dare You! (1976); Deceptive Bends (1977); Bloody Tourists (1978); Look Hear? (1980); Ten Out Of 10 (1981); Windows in the Jungle (1983); …Meanwhile (1992); and Mirror Mirror (1995).
Gouldman has also released five solo albums: The Graham Gouldman Thing (1968); Animalympics (1980); And Another Thing… (2000); Love and Work (2012); and Play Nicely and Share (2017).
Notably, Gouldman is still active with 10cc—he continues to lead the latest lineup of the band on tour. Two other members of 10cc's current lineup, Paul Burgess (drums) and Rick Fenn (guitar), have been with 10cc since 1977, when original members Crème and Godley left the group.
Here is our Q&A interview with Graham Gouldman:
DK: How did you get started as an artist and songwriter?

Here's a video of 10cc performing their hit "I'm Not In Love" in the 1970s.
Graham Gouldman: I was very young…I got interested in music when I was 7 years old. [I loved] listening to American rock 'n roll—people like Chuck Berry, Little Richard, Eddie Cochran and Buddy Holly—along with the skiffle era in the U.K. So those were major influences along with Cliff Richard & The Shadows, and later of course the Beatles, which was my main inspiration for starting to write songs. [At the time], me and lot of other kids were buying guitars and wanted to make music. I bought a guitar when I was 11, and from that point I knew that I wanted to do music.
DK: I read that early on, you were in a band called the Mockingbirds. Did they release your song "For Your Love" before the Yardbirds recorded it?
Gouldman: Well, we didn't release "For Your Love" because it was turned down by our record company. We recorded two songs, one which was "For Your Love." But when our record company didn't release it, I eventually got it placed with the Yardbirds.
DK: How was it pitched to the Yardbirds?
Gouldman: It was the publisher that got it to them. They heard that the Yardbirds wanted to make a commercial record. You know, they were like a rhythm & blues band. But they wanted to get some chart success, which apparently didn't please Eric Clapton (who was in the Yardbirds) very much, because he was a purist at that time. But the funny thing about it is, when I had written the song, my manager Harvey Lisberg said, "That song is so good, we should get it to the Beatles." I told him that the Beatles obviously were okay with their songwriting, they were doing alright (laughs). But it gave the publisher an idea, that he should pitch it to the Yardbirds, knowing that they were looking for songs.
DK: Also in the mid-'60s, you wrote two big hits for the Hollies: "Bus Stop" and "Look Through Any Window." Were the Hollies looking for songs, and did you write these songs specifically for them?
Gouldman: The Hollies were looking for songs, although I had already written "Look Through Any Window." But the song suited them, and I think it was another publisher who got it to them. With "Bus Stop," I wrote it specifically for them in mind.
DK: You also wrote two hits for Herman's Hermits: "Listen People" and "No Milk Today." Was this a similar situation, where you heard that Herman's Hermits needed songs?

Here's a video of 10cc performing their hit "The Things We Do For Love"
in the late '70s.
Gouldman: Yeah, that was a lot easier, because my manager Harvey also managed Herman's Hermits. So I played him "No Milk Today" and he said, "I'm going to play that to Mickie Most" (Herman's Hermits' producer), who said the song was perfect for them. With 'Listen People," I think it was the same thing. As far as I know, "Listen People" was never released in England as a single, but it did well (Top 10) in America.
DK: Then a few years passed, and you eventually formed 10cc. How did you get together with Eric Stewart, Lol Crème and Kevin Godley?
Gouldman: Well, Kevin Godley was already a member of the Mockingbirds. And Lol used to rehearse in a band that worked out of a club in North Manchester. So the three of us knew each other, and we used to sort of jam together, but we weren't actually in a band together.
Then I met Eric Stewart, because my manager had an office at this big agency in Manchester called Kennedy Street. People used to come into the office that I was in, to say, "Hi, how are you doing? You got any songs?" And that's where I met Eric. Eric and I became friends. He started a studio called Strawberry Studios, and he asked me to become a partner in it.
Eventually, Kevin, Lol, Eric and I sort of became a house band in the studio, doing all sorts of records. We'd do football records for football teams, and we'd do kids records. We'd do anything to keep the studio busy, and we enjoyed it. We were also the band for Neil Sedaka for two albums, including his album, Solitaire. We did one of the albums with Neil before we actually formed 10cc. But it was around that period that we decided that we could become a band.
The other thing that brought us together, was that I spent a short period of time in New York working with Kasenetz-Katz (bubblegum production duo). I went to New York for awhile but I didn't like it there, working that way. And I said to them, "You know, all the songs I've written, I want to do the demo recordings with the people I know back in the U.K. And that was Kevin, Lol and Eric. So I brought the stuff back and we started recording together.
DK: 10cc's first hit in the U.K. was the ballad, "Donna" (written by Godley & Creme). How did this song become 10cc's first single?
Gouldman: Eric and I made a record that the two of us wrote. And we wanted a B side for it, because Eric and I had written the A side. We asked Kevin and Lol to write the B side. And that song was called "Donna," and it became our first big hit. We thought it was obvious that "Donna" was going to be a more commercial success [than our song], and we were right (laughs). That was our first hit in 1972.

Here's a video of Graham Gouldman performing his song "Bus Stop,"
which became a hit for The Hollies.
DK: One of my favorite 10cc songs is "Rubber Bullets," which is such a classic, unique song. How did you co-write this song?
Gouldman: Well actually, the main parts were written by Kevin and Lol. They already had the chorus, which I thought was fantastic. But they didn't have a middle part…a bridge, and they couldn't finish it off. So I volunteered, and wrote the music for the middle part, and I wrote more lyrics as well. When "Rubber Bullets" was released as a single, the BBC initially wouldn't play it because they assumed it was about the troubles that were going on in Northern Ireland. But eventually, it broke through, and it became our first #1 record in the U.K.
DK: 10cc's biggest hit in the U.S. was the great ballad, "I'm Not In Love." How did you and Eric Stewart write this song?
Gouldman: Well, we kind of avoided writing a love song for a long time, because it was kind of like a cliché. We had done sort of pastiche-type love songs but not a real one. But Eric came up with the title, which was perfect for kind of an anti-love song. And I had this chord sequence for the intro, and like a lot of the songs, it was an exchange of one person doing one part and one person coming up with the next part.
DK: In the recording of "I'm Not In Love," there are beautiful, multi-layered harmonies that really stand out. How did you and the group decide to create the lush harmonies in the production?
Gouldman: Well, Lol Crème came up with the idea. Originally, the idea was that we were going to have all voices, with no instruments at all. But we decided we needed to have a rhythm track to sing the voices to, so we put a rhythm track down. But even when we had the rhythm track, there was something sort of very magical going on about the track itself. So we built the choir up using a technique of recording voices onto the multi-track and mixing them down to stereo. And then making loops out of that stereo pair and flying that back into the multi-track. So eventually, we'd end up with each note of the choir, which had been multi-tracked to multi-track on a fader on the desk. And then we had to mix all that down to a stereo pair, and each of us sort of sat at the desk and played the desk, as if it was a keyboard. But we did it with faders instead of keys, to enable us to mix that sound down. So that's how we did it.
DK: Thanks for telling me this story. And then a couple years later, you had another big hit, "The Things We Do For Love." Can you talk about how that song came together?

Here's a video of The Yardbirds performing their hit "For Your Love,"
which was written by Graham Gouldman.
Gouldman: I started to write the music, and I remember that Eric wanted to write a song about suicide. But I said, "It's not gonna work because the music's too happy" (laughs). We wrote that song pretty quickly. I had the opening chords to it, and a lot of the song sort of developed. It was quite simple, but we put a lot of backing vocals on it that were very complex. And I remember at one point, Eric was doing a backing vocal part, and it was so great that I said to him, "that song has now become a hit." I remember it was like a tipping point—there comes a point when you're recording it, and you say, "Wow, this is really great." I remember feeling that.
DK: In addition to your work with 10cc, you've also recorded several solo albums. So for fans of 10cc who want to explore your solo work, which album would be a good starting point?
Gouldman: Well, I've not recorded many—I've done five solo albums in my whole lifetime. So I'd recommend them all (laughs). I'll tell you what they are. The first one was called The Graham Gouldman Thing, that was released in 1969. And it was co-produced with John Paul Jones (of Led Zeppelin), and he did all the arrangements as well. Then I waited a little while…the next album was in 1980, I did the music for an American cartoon film called Animalypics, and I wrote all the songs for that. Then in 2000, I put out an album called And Another Thing…, and that was kind of a reply to The Graham Gouldman Thing. And I loved that album. Then in 2012, I put out an album called Love and Work, which I think is probably my best album. I've also just put out another album with six songs, called Play Nicely and Share.
DK: You've just completed a concert tour in the UK. How did the tour go?
Gouldman: It was absolutely fantastic. I'd love to bring the tour to America. I have a project called Heart Full of Songs Tour, and it's myself and three other musicians. It's kind of semi-acoustic—it enables me to sing, and then talk about, all the songs I've written over five decades. So there's my '60s stuff, there's songs I wrote with Andrew Gold…I worked with him during the '80s (in a band called Wax). The show also has various film songs…songs I wouldn't normally play. And there are songs from all the albums that I've made.
DK: Do you also still tour with 10cc?
Gouldman. Yes, I'm the only original member (in the current lineup of 10cc). 10cc went through lots of changes, personnel-wise—in 1976 Kevin and Lol left the band, and Eric and I carried on. We brought in two other members, and those two guys (drummer Paul Burgess and guitarist Rick Fenn) are with me today.
DK: Thank you Graham for doing this interview. Is there anything else that you'd like to mention for this article?
Gouldman: When I worked with (writer/artist) Andrew Gold in the '80s with our band Wax, we had some success in Europe. And Andrew was one of my greatest collaborators. We had a fantastic chemistry together, and I think the stuff I've done with Wax has been as good as anything I've done, whether on my own or with anybody else.