Gina Roode's "Half-A-Hallelujah" Named March "Best Song Of The Month"
Gina Roode, a folk/country/blues singer/songwriter & guitarist based in Corona, California, has won the SongwriterUniverse "Best Song Of The Month" Contest for March, for her song "Half-A-Hallelujah" (co-written by Kevin Fisher). Roode has released this song as a single and it will be included on her upcoming EP.
"Half-A-Hallelujah" is an upbeat, rollicking song which captures the energy and spirit of bands like Mumford & Sons. The song has a very unique title and concept, about halfway experiencing the joyful celebration of Hallelujah, but not yet reaching that level. Also, this song provides an excellent showcase for Roode's expressive lead & harmony vocals, and her skillful guitar playing. This recording was expertly produced by Fisher, who is a successful songwriter who has placed songs with Rascal Flatts, Sara Evans and Uncle Kracker.
Roode was born and raised in the city of Corona, which is between Anaheim and Riverside in Southern California. When she was 12, she taught herself to play acoustic guitar, and she has learned to play with impressive dexterity and speed. Roode now also plays banjo and 12-string guitar. "I got a gig playing guitar, and I got better and better—I wanted be an instrumentalist," she explained.
In 2014, Roode recorded an instrumental album called Moving Mountains, and she filmed videos of two instrumental songs, the title track and "The Last Battle." Surprisingly, it was just during the past year that Roode began developing her singing and songwriting. "I started singing last June, and I met this songwriter, Kevin Fisher," she said. "In a short time, we wrote an amazing song called 'Lie Your Way Back Home'."

Here's the video of Gina Roode's song, "Half-A-Hallelujah."
Goode and Fisher have continued their collaboration. They've completed three songs ("Half-A-Hallelujah," "Lie Your Way Back Home" and "For Anybody Else") that will be included on Roode's upcoming EP. "I'm starting to mix instrumentals with vocal songs," she said. "It's coming together."
Currently, Roode has been promoting her songs and building a fan base. So far, she has mostly performed solo at local shows, but eventually hopes to go on tour.
With the release of her song "Half-A-Hallelujah," Roode is demonstrating that her skills as a vocalist and songwriter are emerging, and that her guitar-playing ability may be just one of the musical assets she has. In addition, to further promote "Half-A-Hallelujah," she has filmed an excellent video that captures the feeling and spirit of this song.
Top Five Songs Of The Month
Here are the Top Five Songs which were submitted for this month's contest, with the songwriter credits, plus their e-mail and website links. You can listen to the winning songs by clicking the music players below.
"Best Song Of The Month" Winner
Song Title:
"Half-A-Hallelujah"
Written by:
Gina Roode (of Corona, CA) and Kevin Fisher (San Pedro, CA). Performed by Gina Roode.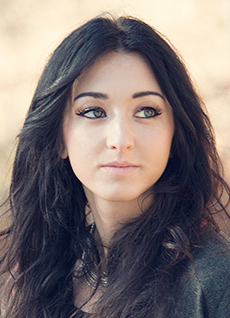 More Best Songs Of The Month