George Merrill & Shannon Rubicam Talk About Writing Their Classic Hits "I Wanna Dance With Somebody" And "How Will I Know" For Whitney Houston, And Their Pop Duo, Boy Meets Girl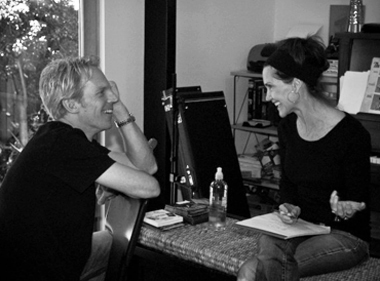 Songwriters & artists George Merrill & Shannon Rubicam have been an acclaimed, successful duo for over three decades. Whether they're releasing music as the pop duo Boy Meets Girl, or writing hit songs for other artists, they've had a long history of writing popular songs that have stood the test of time.
Merrill & Rubicam are best known for writing two of Whitney Houston's biggest hits: "How Will I Know" and "I Wanna Dance With Somebody (Who Loves Me)." Both songs are uptempo, joyful and full of energy, and helped launch Houston's career. Impressively, both singles reached #1 on the Billboard Hot 100 chart, and these songs have become pop standards that are known to generations of music fans.
SPECIAL FEATURE: STREAMING AUDIO

Here's an excerpt of our interview with George Merrill & Shannon Rubicam, who tell how they wrote their hit, "I Wanna Dance With Somebody (Who Loves Me)."
Notably, "I Wanna Dance With Somebody" has remained so popular, that the new Whitney Houston movie (starring Naomi Ackie and distributed by Sony Pictures) is named after this song. This movie was released on December 22 (2022), and was directed by Kasi Lemmons and features Stanley Tucci and Ashton Sanders.
Besides writing these hits for Houston, Merrill & Rubicam are known for being the duo, Boy Meets Girl. They have released four albums, and they had a worldwide hit in 1988 with their single, "Waiting for a Star to Fall" (from their second album, Reel Life). This upbeat, appealing song established the duo as top artists, to go along with their songwriting career. Boy Meets Girl's other albums are Boy Meets Girl (1985), New Dream (1991) and The Wonderground (2003).
This past year (2022), Merrill & Rubicam returned as Boy Meets Girl, and released their first new project in almost 20 years. They released their 5-song EP called Five, which contains five new songs written & performed by duo. This EP marks a welcome return, and these new songs capture the bright, melodic sound that Boy Meets Girl is known for. Also, Boy Meets Girl has released a special colored vinyl edition of Five, that includes five extra tracks.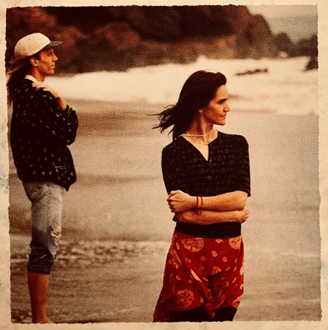 Merrill & Rubicam first met about 40 years ago in Seattle, where they performed at a prominent wedding. A year later, Rubicam joined Merrill's group, which later evolved into Boy Meets Girl. While in Seattle, Merrill & Rubicam signed a music publishing deal with legendary producer & songwriter Thom Bell, who was known for creating hits for the Spinners, the Stylistics and the Delfonics. Bell helped the duo secure their first placements as songwriters.
After a few years, Merrill & Rubicam decided to move to Los Angeles, to further pursue their careers as artists & songwriters. They signed a publishing deal with Irving Music (then owned by A&M Records), and they concurrently worked on their artist and songwriting goals.
Their big break occurred when their song "How Will I Know" was recorded by Houston for her debut album. "How Will I Know" was the first uptempo hit for Houston, and it estabished Merrill & Rubicam as hot young songwriters. Also, it was around that time that the duo began working on their first album, Boy Meets Girl.
"How Will I Know" was such a huge hit, that Merrill & Rubicam were asked to write a song for Houston's follow-up album, Whitney. The duo was inspired to write "I Wanna Dance With Somebody (Who Loves Me)", which became the leadoff single from Houston's second album and quickly went to #1 on the Hot 100 chart.
Over the years, "I Wanna Dance With Somebody" and "How Will I Know" have become such enduring, well-loved songs, that it has permanently secured a status for Merrill & Rubicam as impactful, Hall of Fame level songwriters.
After their hit success in the '80s, Merrill & Rubicam continued writing & recording music as Boy Meets Girl, and they wrote songs for other artists in the U.S. and United Kingdom. Notably, in their personal life, Merrill & Rubicam were a married couple for a long period, before deciding to divorce in 2000. Through the years, they have sustained their creative partnership and friendship.
George Merrill & Shannon Rubicam Interview
We are pleased to do this new Q&A interview with George Merrill & Shannon Rubicam. They tell the stories behind writing "How Will I Know" and "I Wanna Dance With Somebody," and they discuss their Boy Meets Girl albums and their new EP, Five.
DK: Nice to speak with you. I read that the two of you met in Seattle, when you performed at a wedding.

Here's the video of Whitney Houston's hit, "How Will I Know,"
which was written by George Merrill & Shannon Rubicam.
Shannon Rubicam: Yes. In Seattle, everyone knew of the Boeing (airplane) family, and one of their daughters was getting married at this big wedding at a cathedral. They hired musicians and singers to perform, and I was hired to sing. George (Merrill) was hired as part of the background vocals. We met at the reception, although we didn't meet again for almost a year.
George Merrill: A year went by…we were in separate bands in Seattle, and we wouldn't run into each other much. But if one of us had some time off, we'd go see other bands at the clubs. And Shannon had come to see my band.
Rubicam: I didn't know it was him, but I was immediately enchanted with his music, his voice and piano playing. George and his singing partner at the time, played some of their own music, and I thought their original songs were beautifully composed. So I talked to them on the break, and they happened to be looking for a third part for harmonies.
Merrill: I'd remembered Shannon singing at that wedding, and her voice was really standout to me. It always has been. And so when we met a year later, we mentioned that we'd like to expand the band, and it seemed like a good fit.
DK: You were both artists early on. Was it always your goal to be artists, rather than write songs for others?
Merrill: I can tell you that my journey, from the very start, was songwriting. I had a pal, David, and in the fifth grade we formed a band called The Village Sunshine. David and I would study songs and how they were written, and I learned how to play piano and he was a guitar player. By the time we graduated from high school, we were playing clubs.
With our band, we would do cover songs to keep people interested, but we slipped in our original songs. And it sounds like Shannon was doing a similar thing in her band.
Rubicam: Yeah, I had been writing on my own before I was in a previous band, and before joining with George and David. I've enjoyed songwriting…I think I love that the most. But I knew I had to perform my songs, so I'd get out there, although I was nervous singing on my own.

Here's the video of Whitney Houston's hit, "I Wanna Dance
With Somebody (Who Loves Me)" which was written by
George Merrill & Shannon Rubicam.
We always wanted to have our own record deal and promote ourselves as Boy Meets Girl. But I can't say that I loved going out on the road and performing. That just wasn't me. Some people are born to it, but I never quite felt that way. So I would say where I've landed now, is that I'm so fortunate to be a songwriter and write with George and record in the studio, and put things out digitally. It's perfect.
DK: After you met, how many years passed before you had a hit with "How Will I Know"?
Merrill: It must have been 8 or 9 years. We played clubs in Seattle. The other fellow left the band and then it was just Shannon and me.
Rubicam: While we were in Seattle, we got hired by (hit writer/producer) Thom Bell for his music publishing company. He hired us and mentored us as songwriters, and he taught us about the music business. He turned out to be a wonderful mentor, and we did that for about four years. But then we realized that if we really wanted to make it as songwriters and performers, we needed to be in Los Angeles. So we made that move.
DK: During the eight years before you had a hit with "How Will I Know," were you already known as Boy Meets Girl?
Rubicam: No, they were kind of concurrent. Our first album came out in 1985, so they sort of crossed paths. We were asked to write "How Will I Know" as we were writing and recording our first album. So our focus was on our first album and Boy Meets Girl, but we had written "How Will I Know" and off it went and we forgot all about it.
Then "How Will I Know" turns into this big hit and it takes the primary focus. And I think subsequently, we were always a little torn between…are we songwriters for hire, or are we performers? We did our best to go with it and take the opportunities as they presented themselves.
DK: Can you tell the story behind "How Will I Know"? I read that you originally wrote it for Janet Jackson.

Here's the video of Boy Meets Girl's hit, "Waiting for a Star
to Fall."
Merrill: Yes, we did write it for Janet Jackson. We had listened to Janet's earlier music and came up with a lighter R&B/pop version of "How Will I Know", and the basic song that you hear is in that first structure. Then Janet Jackson passed on it. She was working on her Control album which was a whole different direction, much more aggressive and wonderful. So we went back to working on the Boy Meets Girl record.
Then we heard that Clive Davis (CEO at Arista Records) had become interested in "How Will I Know," because Brenda Andrews (music exec at Irving Music) had sent it to Gerry Griffith (A&R exec at Arista). At that point, Clive sent the song to (hit producer/writer) Narada Michael Walden, and the song goes through a restructure. Narada had some ideas for creating a verse structure, and Shannon wrote some more lyrics. Then we got a call from our friends Preston & Alan Glass who were in the studio working with Narada. They said, "I think you guys should hear what's going on up here." They played us the rough mix of Whitney singing "How Will I Know" with the new verse and structure. When we heard it, it was one of our great moments. I just love that moment (laughs).
DK: The demo of "How Will I Know" that you originally created, was that well-produced with a lot of instrumentation, or was it a more basic demo?
Rubicam: It was fully produced, but much lighter because we'd been thinking about Janet Jackson. It had keyboards, bass, drums, percussion and background vocals. We almost never send out a song that isn't mostly produced…it gives someone more of a fully-formed idea of what we're thinking.
DK: After "How Will I Know" became a big hit, Clive Davis asked you to write a new song for Whitney for her second album. Can you talk about writing "I Wanna Dance With Somebody" for Whitney, and recording the demo?
Merrill: At that point, we knew Whitney's capabilities and her vocal range. So when Shannon and I went in to write for her, we had a better idea of who we were writing for and what she could do. Our demo starts off with guitar player John Goux doing this big open G chord, and then we did the Oberheim DMX drums, so the intro was off to the races and leads into the verse. So we caught the attention of everyone with our demo (laughs).

Here's the video of Boy Meets Girl's new song, "Falling Hard."
Rubicam: It was probably best described as a pop-rock approach to it. We wanted to present it in a more aggressive way. And we knew that Whitney and Narada, because it was an uptempo song, would take it in their own direction, which they did.
DK: From a songwriting point of view, what inspired you to sit down and write "I Wanna Dance With Somebody?
Merrill: I think Shannon can speak to that lyrically. That's really what guided us the most.
Rubicam: I wanted to write something that people would connect with, so it had that universal flavor. But it also had to be personal, or I wouldn't be able to write it.
I was noticing one afternoon…we lived in Venice, California in a little rental house. You know, there's that golden hour when the sun is starting to set. There's almost anxiety…a wistful feeling that the day's ending and the night's beginning. And if you were single, you would be thinking…What am I gonna do with this whole evening stretching in front of me? I don't want to be alone…I want to go where other people are and make a connection either with an individual or just be around people. So where would you go? We'd go to a club, and you would dance and hopefully meet somebody who meant something to you.
Then George took it (with the music). He often takes my lyrics that might have a little bit of melancholy to them, and then he brings all this brightness to them musically.
DK: I know George plays piano and you both sing. When you write, does George write more of the music and Shannon writes more of the lyrics? Or do you write music and lyrics equally?
Merrill: I would say that largely, Shannon is the lyricist and I'm the melodist. But both of us were songwriters prior to us meeting, and we still do. We still write songs in total. So our whole process has been the editing process which we enjoy. Shannon will dive in and offer changes. She's quite knowledgeable about music as well. And I think I know a thing or two about lyrics (laughs).
DK: I want to ask you about your Boy Meets Girl hit, "Waiting for a Star to Fall." How did you write this song?

Here's the video of Boy Meets Girl's new song, "More Deeply
(In Love With You)."
Rubicam: We had gone to Whitney Houston's first concert tour; she played at the Greek Theatre, which is an open air theater. It was a warm summer night. Whitney had just finished 'How Will I Know" and the crowd rose to their feet and started applauding and cheering. But I looked up and saw a star go across the top of the theater, so I sat down and pulled out my little notebook and wrote down…Waiting for a Star to Fall.
DK: Did you intend to write this song for Whitney, or for Boy Meets Girl?
Merrill: I think we felt that it was a divine moment, so our initial idea was that we'd write it for Whitney. So we demoed it up. But fortuitously, Clive Davis passed on it. I think at that point in Whitney's career, they were making some stylistic changes. They wanted to go in a more R&B direction with her. So as it turned out, that was great for us. It was the defining moment (and big hit) for Boy Meets Girl.
DK: With Boy Meets Girl, you released three albums from 1985 to 1991, but then you didn't release another album until 2003. So can you talk about the '90s for you, when you seemed to take a break?
Merrill: I would say in a word…Nirvana (laughs). The music business for pop songwriting had changed. Our fellow Seattle musicians Nirvana took stage in the early '90s, and turned the music business on its ear and aimed everything in a different direction. And I think for us, in the arc of what we'd done as Boy Meets Girl and as songwriters, we were still committed to being songwriters. But I think the idea of artistry and pursuing that, it dropped to the wayside for both of us. We thought this was a good time to step back and enjoy the fruits of what we did. In the '90s, we did continue to write prolifically. We wrote for boy and girl bands over in the U.K. Our good friend, Eliot Kennedy, had projects and he'd call us up and we'd co-write together. There are a lot of songs that we did during that time.
DK: In the past year, you've released your EP, Five, and I like your new song, "Falling Hard." Can you talk about writing and recording the songs for your EP?
Merrill: It had been a while since we put out a record. I think we were enjoying writing for various projects. And then as it's happened before, we would write some new songs that started becoming of a piece, and we thought…maybe it's not an album, it's an EP.

Here's a recent video of George Merrill & Shannon Rubicam
performing their song, "I Wanna Dance With Somebody
(Who Loves Me).
We liked that the songs we were coming up with were fresh-sounding. They were bouncier, with a little more levity. We had returned to some of the things that we feel are our hallmarks, as Boy Meets Girl.
Rubicam: Which is kind of a natural optimism. A musical optimism that we present. It's just home for us.
Merrill: We were feeling that way and it was coming through in the writing. So we thought it would be a great time to express that in a record.
DK: Now that you've released your EP, will you be performing live and doing shows?
Rubicam: I think we're pretty reticent to perform and probably won't. But we're eager to get back in the studio and do some writing.
DK: Over the years, have you also worked on separate music projects?
Merrill: Yes I have. I've written songs with Danny O'Keefe for his solo albums, and we had a song with Sheena Easton back in the '90s. And I recently had the good fortune to write a song with Graham Nash for his next solo album.
DK: George & Shannon, it's now been over 30 years since "How Will I Know," "I Wanna Dance With Somebody" and "Waiting for a Star to Fall" became hits. So how does it feel now, to know that these songs remain popular to this day?
Rubicam: It's a huge honor, and I have to say, it's the most unexpected thing in life. (Producer) Thom Bell used to say, "Everything goes in cycles. You think you're done with something and then it comes around again." In our case, it's these three songs. And it's funny about the '80s…that decade had such an impact on people. The '80s had some big, bold and bright songs, and our songs fit in with that characterization.
Merrill: I see that, too. When people are doing the retrospectives, many times one or more of those three songs are used in those retrospectives. It's a huge honor that our songs would be chosen to help define an era. It's an amazing thing…it continues to surprise both of us. And from a songwriting standpoint, it's always about the next song. So we're coming up with new ideas. There's this innate freshness that's always been a part of our lives, that's a natural occurrence.
Rubicam: When your song goes out to other people, and it goes out on the airwaves, there's a real process of letting go and dissociating in a way, because at some point you have no control over it and it goes where it goes. It becomes what it becomes, and it touches people the way it does if you're lucky. And so you let go of it. So when it comes back around again, or if someone says "I've just heard your song at a grocery store or while I was driving down the road," it's so funny how it keeps surprising you.
I would like to say how grateful I am that music is such a great connector. You have this song in your head, and then it comes out and ends up being recorded by somebody and doing so well. It's part of the magic, and that magic is really what floats a songwriter's boat. You're always waiting for that feeling, that little starburst when you're writing a song. So I would like to say thanks to the universe for those starburst moments (laughs).
Here's the link to Boy Meets Girl's site: https://www.boymeetsgirlmusic.com/