Gavin DeGraw Talks About His New Album, Something Worth Saving, And His Songwriting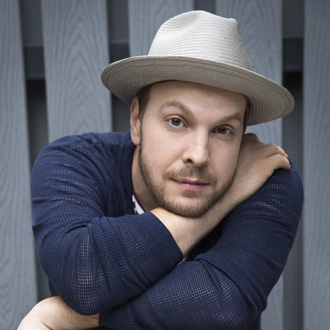 With the release of his fifth studio album, Something Worth Saving (on RCA Records), hit singer/songwriter Gavin Degraw has returned with an excellent album that finds the artist exploring some new sounds and ideas, while still retaining the strong rock & soul vocals and quality songwriting that DeGraw is known for. This album marks a new chapter for DeGraw—it's his first release following his greatest hits album, Finest Hour: The Best of Gavin Degraw, which came out in 2014.
Something Worth Saving features DeGraw's new single, "She Sets The City On Fire," which has already reached the Top 20 on Hot AC radio. This song was produced by Greg Wattenberg (who's worked with Train and the Goo Goo Dolls) and written by DeGraw, Wattenberg, Todd Clark & Jason Saenz.
For this new album, DeGraw also co-wrote songs with top writer/producers Dave Bassett (Elle King, Rachel Platten), Ricky Reed (Meghan Trainor, Twenty One Pilots), Johan Carlsson (Ariana Grande, Carolina Liar) and John Shanks (Bon Jovi, Miley Cyrus). He wrote two key songs by himself: the title cut "Something Worth Saving" and 'Making Love with the Radio On," which were produced by Butch Walker (Taylor Swift, Pink).
Other standout songs are "Kite Like Girl," which has an unique title and a fresh, hooky chorus, and "You Make My Heart Sing Louder," which has a soulful/R&B feel and a powerful chorus.
DeGraw, who is from New York, previously released four studio albums, including Chariot (2003), which was certified platinum and included the hits "I Don't Want To Be," "Follow Through" and "Chariot." This was followed by the self-titled album Gavin DeGraw (2008), which contained the hits "In Love With A Girl" and "We Belong Together; Sweeter (2011) which included the hit "Not Over You"; and Make a Move (2013).
Notably, DeGraw is currently on a national co-headlining tour with hit artist, Andy Grammer. He has also opened many arena shows for Billy Joel.
We are pleased to do this new Q&A interview with Gavin DeGraw. He talks about the songs on his new album, and collaborating with several, top writer/producers.
DK: I like your new single "She Sets The City On Fire." How did you get together with Greg Wattenberg to write and record this song?
Gavin DeGraw: I got played a piece of the song, and I was like, "Oh Man…Greg, thanks for thinking of me. Wow, this is amazing." He had planted the seed already. I said, "I want to be part of this song…I want to finish it with you. Can we do this?" He had been recruiting me. He said, "Yeah, moron, that's why I'm playin' it for you, man." (laughs). I said, "Thank you so much. It's so strong what you have going on—you could have called anyone in the world and brought this to them, and they would have gone crazy for it."
DK: The song has a really fresh, contemporary sound. It kind of takes your sound, and puts it into 2016 in a cool way.

Here's the video of Gavin DeGraw's new single, "She Sets The City
On Fire."
DeGraw: Thank you, what a compliment. I felt the same way…that it was the most modern version of anything I'd ever done. But it wasn't "alien," if you know what I mean. That's what I thought was so cool about it. There's something so modern about this, yet something so classic about this at the same time. The production by Greg is so fresh—the vocals, the drum sounds, the note choices, and the ear candy (sound effects). What he did was so exciting.
Then we got together at Criteria Studios in Miami—the old Hit Factory where James Brown recorded "I Feel Good," Fleetwood Mac recorded Rumours, the Eagles—so many great artists recorded there. The place has a ton of these ghostly talents in the walls. So it was great to be there, and just to rub the shamrocks. We worked on the song and we had an unbelievable time, and we felt like we created just the right story for this thing…to make it specific enough and relatable enough, and make it fun.
DK: When you began writing & recording your new album, was there a certain theme or musical sound that you wanted to focus on?
McGraw: No man…I've never been that guy. I've never been the "theme" guy, or the guy who chased an exact sound to go throughout the record. I'm a song-by-song artist—that's who I am. Perhaps one day, when I'm not as easily distracted, I can do something like that…taking a theme. But my attention span only permits me to stay on target for 3 1/2 to 4 1/2 minutes (laughs). And then I'm off to the next fantasy.
There is a lot of variety on my record. That's the thing that I wouldn't be able to really do if there was a theme record. There's such a wild ride of songwriting attempts here, and styles and personalities and production approaches. But obviously, I could have never done all that on my own. I was really fortunate to have access to these greatly talented people—songwriters and producers—who made time in their busy schedules to work with me on the record. They all had their own personality types and their own songwriting and production styles, and I think that really adds to the amount of character on the album, just all the way around.
DK: You wrote two songs by yourself on the album, "Making Love With The Radio On" and the title cut, "Something Worth Saving."
DeGraw: Those two songs are what I feel are very much identifiably "Gavin DeGraw" songs, if you know what I mean. The title track ("Something Worth Saving") harkens back to the innocense and purity of the Chariot record. It's like an early "Gavin" song, if there's such a thing, but with a more evolved bridge than I've ever written. I think that's from being out (as the opening act) on all those Billy Joel shows—hearing Billy play non-stop and watching him play because he's my idol. I was channeling my best Billy Joel for that bridge.

Here's the audio for Gavin DeGraw's new song, "Kite Like Girl."
I took those two songs to Butch Walker, who's one of my favorite producers and people in the world—he's a wonderful guy. I said to Butch, "Hey, if you can make the time, there's a couple songs I wrote alone that I'd be honored if you produce them." I'm very lucky that he did, and he really captured "Something Worth Saving' so beautifully , and showed the right amount of sensitivity and restraint…picking and choosing the right moments for the production. Butch did the same thing with "Making Love With The Radio On." He was so easy to work with, and he really heard that song exactly how I wanted it heard. It's hard to demonstrate that when you basically just give someone an acoustic guitar & vocal (demo). It would be like sitting in the studio, strumming away in an isolation booth. But I think he really hit the nail on the head there, and the song has so much variety and care. There's so much "feel good" to it and so much Americana—it's flavorful and happy. It just brings me joy when I sing that song and when I hear it. It's hitting a lot of little marks, that for me made me happy. It has a little element of reggae in it, a little R&B, a little country, a lot of pop. It just sounds like American music.
DK: One of my favorite songs on your album is "Kite Like Girl," which has such a catchy chorus.
DeGraw: Thank you…I love that song. I wrote "Kite Like Girl" with (writer/producer) Dave Bassett, who's tremendously talented. He did the Elle King record ("Ex's & Oh's") which I think is amazing. Bassett is one of those guys who is so talented yet so understated…it's what so lovely about them. They're kind of learning you while you're hanging out, and trying to find what works. The first song we wrote together was "Kite Like Girl." I just started singing a little piece of the verse melody. And then we got to the chorus, and we were looking for the right tag line. I thought of "She's a Kite Like Girl, you've gotta let her fly away." Dave goes, "Yeah…[Kite Like Girl]…that's the title!"
DK: Another song I like is "You Make My Heart Sing Louder," which has a big R&B, soulful feel to it.
DeGraw: For "You Make My Heart Sing Louder," I was working with (writer/producer) Ricky Reed, who's a great talent. He executive-produced Meghan Trainor's last record. He's another one of those guys who is totally understated. We were sitting at this old Steinway piano he had, and we were trying to come up with this cool chord progression, something that would be less predictable. And then we landed on [this chord progression] that felt a little like "Inner City Blues," that great Marvin Gaye track. We just started stumbling into some lyrics and melodies, and then singing a piece of the melody, which became the guitar riff (he sings the riff), and singing a melody which we thought would be the chorus. It felt great. But as we lived with it, I realized, "Nah man, I got a melody here that's going to be even bigger!" So I started singing, "You make my heart sing louder" (and the rest of the chorus melody). Then we realized what we originally felt was the chorus, was the pre-chorus. We didn't realize it was the pre-chorus, until we landed on the (big) Chorus. Then we were in that crazy, "Holy Shit!" moment as songwriters. We said, "Oh my God," this is really gigantic!" It just happened kind of happened by accident.

Here's the audio for Gavin DeGraw's new song, "Making Love With
The Radio On."
[Later], when my mom heard the song, she called and said, "This is my favorite song on the record. This song is so empowering." And my mom is really hard to please. I come from a musical family, where they would say "yeah…this is okay… this is alright…you could have done better." But [with this song], she said, "This one…this is important, Gavin." And Ricky was excited, too.
DK: Thank you Gavin for doing this interview. Is there anything else you'd like to mention about your new album? 
DeGraw: There's so much autobiographical material on this record. Man, some of it, people won't even know how autobiographical it is (laughs). And that's one of the things I'm excited about it. It's not like there's a hidden track, but there's so much hidden meaning throughout the record, that I'm excited about as a songwriter. It's also adding so much to the live performances. It's just a really special time for us right now, out here on the road.
excellent