Five For Fighting's John Ondrasik Talks About The Band's Album Two Lights, Hit "The Riddle," And Writing Their Songs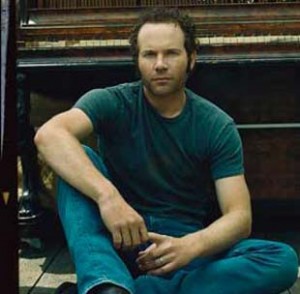 Over the past six years, Los Angeles-based John Ondrasik has led his band Five For Fighting to platinum success and a Grammy nomination, and he has become a leading singer/songwriter/pianist in the pop/rock and AC genres. Starting with the singles 'Easy Tonight' and Grammy-nominated 'Superman (It's Not Easy)' from its America Town album, Five For Fighting has had a string of hits, including '100 Years' from the group's 2004 CD, The Battle For Everything.
Now in August 2006, Five For Fighting has just released its latest album Two Lights (on Aware/Columbia Records), and the first single 'The Riddle' is already a hit, receiving extensive airplay on AAA and AC formats. Ondrasik's soulful vocals and piano playing, and his uniquely personal writing style, has made Five For Fighting's songs instantly recognizable on the radio.
In a new interview, Ondrasik talked about the writing and recording of Two Lights, and how he actually wrote over 150 songs for the album. He also discussed how he landed his first label deal (for Five For Fighting) with EMI Records back in 1997, and how he later signed with Aware Records. Lastly, when asked, he gives advice to young songwriters and artists who are trying to break into the music business.
Ondrasik's quest for a label deal began in the early '90s, years before he signed with EMI. 'I was one of those 15-year overnight successes,' recalled Ondrasik. 'I didn't sign with EMI until I was in my late '20s. It was Davitt Sigerson (hit producer of the Bangles and Tori Amos, and an A&R exec) who signed me, and he produced my album. But by the time my record came out, the label (which was a subsidiary of EMI) had closed. I tried to get the album released through Capitol or Virgin Records (labels also owned by EMI) but they passed.'
'At some point every label passed on me, even when I played them 'Superman' and 'Easy Tonight',' he said. 'Then my girlfriend (music publishing exec) Carla Berkowitz, whom I later married, sent my CD to Aware Records, which was then a small indie label. They gave me a $50,000 budget, and I worked with (producer) Gregg Wattenberg to record my album America Town.'
America Town was subsequently released by Aware/Columbia via their joint label deal. The album's first single was 'Easy Tonight,' which became a AAA chart hit. But it was the single 'Superman (It's Not Easy)' which had the greatest impact. It was a pop hit, then it attained deeper significance, when it was became a spiritual anthem in the aftermath of the 9/11 crisis. Ondrasik joined with many top stars to perform at the televised post-9/11 fund raiser, The Concert For New York.
'It was an incredible experience,' said Ondrasik. 'I was sitting at a piano in Madison Square Garden playing my song, which seemed to provide solace to the emergency workers and their families. Halfway through, seeing these burly firefighters with tears falling down their faces ' it was the most important thing I'll ever do musically.'
After the platinum success of America Town, Five For Fighting returned in February 2004 with its follow-up album, The Battle For Everything. The CD included the pop/AC hit '100 Years,' which conveyed an inspirational message, about living life to its fullest at each stage of life. The album also included two other chart singles, 'The Devil In The Wishing Well' and 'If God Made You.'
For the new album Two Lights, Ondrasik spent a lengthy period writing over 150 songs for the project. 'I feel I have to write a lot of songs to end up with 10 good ones for the album,' he explained. 'So much of the writing process is just me sitting down, banging away, trying to write good songs. You hope there's a couple days that you get excited about. I'm always looking for inspiration. Sometimes I come up with the lyric theme first, like I did with the new song 'Freedom Never Cries.' Most of the time, I come up with the melody first.'
For his songwriting process, Ondrasik usually has a routine of writing in the evenings, after he has spent time during the day with his family. 'Between albums, I had time to coach soccer and be with my kids ' I had some time off,' he said. 'I'd be the daddy all day long until 8:00 pm. Then I would write and work in my home studio. It's a full-fledged studio, with a grand piano, ProTools HD and Neve modules. I would write from 8:00 pm until around 4:00 in the morning, and I'd record piano/vocal demos of the new songs.'
However, for about a year (late 2004 and in 2005), Ondrasik had difficulty writing songs that he felt were satisfactory. 'I wrote songs for a year, but then I ended up throwing them all away. I realized they weren't strong enough for the album. It was a horrifying feeling. But then I was able to get on a hot streak, and the songs came together.'
'As I get older as a songwriter, the circle of acceptability shrinks,' he said. 'I become more critical of my songs. I also have a certain dilemma, which is that I know that there are children who are fans of Five For Fighting. So I can't put songs on my album that would be unsuitable for children.'
Once Ondrasik had finished writing the songs, he recorded the album with his Five For Fighting bandmates: guitarist Andrew Williams and bass player Curt Schneider. The trio also produced the album together. To play the drums, Ondrasik recruited Joey Waronker, who is known for his work with Beck and R.E.M. 'I loved working with Joey Waronker on the album ' he's a great drummer.'
Now with the release of Two Lights, Ondrasik is focused on marketing and promoting the album, which currently includes making several TV appearances. This week for example, Five For Fighting will be performing on both The Tonight Show with Jay Leno and on Live with Regis and Kelly. The band will also be touring soon in support of the album.
Lastly, when asked what advice he would give to young songwriters and artists who are trying to break into the music business, he said: 'First, write tons of songs and record your songs. I know too many people who shop their same three songs for two years. People should be writing three songs a day. Second, get out and play your songs in front of people ' play live. You'll get great feedback from your audience. Sometimes I think I've written a great song like 'Let It Be,' but when I played it live I realized it wasn't so good. Third, listen to great writers like Randy Newman, Leonard Cohen and Joni Mitchell.'
Dale Kawashima is on Google+