Amy Lee Talks About Evanescence's Hit Album, The Open Door, And Her Songwriting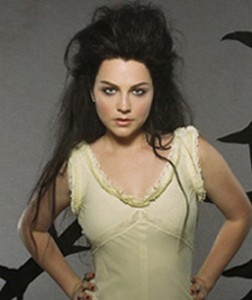 It's been three years since Evanescence broke through with their epic album Fallen, which has sold nearly 14 million albums, spawned the hits 'Bring Me To Life' and 'My Immortal,' and earned the group two Grammy awards (for Best New Artist and Best Hard Rock Performance). Since then, the band has seen the departure of two key members: guitarist/co-writer Ben Moody and bassist Will Boyd. But Amy Lee & Evanescence have returned strongly with their new album The Open Door, which was released last month (Oct. 2006) on Wind-Up Records.
Impressively, The Open Door debuted at #1 on the Billboard album chart, and has already been certified platinum. The CD sales have been bolstered by the Top 10 hit 'Call Me When You're Sober,' and the group has just released its follow-up single, 'Lithium'. In addition, Evanescence has embarked on a worldwide concert tour, with the band currently playing shows in Europe.
In a recent interview, singer/writer/pianist Amy Lee spoke about the new album, and the changes the band has been through. She also discussed the excellent, writing collaboration she has developed with guitarist Terry Balsamo (the duo wrote nine of the album's songs). And she talks about writing the key cuts on The Open Door, such as 'Call Me When You're Sober,' 'Lithium' and 'Good Enough.'
Lee and the band began writing songs for the new album, immediately following their extensive touring in support of Fallen. 'Right after we got off the road, we instantly went into just hiding and started to write for the next record,' recalled Lee. 'It was great writing with Terry (Balsamo) and also with John (LeCompt, who wrote 'All That I'm Living For' with Lee). 'We really took our time crafting this album and had the freedom to express a broader range of emotions ' not just pain and sadness, but also anger and, yes, even happiness.'
'You can hear on the album a lot of the changes that I've gone through in my life,' she added. 'The album's more mature '  I've gained a lot of confidence. I'm not afraid to do a lot of things that I might have felt self-conscious about trying on the first record. Musically, I tried so many new things ' I'm a better musician than I was. I feel like this record has a lot more soul, in more ways than one. I just really went with what I felt, [writing lyrics which were] even more specific and true to myself.'
A definite example of Lee's specific, honest lyric approach is Evanescence's hit single, 'Call Me When You're Sober.' 'With this song, it's kind of impossible to misinterpret the lyrics,' she said. 'I really wanted to say something, and it's been said (she smiled). You can't look at it a different way. Typically, my lyric writing can be interpreted in two or three different ways. A lot of my writing is still that way. But sometimes (like on this song) I just really wanted to say something'and I've said it. You can't hide from it, and I'm proud of that.'
The group's new single is the soaring, midtempo cut 'Lithium,' which has a lyric theme that embraces feeling over numbness. This song has the same title but is a different song than the Nirvana single written by Kurt Cobain. "Lithium' is definitely a metaphor,' explained Lee. 'I felt like I was in love with my sorrow. I get into these moods where I write music. It's not about so much about being depressed ' it's just the strange low that I ride. But at the same time I want to be free and break through and be happy. I think that was kind of me, getting ready to play [and saying], 'That's it, drop the ball and just change and move on.'
For The Open Door recording sessions, the group reunited with longtime friend & producer Dave Fortman, who had also produced Fallen. The album was recorded at the Record Plant studio in Los Angeles, and it was mixed by Fortman at Ocean Way Studios in L.A. in March 2006.
Another key song on The Open Door is the ballad 'Good Enough,' which closes the album. It features Lee's elegant piano playing, and a lush string arrangement. 'Good Enough' is one of three songs on the album which Lee wrote by herself. "Good Enough' does find me at peace, and I'm kind of scared of it,' she said. 'It's weird ' it was the bravest song to write and to bring to the table when we were recording the album. It's just really real, and it was saying what I felt, that for once I wasn't miserable, or stuck or trapped or sad or grieving. It was happy and well'I wrote a happy song. I thought the guys (in the band) we're probably going to hate it, and they loved it. It's cool that 'Good Enough' is the last song on the album, because it's all the things that I went through, and it's the point that I got to.'
Now with the release of the album, Lee & Evanescence have launched a major, worldwide tour that will continue deep into 2007. 'I'm really looking forward to touring again,' said Lee. 'It's been so long'it's been two years since we've played shows. It will be great performing in front of our fans again ' I've missed feeling that powerful energy onstage.'
Dale Kawashima is on Google+