Hit Songwriter & Artist Erika Ender Tells How She Co-Wrote the #1 Worldwide Hit, "Despacito" by Luis Fonsi, Daddy Yankee & Justin Bieber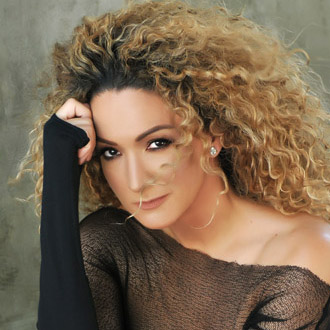 Update: Erika Ender was nominated by the Grammy Awards for Song Of The Year, for co-writing "Despacito." She also won a Latin Grammy Award for Song Of The Year for "Despacito."
Erika Ender is known as one of the top hit songwriters in the Latin/Pop music world. She has recently been inducted into the Latin Songwriters Hall of Fame, and last year (2016) she won a Latin Grammy Award, for co-writing the hit "Ataud" for the group, Los Tigres Del Norte. She is also an artist who has released several albums, and she's an actress, TV personality and celebrity judge.
Notwithstanding her many achievements, this year Ender has reached an even higher level of success and notoriety, for co-writing the number one hit single, "Despacito," by Luis Fonsi featuring (rapper/singer) Daddy Yankee, with an additional version featuring Justin Bieber. "Despacito" (which in English means "Slowly") has been a worldwide hit in over 40 countries, and has been #1 on the Billboard Hot 100 chart for a record-tying 16 consecutive weeks. The single has also been #1 on the Billboard Hot Latin Songs chart for 30 consecutive weeks.
SPECIAL FEATURE: STREAMING AUDIO

Here's an excerpt of our interview with Erika Ender, who tells how she wrote with Luis Fonsi (and Daddy Yankee) the worldwide #1 hit, "Despacito."
On top of this, the video of "Despacito" (featuring Luis Fonsi & Daddy Yankee) has become the most popular video in the history of YouTube. The video has been viewed 3.4 billion times, and it's still going strong.
Ender, who was born in Panama and now lives in Miami, FL, has had a successful music career that spans two decades. She's signed to Sony/ATV Music Publishing, and she's a SESAC Latina-affiliated songwriter. She's written songs that have been released on over 160 albums, with more than 40 chart singles. Notably, Ender has been named one of the 25 Most Poweful Women by People En Espanol magazine, and one of the 50 Most Powerful Central American Women by Forbes magazine.
Here's a partial list of the hit songs Ender has written: "Ataud" (by Los Tigres Del Norte), "Tentacion" (Luis Fonsi), "Cinco Minutos" (Gloria Trevi), "Candela" and "Ay Mama" (Chayanne), "El Unico Culpable" (Mijares), "Ensename A Vivir Sin Ti" (Gilberto Santo Rosa), and "Purest of Pain" (Son By Four). Other artists who have recorded her songs include Ednita Nazario, Victor Manuelle, Los Horoscopos de Durango, Milly Quezada, Elvis Crespo, Gisselle, Melina Leon, Luis Enrique, Malu, Jaci Velsquez, Azucar Moreno and Alberto Y Roberto.
In addition to writing songs for other artists, Ender is an established singer/songwriter who has recently released her latest album, called Tatuajes (which means "Tattoos"). Notably, the album contains her version of the hit, "Despacito."
We are pleased to do this new Q&A interview with Erika Ender. She discusses her hit career, and tells how she co-wrote "Despacito," and reflects on the song's impact.
DK: Congratulations on your success with "Despacito." I read that you and Luis Fonsi originally wrote this song in Miami, and then Daddy Yankee added his part later. Is that correct?

Here's the video of Luis Fonsi & Daddy Yankee's #1 hit "Despacito," which
was co-written by Erika Ender.
Erika Ender: Thank you. Yes, Luis has a studio at his house in Miami, and we wrote the song there. Luis and I have been friends for a long time, for at least 10 years, and he's recorded songs that we had written before. Luis wanted to start writing songs for his new album, so I went to his house one afternoon, around 2:00 pm. We started chatting a bit and catching up, because we hadn't seen each other for a long time. Then he tells me, "Erika, I have this idea from this morning, [with the title] Despacito." And then he sings to me the first line of the chorus, "Despacito…" And he says, "I want to say something like, 'Vamos a hacerlo en una playa en Puerto Rico' (which is the next line in the chorus)." That was the idea he had, and I loved it. I immediately answered with the line, "Hasta que las olas griten 'ay bandito'." I started laughing, because I loved what he did.
Then we started from the top (of the song), working on the melody and the concept, which was very important for me, and to try to fit that idea in what's happening nowadays with the urban-fusion-pop world. We tried to make something that would be part of his versatility, and at the same time that could get him out of his comfort zone. So we decided that we were going to do a very sensual song, but classy at the same time. [We wanted to be] very careful with the lyrics, especially with what it had to do with women, because this genre tends to be a little, you know, aggressive with women. And [women are] not an object. I think women…we are a piece of art (laughs). So I was really taking care of that part, and trying to explain how a woman [takes it slowly]…it's Despacito.
DK: Did you and Luis equally write the melody and the lyrics?
Ender: I would say that we built the song together with the melody. I wrote more of the lyric, although Luis gave great ideas on the lyric too. Of course, we both wrote it together. Luis came up with the title Despacito, and we agreed and worked on the concept.
DK: When you finished this writing session, did you both feel that you'd written a very special song?
Ender: Yes, we were so happy with the song. But we didn't feel like it was very different from what we've done before. But we got the feeling that we had a hit in our hands, and we were enjoying it so much. It was so organic—it had such a beautiful energy of two friends making a song. You know, connecting with the essence of the song, connecting with the idea of getting him out of the comfort zone, but at the same time having a message that has poetry, that is classy. I have no taboos at all with [sexy lyrics], because we're all here because our parents had sex. But I do believe that the way you explain things, the way you communicate, it makes the whole difference. And this is a song that is very sensual, but it's very poetic at the same time. So it never crosses the line to be vulgar in any way.

Here's a video of Erika Ender performing her song, "Masoquista."
DK: At what point was it decided, to bring in Daddy Yankee to add his part to the song?
Ender: It was Luis who decided that. I told him, "I think we need a collaboration because nowadays, everyone does that. It's very common and it's very cool, because it's a way for both sides (pop and hip-hop) to have a brand new audience. Luis told me he thought Daddy Yankee would be great for this song, and I told him to go ahead [because it was a great idea]. And then Daddy Yankee added his part, which was amazing—the rap and the line "pasito a pasito" and the first chorus, that's his. And I think it was brilliant—Luis and Daddy Yankee's flavor together made it amazing. And then adding Justin Bieber was an extra bonus that was amazing, too. So I think this song has been growing and growing. I don't want it to stop (laughs), and I'm so grateful to be part of this.
DK: It's rare that a Spanish-language song becomes such a big hit in the U.S. and in other English-language countries. Why do you think "Despacito" is the song that broke through in such a big way?
Ender: I don't have that answer. But I can tell you that there are songs that come into the world with a special spark…it has magic in some way. I think there are several factors that helped make this happen. I mean, the song itself came out very easy and organically. The good vibes we had, and then adding Daddy Yankee to it, and adding Justin Bieber. It's a song that has a concept and a message, and it somehow connected with the world. I don't even want to find the explanation (laughs), I just want to be as grateful as I can. There are some things in life that have no explanation…you just go with the flow and be thankful for it, whatever life brings you.
DK: You've obviously written many hits for Spanish-language artists. Do you also write many songs for English-language artists?
Ender: Yes. It is easier for me to write a song in English than to speak in English, because English is my third language. Spanish is my first language and Portuguese is my second language. But I do speak English and write songs in English. Years ago (in 2000), I wrote the English version of the smash hit "Purest of Pain" by the group Son By Four. Anyway, I do work the three markets. In order of fluency, I work the most in Spanish, then Portuguese, then English.
DK: You're also a singer/songwriter who's released several albums. Can you talk about how you balance your artist career, with writing songs for other artists?

Here's a video of Los Tigres del Norte's hit "Ataud," which was written
by Erika Ender. Ender won a Latin Grammy Award for this song.
Ender: I have no idea! (laughs). No, I'm [actually] very organized, and I work with a calendar, knowing exactly where I'm going to be as an artist, while also setting up my writing sessions. I really try to be as disciplined as possible, to know about the artist who needs songs for their new album, and at the same time, working on my own shows and my own CDs. For example, when I write for an artist, I want that artist to shine as much as possible, and I try to write something that really suits that artist. And whenever I write something for me, it's what suits me and what I need to express.
DK: Thank you Erika for doing this interview. For songwriters & artists who are interested in breaking into the Latin music industry, what advice would you give them? Should they consider moving to Miami, to be close to the industry there?
Ender: Nowadays, you don't really need to be in a specific place, because you can do your songs from your studio and send mp3s. When I started 20 years ago, it was completely different, of course. Anyway, this is a business where social relations are important. You need to be at the right place at the right time. You need to get to know the people [in the industry], and get to understand the artists that you want to write for.
The truth is, I believe that it's important to have authenticity, to be as professional as possible, and to be as open as possible, because music keeps changing. And the most important thing in the end, is to have perseverence. You can't take no for an answer and you can't take it personally, because a song is a product…it's not that you're not good. It may be that a certain person doesn't feel your song, or the timing isn't right. What really matters, is to persevere, be authentic, and write from your heart. Be true to yourself and don't quit, and try to learn as much as you can.
For more information on Erika Ender, visit her site: https://www.erikaender.com And here's the link for Erika Ender's booking agency.