Eric Erdman's "Bird On A Powerline" Named March "Best Song Of The Month"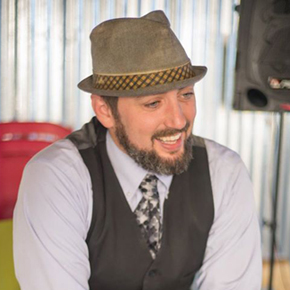 Eric Erdman, an acoustic/pop singer/songwriter based in Mobile, Alabama, has won the SongwriterUniverse "Best Song Of The Month" Contest for March, for his song "Bird On a Powerline" (co-written by Wendell Erdman). This song is included on Erdman's album My Brother's Keepers, which he released independently in 2013.
"Bird On A Powerline" is a well crafted, acoustic tune which has an appealing melody and unique, thoughtful lyrics. The music arrangement has an easy-going feeling in the style of James Taylor, but the lyric tells an emotional story of unrequited love, more in the vein of "You're Beautiful" by James Blunt. This recording was expertly produced by Rick Hirsch, a prominent Southern rock guitarist who co-founded the band Wet Willie and later toured with Gregg Allman and Joan Armatrading.
Erdman was born and raised in Mobile, where he learned at a young age to play guitar, playing music along with his older brothers. He started writing songs when he was 8, and later began playing in bands. Erdman was inspired by listening to such favorite artists as James Taylor, Jim Croce, Mac McAnally and David Wilcox. Following high school, he attended the University of South Alabama and subsequently graduated with B.S. Degree in Statistics.
After college, Erdman decided to pursue a career in music, and formed a funk rock band called The Ugli Stick. The group recorded four albums and toured for 15 years (with Erdman as the lead singer), including three tours overseas. The Ugli Stick had a long, successful run, but eventually Erdman decided to become a solo artist. "During the band years, I would write acoustic, storyteller-type songs, but that wasn't the vehicle for the band," he explained. "When we broke up amicably two years ago, I started recording albums as a singer/songwriter."

Here's the video of Eric Erdman's song, "Bird On A Powerline".
It's been during the past two years that Erdman has been a prolific songwriter & artist, recording and releasing three albums: My Brother's Keepers (2013), Colors Of Silence (2014), and the newly released Not Slowing Down (2015). He is even working on a fourth solo album, which he hopes to release later this year.
In addition to writing & recording, Erdman has toured steadily as a solo artist, playing shows in Australia, Belgium, Germany, Italy and France. He's looking forward to an extensive U.S. tour this year, playing gigs in Nashville, New York, Boston, Minneapolis, Los Angeles and other cities. Notably, Erdman will be doing some shows together with singer/songwriter Shawn Mullins, and he has toured regularly with Sally Taylor (the daughter of James Taylor & Carly Simon).
Top Five Songs Of The Month
Here are the Top Five Songs which were submitted for this month's contest, with the songwriter credits, plus their e-mail and website links. You can listen to the winning songs by clicking the music players below.
"Best Song Of The Month" Winner
Song Title:
Bird On A Powerline
Written by:
Eric Erdman (of Mobile, AL) & Wendell Erdman. Performed by Eric Erdman.
More Best Songs Of The Month
To enter the next "Best Song Of The Month" Contest (the deadline is the last day of each month), please
Click Here