Legendary Singer/Songwriter Don McLean Tells How He Wrote "American Pie," "Vincent" And Other Classic Songs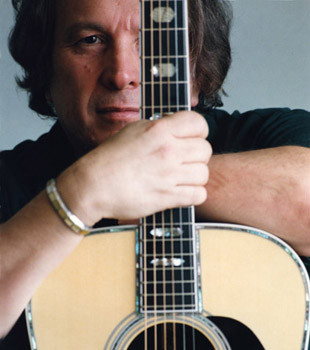 With a music career that has spanned 47 years, Don McLean is an acclaimed singer/songwriter who has been inducted into the Songwriters Hall of Fame. He is best known for writing and recording the number one hit song, "American Pie," which has become one of the most famous songs in pop music history, and remains an enduring classic.
"American Pie" has been chosen for prestigious honors and awards that have only been given to a select number of songs. The RIAA and the National Endowment for the Arts named "American Pie" as the #5 song on their list of Songs of the Century. The song is also in the Grammy Hall of Fame. And in March of this year (2017), the Library of Congress added "American Pie" to its National Recording Registry, as a musical work that is culturally, historically or aesthetically significant.
In addition to his achievement with "American Pie," McLean has also written and recorded many albums, and he's known for his other hit songs. Also featured on his best-selling American Pie album (from 1971) is his classic song "Vincent," which is a heartfelt ballad about the life of painter Vincent Van Gogh.
SPECIAL FEATURE: STREAMING AUDIO

Here's an excerpt of our interview with Don McLean, who tells how he wrote and recorded his classic hit song, "American Pie."
McLean's debut album, Tapestry, was released in 1970 and contains two other memorable songs, "Castles in the Air" and "And I Love You So." The original version of "Castles in the Air" appeared on Tapestry, and then in 1981 McLean re-recorded and re-released this song, and it became a hit.
"And I Love You So" is a beautiful ballad that became a standard, when many other artists decided to record this song. The song was a cover hit for Perry Como in 1973, and it was recorded by Elvis Presley for his 1975 album, Today, which was one of his final studio albums. "And I Love You So" has also been recorded by Harry Connick Jr., Glen Campbell, Johnny Mathis, Rick Astley, Shirley Bassey, Tom T. Hall, Emmylou Harris, Bobby Goldsboro, Engelbert Humperdinck, Helen Reddy and Bobby Vinton.
Other artists who have recorded songs by McLean are Madonna (who had a hit in 2000 with her recording of "American Pie"), George Michael, Josh Groban, Julio Iglesias, Weird Al Yankovic, Olivia Newton-John, Patti Austin, Cliff Richard, Ronan Keating, and the Four Tops.
Currently, McLean remains an active concert performer who tours North America and overseas, particularly in Europe and Australia. In 2011, he performed for an audience of 100,000 at the Glastonbury Music Festival in the U.K.
We are pleased to do this new Q&A interview with Don McLean. He discusses his early years as an artist, and how he wrote his hits "American Pie," "Vincent" and "And I Love You So."
DK: How did you get started as a singer/songwriter, and eventually record your debut album, Tapestry?

Here's a video of Don McLean performing "American Pie" live in 1972.
Don McLean: Well, the first album was the hardest album of all to put out. I had a whole album worth of songs that I had recorded, and I kept writing songs that changed the character of the album, and wanting to add songs and take some of the weaker ones off. So the album was in the making for a couple of years, and then the record company would like it for a while, and then they'd drop out, and I'd have to find another one. It was a very difficult process.
There were many different kinds of songs on the Tapestry album—songs like "Magdalene Lane," "General Store," and "Orphans of Wealth." And then there were love songs like "And I Love You So" and "Castles in the Air." So a lot of the record companies would say, "Oh I like the love songs, but I don't particularly like the protest songs, and I don't really understand the other songs." So it made it very difficult. But in many ways, it was probably the best album I ever made in terms of material, my preparation for the album, the guitar work that I worked on, and through a long time of performing live with it.
DK: "And I Love You So" was later recorded by Perry Como, Elvis Presley and other artists. How did "And I Love You So" become a popular cover hit?
McLean: For the Tapestry album, the only single release had both "And I Love You So" and "Castles in the Air"—one was on one side and the other was on the other side. It got on the charts; it got to about #90. And so it got noticed by people in the music business, who were looking for songs for singers. In those days, there were a lot of singers around who didn't write songs—like Andy Williams, Johnny Mathis, Ed Ames and others. Every single one of those people recorded that song. And in the midst of all those recordings, Chet Atkins loved the song and brought it to his artist, Perry Como, and then they had a #1 record with it. Even after that, it continued to get recorded. Willie Nelson recorded it, and Elvis Presley recorded it—he did it on his Today album. He actually sang the song every night (of his tour) for the last two years of his life. It was also the last song on his Elvis in Concert album which was his last album (in 1977). So I was thrilled, because I was a very big Elvis Presley fan.
DK: After the Tapestry album, you released your American Pie album. What inspired you to write such a different and special song as "American Pie"?
McLean: The second album was called American Pie, and I was kind of rushed to do that. I had a three-album deal, and all of a sudden after recording Tapestry, which was basically the best album I could possibly do, I needed to make a second one. So I wrote more songs and I liked them, but I would have liked to have another year to work on it.

Here's a video of Don McLean performing his hit, "Vincent."
The song "American Pie" was basically written after I had the second album all pretty much written and recorded. But I felt it was lacking…it needed something. And I wanted it to have a big song that was about America, and all the other songs would kind of have a relationship with it.
Then I found out that the record company that I was on, was [on the verge of] going out of business in the midst of this three-album deal I had with them. And that was very dispiriting…I was quite unhappy about that, of course. But I just pressed on. I had this idea for a big song about America, but I didn't want to write a "This Land Is Your Land" (by Woody Guthrie) or "The Power And The Glory" (by Phil Ochs) that was another attempt at a big America song. Sometimes I had weird ideas for songs, and this was a weird idea, that was…the politics (of the era) and music's slow parallel forward.
[After I had written it], it took a couple months to really get the players I had in the studio to play the song like I wanted it. I couldn't get the producer that I had to rock & roll. He kept thinking I was a folk singer, and he wanted us to make a folk album. So it was really quite a fight to get this song to rock.
When the record came out, it was instantly successful. It was almost like the minute someone heard the song, they wanted to buy it, or they wanted to hear it again. And that's a hit.
DK: "American Pie" was 8:33 long. When you were writing it, did you just want to write a unique and different song for your album, or did you also think an eight-minute song could be a hit on the radio?
McLean: Well, the Beatles and Bob Dylan had written very long songs that were on albums, and so it wasn't unprecedented. "MacArthur Park" was very long and it got on the radio. So it was not that unusual. But when "American Pie" was number one on the charts (for four weeks), a lot of people thought that Don McLean was now a sellout, that I had become a hit-maker. [All of a sudden] teens would scream and yell and you know, pass out when I walked in the room (laughs). Yeah, that whole thing happened for me, too.
DK: So you went from being worried that your record label might go under, and then a few months later you put out "American Pie" and it becomes a worldwide hit. How did it feel to have a song that was so big?

Here's a video of Don McLean performing his hit, "Castles in the Air."
McLean: It was like heroin or something—it wasn't a normal, everyday thing. It wasn't like eating corn flakes, you know? (laughs). It was a powerful, altering, life-changing experience which continued on for years.
"American Pie" has had its own history, its own biography, and each time it's reflected on my own ability as a singer and songwriter. And it's popularity has given me the opportunity to [showcase] my other songs. So people got to know my songs like "Crossroads," "Winterwood," "Castles in the Air," "Wonderful Baby," "Dreidel" and "If We Try." Of course, "American Pie" was far bigger than all of those songs, but they still know many of my other songs. So that was always a wonderful benefit [from the success of "American Pie"].
DK: Also on the American Pie album was your song, "Vincent." What inspired you to write a song about Vincent Van Gogh?
McLean: It was written when I was a real unknown, around 1969, when I was singing in the school system in The Berkshires (in Western Massachusetts). I was reading a book about Van Gogh, and I decided that it was an interesting idea for a song, and the idea of using the imagery of his painting, The Starry Night, to tell a story. And I thought, Oh boy, that's so pretty…it's going be so beautiful. I like beautiful things—I'm interested in beautiful lyrics and interesting ideas and beautiful melodies.
DK: Ten years later in 1981, you had a hit with your recording of Roy Orbison's classic song, "Crying." How did you decide to record this song?
McLean: I think if I had worked with the producer, Larry Butler, a few years earlier, I would have had a bunch of other hit records because he knew how to make hit records. After doing other things and making other kinds of records that were interesting to me, I finally got around to going to him, and he produced [my '80s hits] "Crying" and "Castles in the Air."
With "Crying," I had met Roy Orbison in 1972 at Johnny Cash's house after the Grammys that were in Nashville. At that time, I knew some people who knew Johnny Cash, and Johnny was aware of me as a songwriter; he was always aware of singers and songwriters who had talent. I was just fascinated with what was going on at his house—all kinds of people were showing up. It's funny, years later around 1979, I recorded "Crying" because I had a nervous breakdown in the '70s, and I knew what it felt like to have that kind of emotional turmoil. So I understood that song, and also felt I could sing it in a different way, and that I could make it more dramatic than Roy's version. Roy's version was different—it was more of a rumba of some kind. Nobody can touch Roy's original record, of course. But I felt I could do something different with it, that would add to it.

Here's a video of Don McLean performing his hit, "And I Love You So."
DK: Then in 2000, Madonna recorded her version of "American Pie" and made it a hit again. What did you think of her version?
McLean: I have enormous respect for Madonna, and I was honored that she chose my song to sing, and to put it in a movie she made (The Next Best Thing). And for a brief moment, I was involved with her because of that. She made a great video of "American Pie" which is a classic. It's one that everybody knows and has seen. And she did the song a tremendous amount of good. A whole new group of screaming young fans were with me again (laughs). All of a sudden, I was in a teenybopper phase again and I was 50 at the time (laughs).
DK: That shows the power of a song. The artist might not be young anymore, but a good song can appear fresh to young people who hear and like the song.
McLean: Music, when it's done properly, and it's written without words that can date a song, a song or record can be timeless. You can still hear Bing Crosby sing "White Christmas" and it's still the most beautiful version of "White Christmas" that you'll ever hear. And this is what you're shooting for.
DK: Over the years, you've recorded many solo albums. For music fans who might want to explore some of your lesser known albums, which albums should they check out?
McLean: They should check out (the albums) Headroom, Prime Time, and Believers, which is the second album I did with Larry Butler that had "Castles in the Air" on it. And if they want the solo Don McLean, they should listen to the (live) album, Solo. That's for people who like me when I played banjo and guitar and I played solo around the world, which I did for a good 15 or 20 years.
DK: Thank you for doing this interview. Is there anything else you'd like to mention for this article?
McLean: Well, I like to tell people that write about my songwriting, that basically I'm a fusion artist. I fuse old-fashioned, popular music with early rock & roll, like Elvis Presley and Danny & The Juniors…things that were fun and easy to play, and with folk music. That's what I do.

Here is Madonna's video of "American Pie."
I was thinking the other day, that it's so interesting that the rise of the guitar-playing troubadour as a mainstream staple of the music business, became a phenomenon. This was because, up until the 1950s, you had to be a trained singer that sang with an orchestra, in order to be a singer in show business. Then all of a sudden, Elvis Presley comes along and he's playing a Martin guitar. Woody Guthrie's there and he's playing a Gibson guitar. And then the Kingston Trio came along and they're playing their Martin guitars and they're playing banjos. And suddenly, everything is guitar-oriented.
In the early days, rock & roll started out as being supported by orchestras. When (famous DJ) Alan Freed would do his show, he had the King Curtis Orchestra, and they played behind the Platters, behind all of the groups…the Dovells, the Satins. The orchestra would play the songs with them. And then suddenly, it all became electric guitar-oriented. So the huge change in music occurred in the 1950s, in ways that didn't seem important in the beginning, but it changed everything. And it had to do with the guitar, and the rise of a guy who just needs to play a guitar and sing a song or write a song, in order to be a very powerful force. And I was one of those guys…I am one of those guys. So that was brand new.
Here's the link to Don McLean's site: https://www.donmclean.com/