Amazing Saga: The Story Of How Author David Ritz Wrote The Classic Hit Song "Sexual Healing" With Marvin Gaye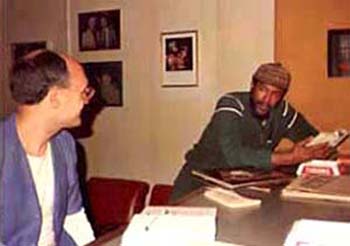 Author David Ritz is best known for writing the autobiographies of music legends B.B. King, Ray Charles, Aretha Franklin, Smokey Robinson, Jerry Wexler, Etta James, the Neville Brothers and Walter Yetnikoff. He also wrote "Divided Soul," which is the definitive biography of Marvin Gaye. But Ritz is also a gifted lyricist, and he co-wrote with Marvin Gaye the classic hit, "Sexual Healing.'
The initial inspiration, the actual writing of the song, and its post-release aftermath make the story behind "Sexual Healing" a fascinating songwriter saga. Not only did Ritz (who lives in Los Angeles) travel to Ostend, Belgium to write the song with Gaye, but later he was forced to file a lawsuit when Gaye did not credit him on the song.
Ritz and Gaye had been friends for years, and they had talked since 1977 about doing Gaye's autobiography. But Gaye was always on the move, living first in Cleveland, then Hawaii and London. Not having had a hit for years, suffering drug addictions and going through two brutal divorces, Gaye was broke and down when Belgium businessman Freddy Cousaert invited him to stay in the seaport town of Ostend. Cousaert then got Gaye an apartment, loaned him money, and earnestly helped him rebuild his career.
Gaye invited Ritz to Belgium to work on the book. Ritz arrived, and the two had lengthy conversations, discussing a wide range of topics in Gaye's apartment. Gaye was also focused on writing songs for his next album, which would be his first for Columbia (CBS) Records after 20 years with Motown.
"Marvin had a reggae-styled rhythm track from his keyboardist, Odell Brown, that he was obsessed with," recalled Ritz. "He knew the track had potential. On his coffee table was an avant-garde, French sadomasochistic book, full of cartoon drawings of women who were sexually brutalized. I told Marvin, 'This is sick. What you need is sexual healing, being in love with one woman, where sex and love are joined instead of sexual perversity.' Marvin liked the concept of sexual healing, so he asked me to write lyrics to go with this concept."
"I wrote most of the lyrics, including all of the verses and the chorus lyric, and Marvin wrote the melody and the bridge lyric," said Ritz. "I wrote the lyrics like a poem, and the entire lyric was finished in about 30 minutes. Marvin immediately loved the song, and he thought it would be a hit. He said, 'This is what I've been looking for.'"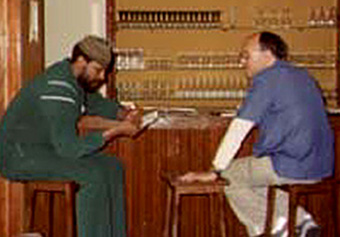 Remarkably, "Sexual Healing" was the first song Ritz had ever written. Ritz believes his experience as an autobiographer helped prepare him to write the lyric for Gaye. "My gift as an autobiographer is that I can capture people's voices," said Ritz. "As I was writing the lyric, I was trying to capture Marvin's voice and style as a singer. He said, 'That lyric sounds like me.' The lyric seemed to fit into his philosophical musings and his personal, emotional needs, so he could sing about it with complete honesty."
After staying in Belgium for about three weeks, Ritz flew back to his home in Los Angeles. He was pleased to have co-written "Sexual Healing," but even more pleased to have completed many interviews with Gaye for their book project, which was his primary focus. Gaye subsequently recorded "Sexual Healing" and the rest of the album in Brussels, with the help of producer Harvey Fuqua.
Ritz admits that he was naive, not following up closely on the status of "Sexual Healing," and not aggressively asserting his writer's claim for the album credits. "I made the assumption that I would be getting my writer credit on the song," said Ritz. "Then suddenly the album (titled "Midnight Love") was released, and I wasn't listed as a writer. Marvin only gave me a 'thank you' credit on the back of the CD."
Gaye had written on the liner notes, "Thank You to David Ritz, whose brilliant literary mind created the title 'Sexual Healing.'" But having been cut out of a writer credit or potential royalties, Ritz was stunned. When he spoke to Gaye, he asked why he was left off the writer credits. According to Ritz, Gaye said, "Oh David, I'll be giving you some money, but because of contractual obligations (Gaye had signed a publishing contract with CBS), I can't credit you as a songwriter. But that's why I gave you the credit in the liner notes."
Upon the album's release, Gaye returned to the U.S. (following three years in Belgium). Although "Sexual Healing" and the album marked a comeback for Gaye, his return to a more hectic, intense lifestyle in the U.S., full of pressures, drugs and hanger-ons, took its toll on him.
"Marvin was healthier and more psychologically stable living in the peaceful setting in Belgium," explained Ritz. "When he finally returned to the U.S., he went into an emotional freefall. He went into a precipitious mental and spiritual decline, which ultimately resulted in his demise. After his U.S. tour he even tried to commit suicide."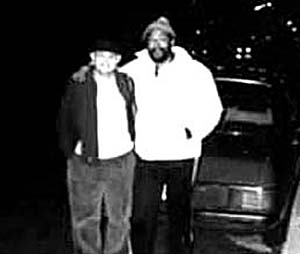 "His dramatic decline coincided with me wanting to get my money and song credit," said Ritz. "I had no choice but to approach him and ask, 'When will I get my writer credit and money?' He was having a long and torturous breakdown. As a result of his state of paranoia, he perceived me as an adversary."
For a while, Gaye had reassured Ritz that he would resolve the matter. But it eventually became clear to Ritz that his only recourse was to file a lawsuit against Gaye. "The straw that broke the camel's back was when I saw him at the hospital (to celebrate the birth of Gaye's brother Frankie's baby)," said Ritz. "He was curt and dismissive to me. That's when I knew he wasn't going to credit me on the song. Finally, after consulting with my agent and business friends, I initiated the suit. He was served the suit before one of his concerts."
Ritz did make another effort to try to patch things up with Gaye. He asked a mutual friend to speak to Gaye about him. This time, the result was more positive, with Gaye saying he did want to reconcile his friendship with Ritz.
However, Gaye was tragically killed by his father, Marvin Gay Sr., on April 1, 1984. His father claimed it was self-defense, and later pleaded no contest to a reduced charge of voluntary manslaughter. On November 2, 1984, Gay Sr. was sentenced to five years probation, avoiding prison incarceration.
In the aftermath of Gaye's death, Ritz's suit had yet to be resolved. The case continued, with Gaye's family estate now handling the suit. Depositions were eventually taken, with several key witnesses testifying. Gaye's longtime attorney Curtis Shaw testified that he heard Gaye acknowledge that Ritz had co-written "Sexual Healing." Another crucial element in the case was the tape recordings Ritz possessed of his meetings with Gaye back in Ostend in 1982. Amazingly, because Ritz had taped all of conversations he had with Gaye for his book project, he had the entire writing session of "Sexual Healing" recorded, including Gaye telling Ritz that "We wrote a great song together."
Finally, on the day the case was going to trial, in the hallway outside the courtroom, the attorneys for both parties settled the lawsuit. Ritz finally received his writer and respective publisher credit, and began receiving royalties from the song. Ritz subsequently received a certificate from NARAS (the National Academy of Recording Arts & Sciences), to honor Ritz for his co-writing of "Sexual Healing," which was nominated for "Best R&B Song" at the 1984 Grammy Awards.
Now, when Ritz looks back at the saga of "Sexual Healing," he says, "It was a miracle of creative invention that the song was written. The whole thing turned into a business muddle, but it ultimately had a honest conclusion. The irony of it all was that Marvin never got the 'healing' he sang about in the song. He sang it beautifully, but he couldn't quite live up the the message of the lyrics."
More information about David Ritz can be found at his website: www.ritzwrites.com.
Dale Kawashima is on Google+