Special Interview With Daryl Simmons, Co-Writer Of 18 Top 10 Pop Hit Songs For Boyz II Men, Toni Braxton, Bobby Brown, Babyface and TLC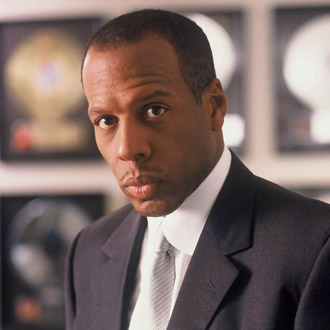 Atlanta-based writer/producer Daryl Simmons is not as well known as his longtime collaborators, Kenneth "Babyface" Edmonds and L.A. Reid, but he has played an important role in creating many classic, pop/R&B hit songs with them. Simmons has co-written (and sometimes produced) an impressive 18 singles which have made the Top 10 of the Billboard Hot 100 chart, for such artists as Boyz II Men, Toni Braxton, Bobby Brown, Babyface, Karyn White, TLC, Johnny Gill and Tevin Campbell. In addition to his work with Babyface & L.A., he has written & produced hits for Monica and Dru Hill.
The biggest hit Simmons co-wrote is "End of the Road" for Boyz II Men, which spent a then record-breaking 13 weeks at #1 on the Hot 100. Notably, Simmons won a Grammy Award for Best R&B Song, for co-writing this song. He has also been nominated five other times in the Grammy Best R&B Song category.
SPECIAL FEATURE: STREAMING AUDIO

Here's an excerpt of our interview with Daryl Simmons, who tells how he wrote with Babyface and L.A. Reid, the hit "Don't Be Cruel" and other hits for Bobby Brown.
Here's a brief rundown of his other Top 10 hits: "Don't Be Cruel," "On Our Own," "Humpin' Around" and "Good Enough" for Bobby Brown; "Another Sad Love Song" and "You Mean The World To Me" for Toni Braxton; "The Way You Love Me," "Superwoman" and "Secret Rendezvous" for Karyn White; "The Lover In Me" for Sheena Easton; "It's No Crime" for Babyface; "My, My, My" for Johnny Gill; "Baby-Baby-Baby" for TLC; "Can We Talk" for Tevin Campbell; "Why I Love You So Much" for Monica; and "In My Bed" and "Never Make a Promise" for Dru Hill.
In addition, Simmons co-wrote these other songs which were chart hits: "Dial My Heart" for The Boys; "Knocked Out" for Paula Abdul; "Fairweather Friend" for Johnny Gill; "My Kinda Girl" for Babyface; "Give U My Heart" for Babyface & Toni Braxton; "Love Shoulda Brought You Home" for Toni Braxton; and "We're Not Making Love No More" for Dru Hill.
Although most of Simmons' hits were in the 1980s and 1990s, he has remained a prolific songwriter who has co-written many more cuts to date. In 2014, he reunited with Babyface to co-write seven songs on Babyface & Toni Braxton's duet album, Love, Marriage & Divorce. The following year (2015), he co-wrote all nine songs on Babyface's excellent album, Return of the Tender Lover. And this year, Simmons has been in the studio with the group After 7 and with Stephanie Mills, co-writing & producing new songs.
Currently, Simmons runs his company, Daryl Simmons Entertainment, which is a management & consulting business. Simmons utilizes his passion for music and his knowledge of the music industry to guide, develop, and mentor up-and-coming artists.
We are pleased to do this new Q&A interview with Daryl Simmons. He tells how he got started in the music business, and discusses his longtime friendship with Babyface. He also recalls how he, Babyface & L.A. Reid co-wrote some of their classic hit songs.
DK: How did you get started with music? I read that early on, you went to school with Babyface (Kenny Edmonds).
Daryl Simmons: We actually went to junior high school together, in Indianapolis. I met Kenny when I was in the 8th grade. I was in a band with his older brother, Michael, who played guitar. I had heard that Kenny could really sing and he owned his own microphone. Back in the day, people who had their own equipment—it was huge if they had a mic or a PA system. I said to Michael, "Why don't we get your brother to sing?" He said, "No no, we don't need to get him." But I heard he could really sing, and we needed a singer.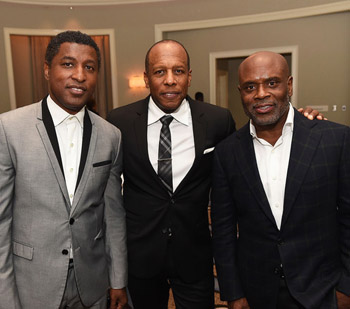 Fast forward one day—we're outside rehearsing. Back then, bands would rehearse in the garage with the garage door up to attract attention. So I was out there playing my drums, and Kenny walked by with two other guys. I said, "Wow, I've heard a lot about you." And he then asked me, "Why don't you think about joining our band?" So I quickly jumped ship and joined his band. From the very first day, we hit it off and we became best friends. We started writing little corny songs together. He had an acoustic guitar—we'd go to his house and write, and we'd go to my house and write. And that's how it started. We built a friendship, and we discovered we had this affection and love for music.
DK: I know your friendship with Kenny has continued to this day—you recently worked on Babyface's album (The Return of the Tender Lover), and the duet album with Babyface &Toni Braxton (Love, Marriage & Divorce).
Simmons: It's never stopped. We've had a friendship first, for 43 years, but along the way we've always written music together. Either he'll go off and do things on his own—he's done a lot of great things by himself. And I've done a few things by myself. But we've always written together (over the years).
DK: When you wrote with Babyface and L.A. (Reid), what was your main contribution to these writing sessions?
Simmons: When it was the three of us, for me, it was primarily lyrics. Lyrics was my contribution. Sometimes L.A. would have a drum track, but most of the time Kenny would have chords and melodies already formulated. Kenny would say, "Hey, this is what I'm thinking…this is the melody…I've got this concept like "Another Sad Love Song." So I was good at dissecting his story and jumping on where he wanted to go, and helping him get there.
It's still the same today. Kenny will say, "Hey I got these ideas…tell me what jumps out at you. He'll just play a list of stuff, and I'd say, "Wait a minute, that's a record." Then he'd say, "Okay," and he'd mark that one. So still, when Kenny and I work, it's more lyrics and melody that I contribute. But he always starts with something that he's feeling. To me, he's just a genius—he hates that word, but he's the musical genius to me. I'm sort of like the sidecar, or I like to say…Batman & Robin. Batman can do it all, but every now and then, he needs Robin to get him out of a jam.
DK: So you're Robin?
Simmons: Yes I'm Robin—it's Batman & Robin. As you know, Batman (Babyface) can do it on his own. He did the Waiting to Exhale soundtrack all by himself, which was amazing. He didn't need any help. But he's always said we're better as a team. He's says that it's better for me just to be in the room. He told me, "You just sitting there makes me think of something." I said, "Okay, if I can sit here and make you think of something…Cool. " So we have a formula that's worked ever since the day that we met. He even referenced that when we were working on Return of the Tender Lover. He said, "Do you realize we've been working on the same thing, the same way since we started writing?" We may have been [writing] in a closet, in an apartment building, in a storage room—he said it's been the same process that we've done the same way. Which is, he and I getting in a room, and then just kind of walking out of the room with something amazing. It's just something that works—there's a harmony…we're on the same channel.
DK: You said that your strength is lyrics and melody. Do you also play a lot of instruments?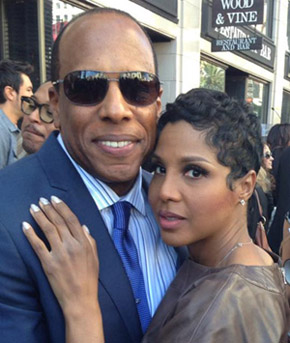 Simmons: I play keyboards—I write on piano, which I started doing when I was around 17. I bought an acoustic piano. Kenny and I both thought that we needed to write on acoustic piano. So I bought a piano and put it in my mom's house. And we'd both sit there and hack out chords, and it's how we did it. We don't call ourselves piano players…the piano is a writing tool.
DK: You said that you and Kenny were friends in school. Can you tell me how you made the transition, to being a pro songwriter and musician?
Simmons: From the moment we met, Kenny and I were in bands together. In Indianapolis, we were in a really good, local club band called Manchild. We recorded a couple albums which really didn't do anything. We were the big cheese locally…playing the bars. Then Kenny got tired—he said, "this isn't heading anywhere, I don't feel like things are moving forward." He then said, "I'm out (of the band)." Of course I was devastated, because I'd been with him since we were 15-years-old. Everybody understood why Kenny left the band. But it was very emotional for me to be detached. For one, he was my friend, and second, it made me start to wonder…What's going to happen to me?  What am I going to do?
So Kenny went off and joined this band in Michigan. He was making money, and in between, he would go back and forth to Cincinnati, to work with one of our friends, Bo Watson of the group, Midnight Star. We met Bo, because their band would come to Indianapolis. So we met those guys (in Midnight Star) before they became famous. They're great guys.
One day, Kenny calls me and says, "Hey I wrote this song with Bo called 'Slow Jam' for Midnight Star, and you've got to hear it." So I listened to it, and said "Wow Kenny, that's great." He said "Yeah, they're going to record it on their album."
So Kenny starts working with Bo, and in the meantime Midnight Star is working with this group called The Deele, trying to do an album for them. (L.A. Reid was already in the group.) Somebody says, "you ought to put Kenny in your group—he's talented…he can sing and he can play." Then I got a call from Kenny. He says, "Hey, I just joined this band called The Deele—they just finished an album. I want to know if you wanted to come on the road with us, and write songs." And I was like, I dropped the phone…I was out of there! They came and got me, I went to Cincinnati, and they had a big tour with Luther (Vandross) and DeBarge, and we (The Deele) opened. We were out on the road for three or four months. And in between, Kenny, L.A. and I would write songs. And in between the gigs, Kenny and L.A. would try to pitch songs to people.
When the tour ended, I went home back to Cincinnati with the guys. Kenny and L.A. stayed in [Los Angeles] to try to pursue the [writing & producing] thing. Then I got a call from Kenny. He says "Hey, we just cut this song on the Whispers called "Rock Steady," and they want to cut your song called "In The Mood'." And I'm like, "WHAT? Are you kidding me?" He says, "No no no…Things are starting to happen. You need to get to get back out here."
I jumped on a plane, went back, and from there everything just snowballed. Kenny, L.A, and I had a little apartment on Highland Ave—I slept in the room with the equipment on the floor. L.A. would come in and say, "Wake Up! I got this lady called Sheena Easton who's coming by to listen to songs." I said, "Okay." The next day he said, "Hey, James Ingram is coming by to listen to songs." Then it was, "Hey, Johnny Gill's coming by to listen to songs." Or Paula Abdul would come by. And we had this big old board—a dry-erase board that L.A. had on the wall, with all the songs we had written. So all these people would come to the apartment to hear songs. That's where we did our work. We didn't have a studio [back then].

Here's the video of Boyz II Men's #1 hit "End of the Road," which was
co-written by Daryl Simmons.
L.A, and Kenny were the producers—I was just a writer, so I would sit in the corner and they'd go through the songs, and they'd go, "Daryl, sing it!" So I'd sing the songs (for the artists). I'd sing "Fairweather Friend" for Johnny Gill, and I'd sing "Knocked Out" for Paula Abdul. They'd say, "Okay, we're gonna cut this song on Paula, we're gonna cut this on Johnny, we're gonna cut this on this girl, Karyn White." That's how the machine started.
DK: When you would play a song for the artist, did you already have the track created?
Simmons: Yeah, we had the track already. We had the lyrics written down, and Kenny would put the melody on a tape recorder. But we could remember [the melody and lyrics]. We could sing it out of the air (to the artists). We never had a recorded demo with the vocal. We would play the track, and Kenny would go, "Help me sing it." Then I'd chime in (sings the chorus of "Fairweather Friend"). Johnny Gill then said "Oh Man, I love it! Please let me have it!" We'd say, "Okay, yeah it's yours." That's pretty much what we'd do. Kenny would sing the verse, then L.A. would come in on the chorus, and that would be it. This went on [for years]. That's how we worked.
DK: One of your biggest early hits was "Don't Be Cruel" by Bobby Brown. How did you start working with Bobby, and co-write this song?
Simmons: We got a call from Louil Silas (a top A&R exec at MCA Records who has passed away). Louil says, "Hey man, Bobby Brown [has left New Edition], and he's looking to do a record—Y'all need to work with him." We were like, "Okay." At the time, we were working in Silver Lake with this group, The Boys. We'd just done a song called "Dial My Heart." So Bobby comes by…I think he had just turned 21. He was full of energy, and we started talking. We [decided to] start working on songs for Bobby.
At the time, Kenny has just gotten his house up in the hills, and it had a guest house. L.A. would work in the studio in the guest house and program drums. Kenny and I couldn't be in the same room because he turned it up so loud. This dude busted so many speakers over our career and drove engineers crazy.
So one day, we hear this beat coming out of the guest house. (He sings "Boom Boom Taka Boom, Boom Taka Boom, Boom Boom Taka Boom"). And Kenny was like, "What the hell is that?" So we run in the room and L.A. said, "I got this beat!" I said, "Damn…that shit is nasty! That's already a song by itself!" Kenny said, "All I got to do is put the right thing on it." So Kenny went to the bass sizer (creating the bass line). So as you know, Bobby [had the reputation of being] this bad boy, nasty, always in trouble. We said, "This is Bobby…this is so nasty.This is Cruel…this track is Cruel." So that's how Kenny came up with Don't Be Cruel as the concept. Then we had to make it make sense. So that's how "Don't Be Cruel" came about.

Here's the video of Bobby Brown's hit "End of the Road," which was
co-written by Daryl Simmons.
At that time, I was into rap music—I was into Heavy D, Public Enemy…I loved Chuck D. So I wrote the raps for "Don't Be Cruel." But then Bobby came in behind me and goes, "No no no…D, that's corny. Let me finish it." I said, "Okay, Bobby." So he would finish the little rap that I started, and he made it "Bobby"—he brought attitude to it. We were so ecstatic. After that, everything [clicked]. I said, "Let's have him try 'Rock Wit'cha' as a ballad…it can't be too soft, it can't be too pretty." It was perfect for Bobby. And then Kenny wrote this song called "Roni," about this girl we met in Florida that loved Kenny…she loved Babyface, but she was too young. We were saying, "She's a Roni…Man, she's a Tender Roni, you can't mess with her." So that's how that song came about. Bobby's whole thing was really great to me. I still think that was probably the greatest musical time for us.
DK: Early on, you also co-wrote some great songs for female artists. I really like the songs you did with Karyn White.
Simmons: Karyn was great. To this day, my favorite song we did with Karyn is "Love Saw It," the duet with her and Kenny. God, that's my favorite song from that album. (He starts singing "Love Saw It").
Karyn was great, because she was probably the first singer [we worked with] that could follow Kenny. She could phrase things the way that Kenny phrased it—she had the rhythm, and we were big on rhythm. We were big on making it feel good. We loved working with Karyn.
DK: I really like your song "Superwoman," which Karyn sang.
Simmons: It was eerie to me, that a lot of our best work was for female artists. I felt like we were always good at writing what we felt that females were thinking about men. So when we met with Karyn, we talked with her about her relationships with her boyfriends. We would always meet with people and see what was going on with their lives, so we could pick something from them or their personality. So then we said, "Okay," and we came up with "Superwoman." But a lot of people get [the meaning of the lyric] wrong. It's "I'm NOT your Superwoman. I'm NOT the kind of girl that you can let down, and think that everything's okay." [It means]…You can't just keep on disappointing me and think that I'm okay with it.
"Superwoman" kind of started it for Karyn—it was sort of her anthem. And from there, we did "Love Saw It," and I think (the first single) "The Way You Love Me" was the last song [we recorded for the album]. L.A. was always saying, "Okay, we've got some great songs, but we don't have the single." So a lot of our songs that were the singles, would come last, because [these songs] would be the freshest, and we would try to outdo what we had done.

Here's the video of Toni Braxton's hit "Another Sad Love Song," which was
co-written by Daryl Simmons.
DK: Later on, you also had great success working with Toni Braxton. How did you, Kenny and L.A. hook up with Toni?
Simmons: The group, the Braxtons, came to [the LaFace Records office] and auditioned. I wasn't there, but L.A. said, "Hey this group the Braxtons auditioned today—they had this one girl…her voice was crazy…we're going to sign her." I said, "Great." So I met her, she kind of hung around (LaFace) for awhile…we were just so busy. We had the Boomerang soundtrack going, and we had (the group) After 7 going in another room.
We were trying to put this soundtrack together. We said, "We've got to get Anita Baker—we've got to get Kenny to sing a duet with Anita Baker." So we started working on these songs for Anita Baker. But everytime we'd send a song to Anita Baker, she called back and said she didn't like it, for whatever reason. We sent her four songs, including "Give U My Heart," "Love Shoulda Brought You Home" and "Another Sad Love Song." In the meantime, Toni and I were in the studio demoing these songs for Anita, with Toni putting the vocal down.
So we got Anita on the phone, and we're standing around hearing her on the speakerphone, and L.A. says, "What about this one?" And she says, "Well you know, I don't really…the beat on that one really scares me." Then she says, "What about the girl you got singing on the demo? Why don't you let her sing it?" And we all looked at each other, and L.A. says (to Anita), "Okay, thank you." (the phone clicks). He then said, "Toni, you got four songs for your album." And Toni was so ecstatic!
So we decided that Toni would sing (the duet) "Give U My Heart" with Kenny, for the Boomerang soundtrack. We would introduce Toni to the world, with Kenny, on the soundtrack. And so that's how that came about.
DK: The biggest hit you co-wrote was "End of the Road" for Boyz II Men. Can you tell me how you guys wrote that song?
Simmons: We needed a song for Boyz II Men—they agreed to do the soundtrack. Kenny had bought a house in Buckhead (in Atlanta), just for us to work on music. So we drive down there. I'll never forget it…it was a rainy, awful day. Kenny's there—we knew we had to come up with this song. So he starts going through some ideas. In between, we took a break and played this little hockey game. Then Kenny goes back, and he kind of hits on these chords. At the time, Kenny had been through a divorce, and I was going through a divorce. So here we go with this concept, thinking about [how things were at] the end of the road. That's how the concept came along. So we know this is sad…we know it's just a sad story. So we hit on it…"Damn, I think we got something." So we work on it all day. Then L.A. comes in from the LaFace office with his suit on. He says, "Okay, you say you all got something—let me hear it." I can still see him sitting on the couch, throwing his arms on the couch. Kenny plays it, and we sing it, and he goes, "That's just a smash!"

Here's the video of Babyface's hit "It's No Crime," which was
co-written by Jimmy Robbins.
Then we jump on a plane to Philadelphia, because the next night Boyz II Men are leaving for a tour. We arrive at the studio. I think Shawn (Stockman of Boyz II Men) comes in, and says "We've got a problem." We ask, "What's that?" "Wanya (Morris) has no voice. He's been singing so hard for this tour, he has no voice." We say, "Okay, we'll give him a night's rest…we'll come back tomorrow." Shawn says, "No, we leave in the morning (for the tour)." So Wanya says, "I can probably sing it, but I've gotta stand way back in the corner of the room, and just sing it as loud as I can." L.A. says, "Okay, stand back there.' So Wanya goes to the back of the room, puts a warm towel around his neck. And I tell people, when you listen to the fade of the record, when he sings "Oh my God, help me out a little, baby"—that made the hair stand up on our arms. We felt so bad by taking him through this, but it was so much pain in what he said. I said, "L.A., we've gotta put this on the record." And L.A. said, "Absolutely." Wanya must have sang the song twice, and then L.A. said, "We've got enough." We then jumped on a plane back to Atlanta, and we mixed it. That's how "End of the Road" was created.
DK: Of all these great songs you co-wrote or wrote, do you have a particular song which is your favorite?
Simmons: I guess "End of the Road" is at the top. It was our first Grammy (Award). It was just a great song, and it just did so much for my career. It's sort of what I'm most associated with. Another favorite is "Love Saw It." I'm proud of everything that we've done. I know the work and the passion that we all put into it.
These songs were created, mixed, arranged by the three of us, or by the two of us. Nowadays, you look at a record and it's got 15 people on it. I'm really proud of the fact that between Kenny, L.A. and I, we created these records from the ground up…with no help, no samples. We did all the arranging and the producing. L.A. did the mastering back then—I'd sit at mastering sessions with him. L.A. would also do the [song sequencing] of the albums. So I'm really proud of the work that we put in. People don't see the late hours that we put into the work.
DK: After your great run creating hits with Kenny and L.A., how did you make the transition to work on your own with Monica and Dru Hill?
Simmons: Well, Kenny and L.A. had sort of reached a pinnacle. They were saying, "We've done this…what are we going to do?" Kenny kind of started doing some things on his own, and L.A. started dabbling in the executive world. They pretty much were separating. So when they separated, I'm like…Damn, what am I goiug to do? I've always worked with L.A. and Babyface. It was a terrifying time for me, because I didn't know if I could do it by myself, because I was used to having two of the best as partners.
So I left LaFace. I didn't even know what I was gonna do. So I bought this building in midtown Atlanta, not knowing what I was going to do with it. I put my equipment in there, and I would go there in the mornings. I said…I'm going to start going there early, about 10 am after the traffic, and I'll stay until after traffic. Then I'll go home…see my kids after school.

Here's the video of TLC's hit single "Baby-Baby-Baby," which was
co-written by Daryl Simmons.
So, long story short, I just started writing by myself. I said, Well…it's either sink or swim, and I'm not gonna sink. So I started writing on my own, and came up with some things that I really loved. Then of course, people were calling me now that Kenny and L.A. were going through what they were going through. So I started getting calls. I got a call from (female group) SWV, I got a call from Lisa Fischer, got a call from Dallas (Austin). His studio was next door. He said, "Hey man, you got a song for Monica?" I'm like, "Yeah, I think I got something." He came over and I played him "Why I Love You So Much." He said, "I love it. Can you cut it on her?" I said "Yeah," and I cut that on Monica.
That was sort of my first success by myself. It was a gold single. So from that point, of course my name was out there. I got a call from Clive (Davis, label CEO) to work with Aretha Franklin. And then Clive had me work with Deborah Cox, so I did Deborah Cox by myself, doing a song called "I'm Your Natural Woman," which I love to this day.
From there, (music exec) Hiriam Hicks came to me, and said "Man, I got this group, Dru Hill—can you check 'em out?" He brought them to my studio…I fell in love with (group member) SisQo—he reminded me of Bobby (Brown). He had that energy…that voice. So I did these two songs ("In My Bed," "Never Make a Promise") on Dru Hill, and that's what probably solidified me as a producer on my own, because Dru Hill blew up off of my songs. With [the other artists I worked with], I didn't have the lead songs. Dallas Austin already had the lead single for Monica. But with the Dru Hill songs, it was my first time leading the ship out the box with my songs. So that's what really put me on the map as a producer by myself. In fact, Kenny called me. He says, "Hey, I like what you did on Dru Hill," and to please Kenny was really hard to do. So that was the ultimate compliment. L.A. called me too and said he loved it. He invited me to work on the Soul Food soundtrack he was working on.
DK: Currently, you have a company, Daryl Simmons Entertainment, which is a management & consulting business. Can you tell me what you're working on now?
Simmons: Well, I will always work with Kenny on his projects…that will never end. A couple years ago, we did his duet album with Toni Braxton (Love, Marriage and Divorce) and last year we did his Return of the Tender Lover album, which I'm really proud of—it's a great body of work. And we just finished working on an After 7 album called Timeless. Kenny and I did six of the 10 songs, and we wrote the first two singles: "I Want You" and "Let You Know." We just kind of went back to the old After 7 way of writing. Those guys are magnificent…they sound great.
I'm currently working on two songs with Stephanie Mills, which I'm excited about. I also do consulting—I get so many calls from people. I get hits on Instagram or Facebook, with people saying, "Hey, I'd love to meet with you, how can I get my music heard?" So it's a part of me which is giving back—I know how hard it was for Kenny and I to get people to listen to our music. So I have a consulting business—I'll meet with them for 90 minutes, and whatever they want to do. If they want to sing, if they want to play music, or if they just want to talk to me…so I give that back. Also, I'm looking to get into the executive field, doing A&R. The last year, I've been putting feelers out there, letting people know. That's probably the next thing for me. I think the next thing for me is to make myself a part of a team, part of a company, where I can still be involved in music, pitching songs, finding talent,…just putting my fingers on things and pointing things in the right direction.
[In any case], I'll never stop writing because I'm a songwriter. That's what I'm most proud of. [Kenny, L.A. and I] did all the work that we did it without any Auto-Tune, without any Logic, without any ProTools. We did all the work from the ground up. We created the music with our hands, with our instruments…other than the drum machine. When I hear that music, I say Wow…there's so much that people don't know that went into those songs.