Dana Lowrey's "Walkaway" Named November "Best Song Of The Month"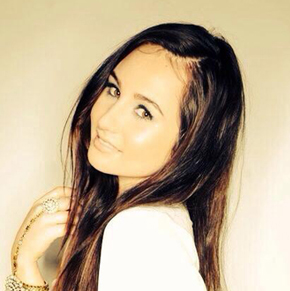 Dana Lowrey, a pop singer/songwriter based in Queensland, Australia, has won the SongwriterUniverse "Best Song Of The Month" Contest for November, for her song "Walkaway". This song is included on her debut 5-song EP, Dana Lowrey, which she released independently in March (2014).
"Walkaway" is a modern, catchy pop song which appears ready for radio airplay. The production includes some fresh, sonic textures which make the song sound very contemporary. The hooky chorus is the main highlight, and it features appealing lead and harmony vocals by Lowrey. "Walkaway" was expertly produced by Jeremy Sklarsky and Mike Wuerth, who are based in New York City and work as staff producers at Threshold Recording Studios.
Lowrey was born on the Gold Coast of Queensland, Australia, and she currently lives in the small beach town of Yeppoon. She learned to play piano at a young age, and later she also began playing guitar. Around the same time, Lowrey started to write poetry, which helped prepare her to write lyrics when she took up songwriting as a teenager. During high school, Lowrey won a talent contest by singing Avril Lavigne's song "Sk8er Boi," and she has also performed in a few musicals.
Lowrey explained how she wrote "Walkaway." "'Walkaway' was one of the songs I wrote in my bedroom a couple years ago. At that time, I hadn't really felt love yet, so I drew on inspiration from relationships of friends I had on Facebook. Looking at it now, I'm proud of the song because I think it's very relatable. [For the recording] two very talented producers, Jeremy Sklarsky and Mike Wuerth, worked on this track. I couldn't have asked for anyone better to help me with it."
Notably, another song on Lowrey's debut EP, called "Fearless" (co-written by Heather Holley) has been recorded by Kat Perkins, who was a runner-up on the hit TV show, The Voice. Perkins released "Fearless" as a single and it reached #5 on the U.S. iTunes rock chart, and it has made the first cut for Grammy award consideration. Perkins performed this song on her concert tour, and she has make "Fearless" the title track of her EP.
Currently, Lowrey has formed a band which is touring the east coast of Australia. She has also filmed an excellent video of "Walkaway," which was directed by Jason Yamas & Tim O'Brien. In addition, she plans to keep writing songs and get as much exposure as she can, and then return to the recording studio.
Top Five Songs Of The Month
Here are the Top Five Songs which were submitted for this month's contest, with the songwriter credits, plus their e-mail and website links. You can listen to the winning songs by clicking the music players below.
"Best Song Of The Month" Winner
Song Title:
"Walkaway".
Written by:
Dana Lowrey of Queensland, Australia. Performed by Dana Lowrey.
More Best Songs Of The Month
To enter the next "Best Song Of The Month" Contest (the deadline is the last day of each month), please
Click Here