Country Duo Dan + Shay Talk About Their Hit "Nothin' Like You", Their Debut Album Where It All Began, And Writing Their Songs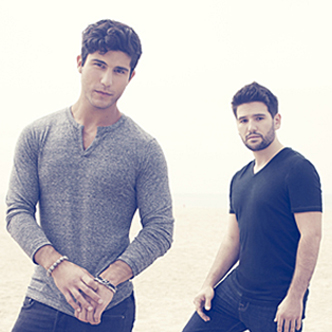 Hot new country duo Dan + Shay recently reached the number one spot on the Billboard Country Airplay chart with their single, "Nothin' Like You." The ACM and CMA Vocal Duo of the Year nominees have also enjoyed success with their previous singles "19 You + Me" (Top 10) and the "Show You Off (Top 30). That's quite an impressive launch from their debut album, Where It All Began.  Where it all started for Dan + Shay was a fortuitous meeting in December three years ago. They met at a party one night and tried writing together the next day. Immediately, the two singers/songwriters knew there was a special chemistry there as a duo that they hadn't reached individually. It wasn't long before the music industry took notice.
During the past year, Dan + Shay has opened on tour for Blake Shelton and was the opening act twice for Hunter Hayes. Their song, "Stop, Drop + Roll" was featured on the hit TV show, Nashville. Then in October, the duo kicked off their Just the Right Kind of Crazy tour as headliners.
For this new Q&A interview, we caught up with one half of the duo, Dan Smyers, while he and Shay Mooney were performing out on the road in the western part of the U.S. He talks about the story behind two of the duo's hits, why it's important to be kind to everyone, and he explains how they fell into being a duo act.
BC: What's the story behind your hit "Nothin' Like You"?
Dan Smyers: We're super excited to see it sitting close to the top of the chart. That's a dream come true for us. We obviously grew up listening to country radio and moved to Nashville because we wanted to write those songs that would hopefully someday make it onto country radio.
It's funny because it almost didn't make it onto our record. We had turned in an 11-song debut album to the record label, and we hadn't written that song yet. Shay and I had never stopped writing. That's kind of our thing. We got together accidentally as two songwriters in Nashville. We were writing with (hit songwriters) Chris DeStefano and Ashley Gorley one day, and we came onto this little idea—we were singing this tune about loving somebody for who they are and all their individual quirks and not asking them to change for anything. We put down a demo work tape and that's what eventually turned into the record. We built that up and stacked some of our vocals, threw a few things out, and mixed it and out came "Nothin' Like You."
All of our friends and families and everybody who heard it [said] this is a really cool tune; you guys should try to sneak it on the album. We sent it to the label, and they were like yep, this is going on. At the very last minute we snuck that on as the 12th song—it was great. We've been out on the road for 250 shows a year, and we saw our fans unanimously reacting to that song as well. They were singing the words back and tweeting at us. That's the crazy thing about social media, you get such instant feedback.
BC: How did you two decide to become a duo?
Dan: I had been playing in bands, and Shay was doing his solo thing. I think we both moved to Nashville because whether we were going to play as artists or do whatever, we just wanted to write country music. I was in Pennsylvania, and Shay was in Arkansas. Shay came over with a random mutual friend, and we started singing together and singing harmonies and cover songs. We stayed up late like most people do at parties in Nashville, and the next morning like 6 or 7 a.m. for some reason we were awake and getting coffee. We said, we should write today. We hit up our friend, Jesse Frasure over at Major Bob Music, for an open writing room. We ended up writing two songs that day. I think the first song we wrote got put on hold by Rascal Flatts. That was a big deal for us because Rascal Flatts was and is still one of our favorite bands. This is the dream—let's keep doing it. So, we kept writing together every day. Until then we were struggling to pay rent and couldn't get a publishing deal to save our lives, and then all at once it sort of clicked. Folks were listening and we were going out of town singing our songs and super excited about them. Then, a record deal started coming in. We didn't even know we were a duo at the time. Nobody told us we should be a duo. We were writing the songs together, we were both singing them together. Why not just go do it?

Here's the video of Dan & Shay's #1 hit single, "Nothin' Like You."
We got ourselves a publishing deal at Warner/Chappell and a record deal at Warner Music Nashville. It's been a whirlwind of a ride for us and a dream come true.
BC: Since you're on the road so much now, does that make it easier to write together or harder because you're so busy?
Dan: It's difficult to write on the road a little bit. We're in limited space on our bus, and we've got a full crew. You do pick up some cool inspirations out on the road, and I'm so inspired every time we come back to Nashville. We drive down Music Row and see all the banners and plaques and all the history there. It's like the first thing we want to do is write.
We're still writing a lot, and we love writing together. We bounce ideas off of each other. We're working on our second album right now, and we probably have 60 or 70 songs written for that. It's always a fun process and a nerve-wracking process trying to narrow it down to a certain amount of songs. Then, you sing them on the album after you've narrowed it down. As long as we keep writing and keep our heads down and keep a positive attitude, I think it will keep working for us.
Conger: Do you prefer to co-write together?
Dan: We like to write together. There's definitely a magic chemistry between Shay and I. We're very opposites in our styles and our energy. That's why it works as a duo. You get together and you're fired up. This could work for us or we need this kind of song. We've got a good grasp of what holes we need to fill on the album. It all works better when we're rocking it together.
Conger:  Where do each of your strengths lie in songwriting?
Dan: Every day is a different story. I would say we're both pretty well balanced. Obviously, I love hearing Shay sing and that inspires me to listen. Let's try this melody. We both weigh in on lyrics. Those are our favorite kind of writers to write with, the folks who are aware of phrasing and rhythm and time. That's been the cool thing that we get to do out on the road. We're always on the bus or always got our headphones in. You can listen back to your work tapes and sit on your music that you write back in Nashville and always be editing, especially the lyrics. Could we say this better? Could it be more concise? I would say it's about 50/50 in writing melody and lyrics. We try to bring both to the table. We're definitely aware that both are very important, especially in country music.
Conger: How do you think you're songwriting has grown over the last few years?
Dan: I think we've become more mature as songwriters. We've heard a lot more songs. I feel like country music, especially new artists and new writers, is just getting better. People are pushing their limits and raising the bar. It's inspiring to see your friends do well and succeed. You go into a writing room and you push yourself. Another thing is we've had a few songs that have had some chart success. If we're writing today, if we're going to make this write worthwhile, we've got to beat every song we've written up until this point or else it's not worth it. It might take us a little bit longer now to come up with an idea or log something down because we're striving to get better every single day and not feel like if you lose touch of that, that you're going to see yourself hit a downward slope. Sometimes it's a little tougher to lock down on a certain idea because we know what the bar is and what we've got to beat. At first you kind of don't know, but now I think we do. Writing the second album, we've got to step up our game a little bit.

Here's the video of Dan & Shay's debut hit single, "19 You + Me."
BC:  Do you feel more confident now as songwriters?
Dan: We feel pretty confident for better or for worse. We're getting in cool rooms and we're writing with a lot of really talented folks. We were lucky enough to write with talented folks who took a chance on us on the first album … when we didn't even have a record deal.
We've had a few songs on the chart. Any time you're feeling down on yourself you try to look back and try to stay positive and say, 'I've done this before. Calm down. We can make it happen. Let's find a good title, find a good hook, and roll from there.'
BC: One of your earlier singles that did well was "19 You + Me." What's the story behind that song?
Dan: I grew up going to Myrtle Beach (SC) every summer. Our co-writer on that song, Danny Orton, went there on his honeymoon. We were talking and trying to write this nostalgic summer love beach song. We were saying…Myrtle Beach is a very cool place. That's the beauty of songwriting. Every person brings something to the table, their own piece of the story, stir it up, and out comes a song. We started telling stories between Shay, Danny, and I. We wrote a whole chorus, the verses, but it didn't have a hook.
We were struggling, trying to find something that rhymed, something that looked good on paper. Shay said, "how about the summer of 19 You + Me," and we were like, "what does that mean?" We thought about it…Oh, that's cool! And we just went with it. It was one of those runs where we wrote the whole tune and didn't even have a title.
That was a fun one. It's still awesome to play live. We love to hear people sing it back to us.
BC: What advice do you have for aspiring songwriters?
Dan:  I would say be open to anything. Be great to everybody. Be super kind. You never know who you're going to meet. You can never tell who's going to end up being the next big songwriter, the next big artist. Keep an open mind.
When I moved to town, I borrowed my brother's guitar. I had no money…I was just hungry for it. Anytime I would meet somebody at a bar, at a restaurant, at a coffee shop, I'd be like, "are you a musician or songwriter? We should try to write something". Be open to it. Write as many songs as possible. You never know who you're going to get that chemistry with. At the time they might not have 20 number one's on the chart, but you might find that connection that they work with. When Shay and I met, neither of us had any hits. We had nothing to show for ourselves. We just had that chemistry and that got us a publishing deal, that got us a record deal, and kicked off a great career in music for us.
Bill Conger is a freelance writer for various publications including Bluegrass Unlimited, GACTV.com, Bluegrass Music Profiles and ParentLife. He can be reached at [email protected].He is also on Google+