Interview with Dallas Davidson, Top Nashville Songwriter & 2-Time ACM Songwriter of the Year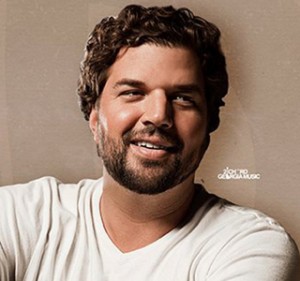 It's hard to imagine a musician that would turn down a deal from a record label, but that's just what hit songwriter Dallas Davidson did. Then, again, the Albany, Georgia native's story is atypical. He didn't pick up a guitar until he was in his 20s, but once he hit Nashville, he kicked his pursuit of music into high gear with more than 200 of his compositions recorded.
The 2012/2013 Academy of Country Music Songwriter of the Year has spent more than 20 times at the top of the charts. He's had a hand in writing Billy Currington's "That's How Country Boys Roll," Blake Shelton's "All About Tonight," Lady Antebellum's "We Own the Night" and "Just a Kiss," Brad Paisley and Keith Urban's "Start a Band," Joe Nichols' "Gimme That Girl." He also paired up with his longtime buddy Luke Bryan on the hits "Rain Is a Good Thing," "Country Girl (Shake It For Me)," and "I Don't Want This Night to End."
Davidson, who is signed with Sony/ATV Music, is one-third of the powerhouse songwriting trio, The Peach Pickers, with Ben Hayslip and Rhett Akins. He's not only one of Music Row's most in-demand songwriters, he has also branched out past the country genre to pen tunes for hip-hop and pop stars.
In this new interview, Davidson talks about his turning point as a songwriter, what it takes to be a member of his dream team of co-writers, and why he turns away from the spotlight.
BC: I talked recently with one of your co-writers, Rhett Akins, and he said he doesn't miss the artist part of the music business. Do you want to be on the artist side of the industry as well as penning songs?
Davidson: I never had that dream, never wanted to do anything but write songs and produce and be on the creative side and business side. I've had multiple opportunities and a lot of record deals offered to me. Still, today I get phone calls, people wanting to work with me on the artist side, but I have no desire. I like to write my songs and go home.
BC: You have a certain freedom there that you don't get as an artist.
Davidson: Absolutely. Most of my close friends happen to be artists. I don't think people realize how much time and effort is put into being an artist, time away from family. Their obligations are 10 times mine.
BC: As a songwriter, you get the best of both worlds. You get to still be involved in the music, but don't have to do quite as much as the artist side.
Davidson: The further along in my career and the more successful I've gotten, I certainly have been a lot busier than I ever expected, and that's fine…that's part of the territory. In today's social media and this generation, songwriters are becoming famous. It's pretty interesting. So, I do have to deal with a lot of that stuff that artists deal with now because of my success.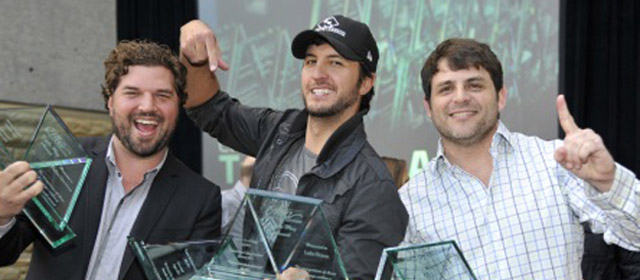 I've made an effort to brand myself as a songwriter, not just somebody who's a lucky guy or a lazy guy who gets drunk at writing appointments. I make a conscious effort to let it be known exactly what I do and what comes with that again is you become kind of an artist. We, songwriters, I think are artists. I sing all my demos, I produce all my stuff. I'm not just a songwriter. It's fun, though.
BC: Eventually, you moved from Georgia to Nashville at the urging of Luke Bryan. What was it like trying to make the inroads in songwriting when you were outside Music City?
Davidson: I didn't have a guitar until I was probably 24-years-old and started learning how to play it and naturally would write songs. Luke happened to be my best friend. We had just moved him up to Nashville, and I would call Luke and say, "Hey, man. I think I'm writing songs." He wanted to have a buddy up here that spoke his language, that knew what he was talking about in his songwriting, and the artist he wanted to be.
When I moved here (in 2004), it was to write songs. I would have settled for being in the music business because I just loved music. I never tried to break into this until I got here. I came here with guns-blazing and was not going to take no for an answer.

BC:  What did you do first to get established?
Davidson: Me and my friends [when Davidson first arrived] are still my dear friends today like Randy Houser, Jamey Johnson, obviously Luke, Jerrod Niemann—all who have moved to successful careers as artists. I just hung out with those guys. When you hang out with guys who are wanting to do the same thing as you are, you naturally start writing songs together. That's exactly what I did. I was myself and hung out with guys like me and wound up writing songs with them. They happened to have a lot of success, got record deals, and I've had several cuts on all those guys I just mentioned.
BC: When do you know you have the right songwriting partner for you? What do you look for?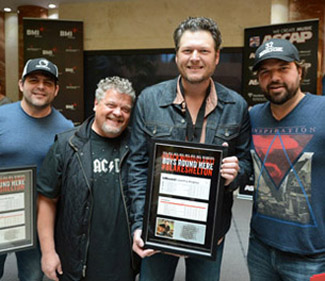 Davidson: Somebody that I get along with, somebody that's like me, somebody that speaks my language. When I say speaks my language I mean, they know what I'm talking about when I'm trying to paint a picture of being in a certain spot or certain moment in the song which would reflect my life. People that are very similar with me, I find that I write best with. That really translates well in a writing appointment.
BC: Do you ever like to write by yourself, or do you prefer the co-writes?
Davidson: I think two heads are better than one and three heads are better than two. I've tried writing songs by myself. Blake Shelton recorded a song I wrote by myself, but even that day, I brought it into Ben (Hayslip) and Rhett (Akins) and played it for them. [I said] Hey, guys! Let's see if we can finish this thing up. It's not ignorance in trying to co-write. The song becomes better. Not being greedy about it, I find that I enjoy co-writing better because I get a better song at the end of the day.
BC: What was the turning point for you as a songwriter in Nashville?
Davidson: I'd say (the song) "Honky Tonk Badonkadonk" that I wrote with Jamey Johnson and Randy Houser. Once that song was recorded and became a massive hit, that kind of made me official as a songwriter, put me in the game so to speak. I had a lot more notoriety as a legitimate songwriter who meant business, somebody that could write a song that sells records. My songs were listened to a little bit harder after that. Still, living under a little bit of a shadow with Jamey and Randy, who I would think everyone would assume would have probably driven the ship that day on writing that song. I still had to have another hit. "Put A Girl In It" (Brooks and Dunn) was my next hit. That got me in the game and that not only let me know that I could do it, but let people [in Nashville] know it. Ever since, I have people calling me for songs, instead of me calling them trying to get them to cut songs.
BC: That must be a great feeling.
Davidson: Oh, hell! (laughs) It's a very good feeling. Having your best friend, Luke Bryan, the most successful country music artist right now, doesn't hurt anything either. I don't have the middle man anymore. I haven't had a middle man for the last several years.
BC:  Most songwriters I've spoken with don't usually have an artist in mind when they're starting to write a song, but sometimes as they're writing the song, it starts to seem like it might fit for a specific singer. How does that work for you?
Davidson: I tend to write a song that I like that's something, if I was to make a record, I would put it out. In the back of my mind, I'm thinking commercial. I want hits. I want album cuts. Once you get going down that road and you're on a song that you like—and I'm sure every songwriter's told you this—you kind of start seeing…this may work for Blake; this may work for Luke, this may work for Keith Urban, whoever it may be. I'd be lying if I didn't say—we don't chase, but we have that in mind when we're finishing a song off, especially with Luke where I know what he won't say and what he will say. I'll hold back. Somebody may say a line that's great, but I just know Luke so well, I know he won't say that. I definitely have an advantage in speaking the same language as he does.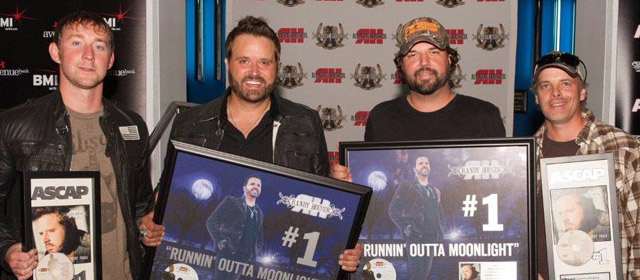 BC: Are you a stronger lyricist or melody writer?
Davidson: I think I kind of bring it all to the table, without tooting my own horn. Some days I may be the lyricist; some days the melody guy. I always really focus hard on melody. I think without a melody to catch somebody's ear, it doesn't matter what you say. Most of my hits are my melodies.
BC: I understand that the simpler you try to be in the writing, the harder it can be.
Davidson: My saying in my office when people write with me is, "Keep It Simple, Stupid." This isn't rocket science to get an old country boy riding down the road listening to the radio—you don't have to be the most clever person in the world. That's not insulting the radio listener. All I mean is it doesn't have to be this really complicated song with all these fancy chords in it. That's not just country music…that's any music. There's thousands of hits that are simple two chords. It's all about that groove and that melody and a big hook.
BC: I understand that you don't want to write only for the country genre. Do you do much branching out to other genres?
Davidson: I absolutely do. I write hip-hop stuff with some guys like T-Pain. I just got a Selena Gomez pop cut. I work really hard to use my God-given talent to use in all genres of music. I think, at least the way I write, I can fall into any of that stuff. I know that because I've tried it, done it, and had success. I love all kinds of music. I don't just love country music. Country's first, but I love hip-hop; I love pop. It's kind of a natural fit for me to branch out.
BC: Do you have any particular songwriting influences that help shape you?
Davidson: I think Tom Petty, Kris Kristofferson certainly with his genius lyrics, and a lot of the old soul singers like Otis Redding. There's some newer songwriters that I really like, like Bob McDill who's written some of my favorite songs. I never try to be like them. I respect them and try to be my own songwriter. I probably borrow from some of their stuff just by knowing their music. When I say borrow…a melody in my head is my melody, but I probably heard it or something similar to it somewhere. Not the same melody or I'd get sued.
BC:  What's a good story behind some of the hits that you've had?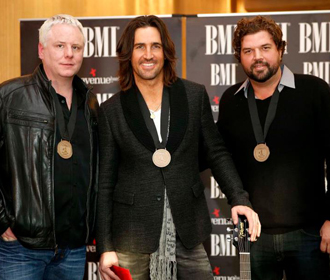 Davidson: "Honky Tonk Badonkadonk" is a good one because Jamie and Randy and myself went to the Wildhorse Saloon because Rob Hatch, who is a good buddy of mine—I've had a couple of hits with him—was a bartender, and we could get free drinks. None of us had any money. We were standing up on the third floor at Wildhorse Saloon. They do this line dance. They've got teachers teaching tourists how to do this stuff. A particular girl stuck out with a big old—–. Randy actually said "that's a honky tonk badonkadonk right there." We looked at him. What did you just say? We went and wrote that because of him saying that. Thank God we remembered it. We didn't have too many free drinks.
BC: What's the story of "If Heaven Wasn't So Far Away?"
Davidson: I was with Rob Hatch and Brett Jones, and believe it or not we were watching Oprah one day and this little girl was on there. Her father had died in the war (Iraq/Afghanistan). She was talking to Oprah, and she said I'd love to see my dad, but heaven's too far away. I remember going, "Oh, man! There's a big song title in that somehow." We wrote that song about people we've lost. There's a dog in the song that I had, and a granddad; Brett Jones' brother had been killed in Vietnam and that was one of the lines in there. That was a real meaningful song to all of us because everything in there, all those people are real people.
BC: What's the story behind Lady Antebellum's "Just a Kiss"?
Davidson: I had Dave (Haywood), Hillary (Scott) and Charles (Kelley) of Lady Antebellum come to my office. When I first walked in—Dave had gotten to my office actually before I did—he was sitting near my little cheap $500 Casio keyboard. He was playing (a piano riff). As I heard him play it, Charles and Hillary walked in and we started talking, and we wrote another song that day. Right after we were done with that song, I said "Dave, what was that thing you were playing this morning? I wish you'd play that again," and he played it again. I think Charles started singing a melody. I had my phone—that's where I put a lot of my ideas—and I looked through there real quick. I had "Just a Kiss" written in my phone, and I threw it at them, put Hillary in the relationship she had at the time, which I think was with Chris, who's her husband now. We actually started on "Just A Kiss" that evening, and then they came back and we finished it.
BC: What advice do you have for songwriters who are looking to make it to the top?
Davidson: The easy answer is to work hard, and you better outwork me, and you better outwork (top songwriters) Rhett Akins, Craig Wiseman, Ashley Gorley, and Rodney Clawson. We're hard workers and I think a songwriter needs to realize when they're sitting in a room writing a song, they don't need to be trying to write a song that's the best one they've written. They need to write one better than we wrote that day because we're going to be there, and we're going to be writing. Once they get that mentality in their head, I think they'll work a little harder.
To somebody who hasn't moved to Nashville, I would say nobody's going to come looking for you. You've got to make the commitment to be here—you have to move here. I don't care if you have 15 kids or a sick grandmother. You've got to be here to show us and the publishers that you're that committed that you want to be a professional songwriter. That's the first step right there is just moving here.
BC: Is Nashville also a good place to write for other genres, or is it better to be in New York or L.A.?
Davidson: Most of the country songs are written here, but I think very rarely, can you write a song for another genre here and get it recorded. I think it's all about the geography. In Atlanta, you're going to have your southern hip-hop. L.A.'s going to have everything but country. To branch out, you have to physically go somewhere if you're going to be successful at it. Sure, you can have a song or two recorded here or there. The way I'm doing it is, I'm going to those places. I go to Atlanta; I go to L.A. Again, it's back to the commitment. You've got to show them you're committed.
Bill Conger is a freelance writer for various publications including Bluegrass Unlimited, GACTV.com, Bluegrass Music Profiles and ParentLife. He can be reached at [email protected].He is also on Google+