Tom Wehrle's "Come May" Named April "Best Song Of The Month"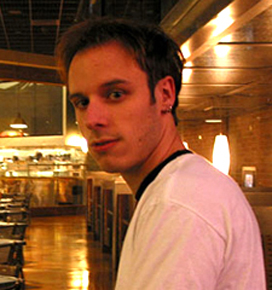 Tom Wehrle, a talented singer/songwriter based in St. Louis, MO, has won the SongwriterUniverse 'Best Song Of The Month' Contest for April, for his song 'Come May.' This song is one of twelve cuts featured on his debut CD release, Something You Can't Find, which was released in May 2003.
'Come May' is an excellent, midtempo, rock/pop cut, which is reminiscent of the piano-based, American-heartland style a la Bruce Hornsby. Wehrle is a gifted piano player, and he also plays some of the guitar tracks. The song starts out intimately, focusing on Wehrle's vocals and piano, then gradually builds into a strong, rock arrangement. Wehrle expertly produced the recording, which also features solid contributions by Dan Smith (guitars) and Drew Bailey (drums).
Wehrle was born in Crown Point, IN, and subsequently moved with his family to Cincinnati, and then to St. Louis. He learned to play piano first (at age 10), then guitar. 'I come from a music family; we had a piano at the house' explained Wehrle. 'The first song I learned to play was 'For You,' by Michael W. Smith, which was one of my favorite songs.' Besides Smith, Wehrle's other music influences include U2, Dave Matthews, Beck, and John Rzeznik of the Goo Goo Dolls.
During high school, he played keyboards for a band called Good Friday, which recorded a couple of CDs. Although he co-wrote the music for many of their songs, it wasn't until the band broke up in 1998 that he began writing lyrics, and fully focused on his songwriting. 'I built a recording studio with my best friend (Josh McAlister), and I started writing songs by myself and recording the demos,' said Wehrle. 'People were telling me they liked the songs, which encouraged me to write more. I recorded a couple six-song EPs (in 2002), then I wrote & recorded (the 12-song CD) Something You Can't Find.'
'Come May' was inspired by true events: the wedding of his friend Josh, and his own thoughts about moving to Nashville. 'Josh got engaged, and he asked me to be the best man at his May wedding,' explained Wehrle. 'At that time, I was thinking about moving to Nashville (to further his music career). I thought that if I moved to Nashville, I would still return home to celebrate Josh's wedding. 'Come May' was about what I was going through during this time.'
Following the release of Something You Can't Find, Wehrle has toured consistently, performing college gigs as a solo artist throughout the U.S. (his brother John is his manager, and he books the concert tours). Also, Wehrle was recently selected as one of the Top 50 unsigned acts by the American Music Awards & CMJ. 'I want to keep growing as a songwriter, and I also want to diversify (musically), by bringing in more musicians to work with. I'm a fulltime artist now, so I want to keep touring and writing, and working hard on (building my career).'
Top Five Songs Of The Month
Here are the Top Five Songs which were submitted for this month's contest, with the songwriter credits, plus their e-mail and website links. You can listen to the winning songs by clicking the music players below.
"Best Song Of The Month" Winner
Song Title:
"Come May".
Written by:
tten & performed by Tom Wehrle, St. Louis, MO.
To enter the next "Best Song Of The Month" Contest (the deadline is the last day of each month), please
Click Here