Malea McGuinness' "Time Will Show" Named October "Best Song Of The Month"
Malea McGuinness, a talented pop/rock singer/songwriter based in Los Angeles, CA, has won the SongwriterUniverse 'Best Song Of The Month' Contest for October, for her song 'Time Will Show.' This song is included on McGuinness' second album, Close As Air, which she released independently in April (2010).
'Time Will Show ' is a soulful, mainsteam pop song which has a thoughtful, heartfelt lyric theme. "The song was inspired by a conversation I had with a friend who was very down," explained McGuinness. "I wanted to write a song which would be encouraging and hopeful, that time will show that things will improve." "Time Will Show" features a strong, expressive vocal performance by McGuinness, and was expertly produced by Michael Patterson, who is known for his production & mixing work for Beck, Jennifer Lopez and Moby.
McGuinness was born in Fort Hood, Texas, and then she moved with her grandparents to Long Island, NY (her father served in the Green Beret armed forces). She learned to play guitar and piano, and she was inspired by listening to such favorite artists as the Beatles, Sting and Linda Ronstadt. For college, McGuinness attended tha Manhattan School of Music, where she majored in Vocal Performance (classical & opera).
Following college, McGuinness decided to move to Los Angeles to pursue her music career. She started to attend songwriter circle events and began performing live. In 2006 she wrote & recorded her first album, True Believer. Then last year (2009), McGuinness began working on her second album Close As Air, with producer Michael Patterson. "I met Michael through a musician friend," recalled McGuinness. "I played him my songs, and he wound up re-recording these songs for me and it turned out great. We also worked together on my single 'Spinning,' and we'll be working more together."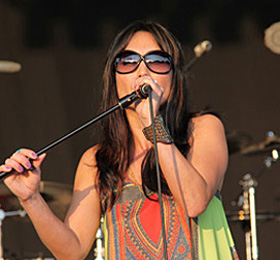 Since the release of Close As Air in April, McGuinness and her manager Doug Kaplan have been busy promoting her album and touring. They released "Spinning," which has attracted AAA airplay nationally. McGuinness has also been touring steadily in several states (mostly in the West and Midwest), and she has opened shows for the Counting Crows (at the Summerfest Music Festival in Milwaukee, in front of 10,000 people),  Shawn Colvin and Toad The Wet Sprocket. Notably, she was also the opening artist for Kenny Loggins for seven shows on his recent tour, and she's opening a show for Kenny Wayne Shepherd later this month.
"I'm excited about the response to my new album and the airplay for 'Spinnin'," said McGuinness. "The live shows have also been going great, and we're setting up a new tour. Also, I'm continuing to write songs for my next album, which will be released next year."
Top Five Songs Of The Month
Here are the Top Five Songs which were submitted for this month's contest, with the songwriter credits, plus their e-mail and website links. You can listen to the winning songs by clicking the music players below.
"Best Song Of The Month" Winner
Song Title:
"Time Will Show."
Written by:
Malea McGuinness of Los Angeles, CA. Performed by Malea McGuinness.
More Best Songs Of The Month
To enter the next "Best Song Of The Month" Contest (the deadline is the last day of each month), please
Click Here