Jessica Erin's "Sundays Without You" Named September "Best Song Of The Month"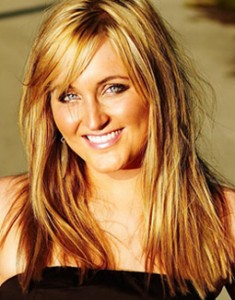 Jessica Erin, a promising, country/pop singer/songwriter based in Los Angeles, CA, has won the SongwriterUniverse 'Best Song Of The Month' Contest for September, for her song 'Sundays Without You' (co-written by Nick Lawhorn & Ryan Demaree). This song will be released independently as a single, and will be featured on Erin's second album project, which she is currently working on.
'Sunday's Without You' is a heartfelt, deeply emotional ballad, which has a starkly realistic lyric about a woman's husband (or boyfriend) who is a soldier and goes off to war, and is killed in action. The song starts off gently, with just acoustic guitar backing, and then gradually builds into a powerful music arrangement. The song reaches a stirring peak in the bridge section, which Erin sings with passion and intensity. "Sunday's Without You" was expertly produced by Nashville producer Chris Omartian, who played most of the instruments on this recording.
Erin grew up in the small town of LaSalle, Illinois, which is southwest of Chicago. She started writing melodies & lyrics when she was 13, and she began performing in regional talent contests. She has been inspired by three of her favorite artists: Martina McBride, Christina Aguilera and Keith Urban.
When she was 18, Erin moved to South Florida, where she met producer Billy Chapin. They hit it off, which led to Chapin and his friend Chris Omartian both producing cuts for Erin's debut album Free To Be Me, which was released in October 2007. Erin co-wrote four songs on her debut CD, including "Girls Night Out," which was played in the hit TV series, Friday Night Lights.
In 2008 Erin moved to Nashville for a year, before deciding to move to Los Angeles, where she lives now. However, Erin is frequently on the road touring–she recently played shows in Texas, Tennessee, Mississippi and Florida. "I love being on the road and performing my music in front of new audiences," she said. "I've been touring with Jay Denton, who is a talented artist & musician. We're also writing new songs together."
When asked, Erin took time to discuss the serious, war-related lyric theme of "Sundays Without You." "Music is the way that I can speak about some serious situations," explained Erin. "It's the reality of the situation, that people die in wars. The reality exists…people lose their loved ones. I knew this would be a tough lyric subject to write and sing about, but it was real, so we decided to go there."
This fall, Erin will be releasing "Sundays Without You" as a single, and she has completed a high-quality video, which was directed by Michael Monaco.
Top Five Songs Of The Month
Here are the Top Five Songs which were submitted for this month's contest, with the songwriter credits, plus their e-mail and website links. You can listen to the winning songs by clicking the music players below.
"Best Song Of The Month" Winner
Song Title:
"Sundays Without You."
Written by:
Jessica Erin, Nick Lawhorn & Ryan Demaree of Los Angeles, CA. Performed by Jessica Erin.
More Best Songs Of The Month
To enter the next "Best Song Of The Month" Contest (the deadline is the last day of each month), please
Click Here