Josh Carter's "I Gotta Be Your Love Song" Named July "Best Song Of The Month"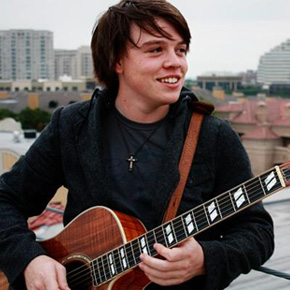 Josh Carter, a promising, young pop/rock singer/songwriter based in Dallas, TX, has won the SongwriterUniverse 'Best Song Of The Month' Contest for July, for his song "I Gotta Be Your Love Song" (co-written by Josh Goode & Bradley Prakope). This song will be included on his 3-song EP, Chimes And Rhymes Vol. 1, which Carter will release independently next month (August).
'I Gotta Be Your Love Song' is a very catchy, contemporary pop/rock tune which appears ready for pop radio play. The song has a distinctive, personable lyric style, and features a hooky chorus which is easy to remember. The recording spotlights Carter's appealing lead & harmony vocals, and it was skillfully produced by Josh Goode & Bradley Prakope, who have a Dallas-based production company called Goode Vibes Music.
Carter, who is 20, mostly grew up in Dallas, but he has also lived (with his family) in London, New Mexico and in Oklahoma. He learned to play acoustic & electric guitar, plus piano. Carter was influenced by listening to James Taylor, as well as indie artists Dave Barnes and Matt Wertz. During high school, he played golf and other sports, and he started writing songs when he was 18.
For college, Carter is currently attending Dallas Baptist University, where he will be a senior (majoring in Communications) this fall. In addition, Carter regularly performs shows in the Dallas with his rock/Christian band.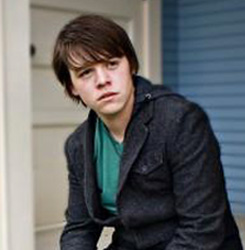 It was during the past two years that Carter developed his songwriting skills, and this past March he started recording his songs with producers Goode & Prakope. "An A&R rep referred me to Josh and Bradley," said Carter. "It's been great working with them – Josh is an Emmy Award winner, and they'vew both written songs for famous artists and for special projects."
Carter recalls what inspired him to write "I Gotta Be Your Love Song."  "This song was based on a conversation I had with a gorgeous woman, who told me she had been mistreated by a bunch of guys," said Carter. "So I wrote a song about how girls don't deserve to be treated that way. Every girl deserves to be treated well, and be with the right person."
Now with his EP due out soon, Carter is continuing to write and record, and he plans to release a full album in the first half of 2011. He also plans to tour more with his band, which includes Daniel Cates on electric guitar, Michael Broun on bass, and Darin Pearce on drums. "I want to do everything I can to promote my music, to get in front of as many people as possible," he said.
Top Five Songs Of The Month
Here are the Top Five Songs which were submitted for this month's contest, with the songwriter credits, plus their e-mail and website links. You can listen to the winning songs by clicking the music players below.
"Best Song Of The Month" Winner
Song Title:
"I Gotta Be Your Love Song."
Written by:
Josh Carter, Josh Goode & Bradley Prakope of Dallas, TX. Performed by Josh Carter.
More Best Songs Of The Month
To enter the next "Best Song Of The Month" Contest (the deadline is the last day of each month), please
Click Here