J.L. Baker's "Independence Day" Named March "Best Song Of The Month"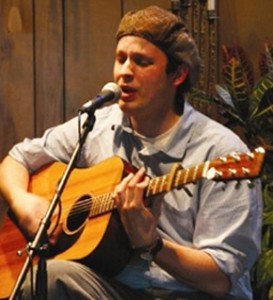 J.L. Baker, a talented rock/pop singer/songwriter based in Denver, CO, has won the SongwriterUniverse 'Best Song Of The Month' Contest for March, for his song "Independence Day.' This song is included on his upcoming 4-song EP, Stand Alone, which he will release independently in May (2010).
'Independence Day' is a passionate acoustic/rock song, which in the mainstream vein of The Fray and Dave Matthews Band. It is particularly well crafted, with a surging pre-chorus which leads into strong, hooky chorus, plus an effective bridge section. The recording features expressive lead & harmony vocals by Baker, and it was expertly produced by Baker and Tyler Ward. On "Independence Day, " Baker played the guitar tracks (acoustic & electric), while Ward played piano, bass and drums.
Baker was born and raised in Amarillo, TX, where he was inspired by listening to such artists as Bob Dylan, David Gray, and indie artist Ellis Paul. He started to play guitar and write songs in high school, and he entered Battle Of The Bands and other talent competitions. Following high school, Baker attended a local community college, where he majored in performance. He also learned the skills to work in the IT technology industry.
It was in 2007 that Baker recorded & released his first album, which was called My Quarter In The Machine. The next year (2008) he quickly followed up with his second album, Finding You. Both albums were produced by Baker in Amarillo, at Scott Houdashell's Studio 66.
In 2009, Baker decided to move to Denver, where he met Tyler Ward, who is producing his upcoming EP. "I was referred to Tyler, who is an amazing musician," said Baker. "He's also an emerging artist."
With his new EP, and with his third full album (which will be titled Something You've Left Behind) coming later this year, Baker looks forward to further establishing himself as a quality singer/songwriter. "My goal is to release new material and expand my fanbase, and to continue to develop relationships with festivals and songwriting competitions," he said. "I love performing and playing many gigs. But I also have a true passion for songwriting, I would love to make a living as a songwriter, writing for other artists and collaborating."
Top Five Songs Of The Month
Here are the Top Five Songs which were submitted for this month's contest, with the songwriter credits, plus their e-mail and website links. You can listen to the winning songs by clicking the music players below.
"Best Song Of The Month" Winner
Song Title:
Independence Day.
Written by:
Written and performed by J.L. Baker of Denver, CO.
More Best Songs Of The Month
To enter the next "Best Song Of The Month" Contest (the deadline is the last day of each month), please
Click Here