Kojo Linder's "Stickin' With You" Named March "Best Song Of The Month"
Kojo Linder, a talented writer/producer from Minneapolis, MN, has won the March SongwriterUniverse 'Best Song Of The Month' Contest, with his song 'Stickin' With You.' Linder wrote this R&B/pop uptempo song by himself, and impressively played all of the instruments on this demo.
'Stickin' With You' is a very hooky, energetic number, which has a positive, uplifting lyric theme. It was written for an established male artist (or group) to sing, about how the singer, despite having fame and success, has stuck with the woman who has been with him since the beginning. The demo of 'Stickin' With You' is very well produced, with its first-rate vocals by local artist Rayshon, and vibrant music tracks by Linder. A highlight of the arrangement is the drum tracks, which have emulated the drum cadence, rim-shot style featured in the hit movie, Drumline.
Linder grew up in Chicago, attended college in Georgia (Clark Atlanta University), and he also lived in Ypsilanti, MI and Los Angeles before moving to Minneapolis. He learned how to play guitar first, and was classically trained in both guitar and piano. Linder played guitar for a gospel choir during college, which included a gig where he played guitar with Kirk Franklin. His favorite artist growing up was Prince, and he also admires such writer/producers as Rodney Jerkins, the Neptunes, and Jimmy Jam & Terry Lewis.
Despite his lengthy music background, it was only two years ago that Linder started writing songs. 'When I was in Michigan, a friend lent me his 8-track recording equipment, and I began writing, and recording demos,' explained Linder. 'I really enjoyed the creative process, coming up with the song, and then laying down the tracks and harmonies.'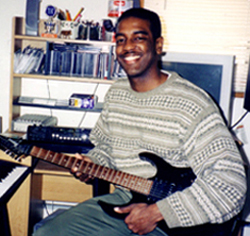 It was just in the past two months that Linder wrote 'Stickin' With You.' 'I wanted to write a song for a specific artist in mind,' said Linder.' 'I knew that B2K had broken up, but that (lead singer) Omarion would be looking for songs. Musically, I started with the drum programming, and then I added some chords on top. The lyric theme in the chorus was actually inspired by my wife. [I wrote that] in spite of the good and bad over the years, we were able to stick with each other.'
Linder is looking forward to writing and producing a wide variety of projects. He is interested in collaborating with artists and other writers, and he is also writing songs and instrumentals for film, TV and commercials. 'I really enjoy writing; it's a good release for me,' he said. 'I want to create music that can reach people. I learned early on that music is a powerful way to communicate, to connect with people on an emotional level.'
"Best Song Of The Month" Winner
Song Title:
"Stickin' With You".
Written by:
Kojo Linder, Minneapolis, MN. All music tracks by Linder; vocals by Rayshon.
To enter the next "Best Song Of The Month" Contest (the deadline is the last day of each month), please
Click Here