Helen Cortez's "Best Me" Named September "Best Song Of The Month"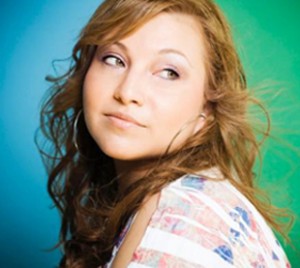 Cortez, a promising, pop/AC singer/songwriter based in Toronto, ON, Canada, has won the SongwriterUniverse 'Best Song Of The Month' Contest for September, for her song 'Best Me' (co-written by Mark Zubek). This song will be featured on her upcoming debut album No Regrets, which she will release independently next March (2010).
'Best Me' is a very appealing, heartfelt pop song, which is a bit reminiscent of Gloria Estefan's classic pop style. The song starts off with an understated, acoustic guitar-based arrangement, then builds into a contemporary, full-band sound in the chorus. 'Best Me' provides a solid showcase for Cortez's expressive lead & harmony vocals, and is skillfully produced by Toronto-based producer Mark Zubek, who played all the instruments on this recording.
Cortez, who is 32, was born and raised in Toronto, and she grew up in a musical environment ' her grandmother, Fabiola Pinto, was a prominent folk singer in Ecuador, and her parents were both musicians. She also was influenced by listening to her favorite pop artists: Whitney Houston, Mariah Carey and Celine Dion. Cortez learned to play some guitar, which allows her to write songs on guitar.
Following high school, Cortez attended a technical school where she studied computer engineering (she now assists her husband Eddy with his web design company). She devoted much of her '20s to working in the tech field and raising two children. But about two years ago (when she turned 30), Cortez had a re-awakening – she decided to passionately focus on her singing & songwriting.
'In May 2008 my Aunt passed away suddenly ' it was an accident and it was heartbreaking,' recalled Cortez. 'It opened my eyes that life was fragile and short. It motivated me to write 'Best Me' and concentrate on my music. I was also inspired by looking at some old photos of my children. I would look at them, and it made me want to do right for my children. I want to lead by example and follow my musical dreams, so they will eventually want to pursue their own dreams.'
Now that Cortez is focused on her music career, she has been steadily writing new songs and completing her debut album. I really like working with (producer) Mark Zubek, and I'd like to collaborate with a couple other producers. I just love writing songs ' it's cathartic and healing for me. In addition, I will be forming a band, and we'll be playing gigs and festivals when my album comes out.'
Top Five Songs Of The Month
Here are the Top Five Songs which were submitted for this month's contest, with the songwriter credits, plus their e-mail and website links. You can listen to the winning songs by clicking the music players below.
"Best Song Of The Month" Winner
Song Title:
Best Me.
Written by:
Helen Cortez of Toronto, ON, Canada. Co-written by Mark Zubek. Performed by Helen Cortez.
More Best Songs Of The Month
To enter the next "Best Song Of The Month" Contest (the deadline is the last day of each month), please
Click Here