Daniel Holter & Mike Standal's "Here We Are" Named February "Best Song Of The Month"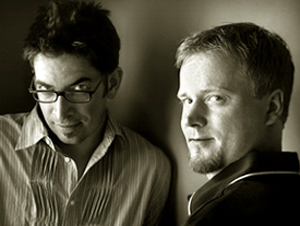 The songwriting team of Daniel Holter & Mike Standal have won the February SongwriterUniverse 'Best Song Of The Month' Contest, with their song 'Here We Are.' The duo, who are based in Milwaukee, WI, are successful composers who have placed their instrumental music in films, TV shows and commercials. But with 'Here We Are,' they also demonstrate their ability to write an impressive pop song. In addition, the duo have a rock band called Eggshell, and they wrote and performed this month's runner-up song, 'The Best Of Me.'
'Here We Are' is a graceful, romantic ballad, which has a memorable melody. The song has a positive, universal love theme, that many people will be able to relate to.
The demo recording is well produced by Holter & Standal, and it provides a showcase for singer & model Connie de Bie, who delivers a tender, expressive performance. The demo also features expert music tracks, by Holter (keyboards & programming), Standal (guitars), plus John Ferraro (drums), Bryan Mir (bass) and Chris Mosher (keyboards, string arrangement).
Holter & Standal both grew up in the Milwaukee area, and they have worked together as a creative team for years. It was in 1996 that Holter launched The Burst Collective, which is a creative alliance of 14, talented composers, who write & produce music for film, TV and commercials. The alliance has contributed music to such TV shows as Alias, The West Wing, and Frasier, and for commercials such as Microsoft, GM and Gatorade.
The Burst Collective is now involved with artist development (including their band Eggshell, and singer/songwriter John McCarty), and with more focus on pop songwriting. 'I've mainly written instrumental music, but I've always wanted to be a pop writer also,' explained Holter. 'Mike (Standal) and I have been working for two years on (rock) songs for Eggshell, and we also wanted to try writing a contemporary pop ballad.'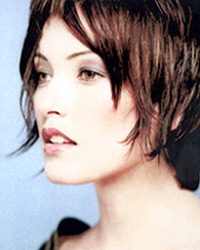 'With 'Here We Are,' we wanted to write a song from a woman's perspective,' said Holter. 'It was inspired by a true [positive] story, about how my former wife has found a great new love, following the break-up our marriage. It's about a new love being able to happen, even following difficult times.'
When Holter & Standal finished writing the song, they looked for the ideal singer to record the vocal. 'I was introduced to Connie (de Bie) by bassist Bryan Mir,' recalled Holter. 'She's a fulltime model who travels worldwide for modeling assignments. But we knew she was also a talented vocalist. She came into the studio, and she did an excellent job. It was a fun, great experience to work with her.'
Holter & Standal are very pleased with how 'Here We Are' came out. 'I would love to have a career as a songwriter & producer, working with artists,' said Holter. 'I want to write more pop songs. I'd like to try writing emotional songs, that people can connect with. It means everything to be able to have that impact, to create a song which can affect people in a positive, emotional way.'
"Best Song Of The Month" Winner
Song Title:
"Here We Are".
Written by:
Written by Daniel Holter & Mike Standal, Milwaukee, WI. Performed by Connie de Bie.
To enter the next "Best Song Of The Month" Contest (the deadline is the last day of each month), please
Click Here