Gavin Mikhail's "Brave" Named July "Best Song Of The Month"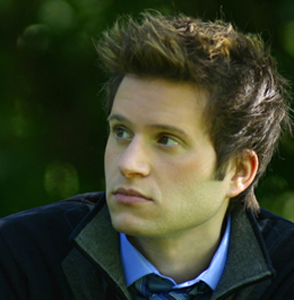 Gavin Mikhail, a talented pop/rock, piano-based singer/songwriter based in Nashville, TN, has won the SongwriterUniverse 'Best Song Of The Month' Contest for July, for his song 'Brave.' This song is featured on his album Like Normal People Do (released in 2006), and a new version of 'Brave' will be included on his upcoming acoustic album The Real World Sessions, which will be released digitally in August.
'Brave' is an uptempo, majestic pop tune which is reminiscent of Billy Joel's classic hit style. The song starts off with an orchestral intro, then segues into an appealing verse melody, followed by a soaring chorus section which is bolstered by rich pop harmonies. 'Brave' was expertly produced by Mikhail, and the song also showcases his impressive piano playing.
Mikhail was born and raised in West Lafayette, Indiana (where Purdue University is located). He and his four sisters learned to play classical piano at a young age, and during his teen years he entered and won several classical piano competitions. When he was 16, Mikhail started to write songs, and he was inspired by such artists as Peter Gabriel and Tori Amos.
For college, Mikhail attended Purdue University, where he majored in finance. However, upon graduating, he decided to pursue a music career instead. Mikhail moved to Nashville and landed a job at Irving Azoff's Giant Records. Then after two years, he left Giant to write, produce and tour with pop/rock artist Sally Anthony. 'I worked with Sally for about five years,' he said. 'We toured a lot, opening for such high-profile artists as Christina Aguilera and James Taylor.'
Then in 2002, Mikhail stopped working with Anthony, to focus on his own solo artist career. He wrote & produced his debut album, called My Personal Beauty Needs, which he released in late 2003. This album caught the attention of label execs and other industry pros, which led to Mikhail playing several showcases in Los Angeles. 'I got a couple offers but it just didn't feel right,' he explained.
Mikhail proceed to record his second album, Like Normal People Do, which he released in mid-2006. 'This album got me in the forefront,' Mikhail said. 'I was able to build a strong MySpace presence (1.5 million views), which helped me sell 45,000 downloads and 10,000 CDs. In addition, Mikhail landed a label deal in Japan with indie Trolley Bus Records, and in 2007 he won the prominent Lay It Down & Mix It Up In The U.K. Contest. The main prize for this contest was an all-expenses paid trip for Mikhail and his band to travel to England and record at Peter Gabriel's Real World Studios.
Now in mid-2008, Mikhail is set to release his acoustic album The Real World Sessions in August, followed by a new studio album in late fall. For the past year, he has been working closely with his manager, Chad Provonsha. 'Things are pretty busy right now,' he said. 'Besides working on my two album projects, I'm looking forward to performing shows in Germany, and we're also setting up shows for Paris and in the U.K. We're also talking to music publishers and other industry pros, to further promote my music.'
Top Five Songs Of The Month
Here are the Top Five Songs which were submitted for this month's contest, with the songwriter credits, plus their e-mail and website links. You can listen to the winning songs by clicking the music players below.
"Best Song Of The Month" Winner
Song Title:
Brave.
Written by:
Gavin Mikhail of Nashville, TN. Performed by Gavin Mikhail.
More Best Songs Of The Month
To enter the next "Best Song Of The Month" Contest (the deadline is the last day of each month), please
Click Here