Alex Woodard's "Beautiful Now" Named May "Best Song Of The Month"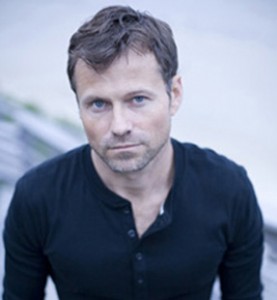 Alex Woodard, a talented rock/pop singer/songwriter from San Diego, CA, has won the SongwriterUniverse 'Best Song Of The Month' Contest for May, for his song 'Beautiful Now.' This is the second time Woodard has won this award ' he previously won in December 2003 for his song 'Every Road.' 'Beautiful Now' will be featured on Woodard's upcoming 12-song album, Alex Woodard, which will be released by Adrenaline Records (via Warner Music Group distribution) this August.
'Beautiful Now' is a thoughtful, upbeat, Americana rock song, which has a hooky melody and a very positive lyric theme. This song & lyric is an ode to the beauty and joy of motherhood. In fact, the song was inspired by Jessica Denay, author and founder of The Hot Moms Club social networking site. Woodard has also produced an excellent video of this song (directed by Roman White), which features Denay, former Miss Universe Dayanara Torres, model Cindy Margolis, actress Jodi Fung, and their children.
Woodard recalled the events which led to his writing of 'Beautiful Now.' 'My sister emailed me (in May 2007), saying that Jessica Denay of the Hot Moms Club was a fan of my music. After she came to one of my shows, Jessica asked me to write a song with this theme. So I went home and worked on the song in my studio. Since I'm a single guy, I tried to imagine what I would say if I had kids. I came up with 'Beautiful Now,' and sent a demo version to her. Jessica liked it and she got good feedback on her site, so I went up to Los Angeles and recorded a proper version. And for the mix, I was thrilled to get David Thoener (Grammy-winning mixer of Santana, Aerosmith, John Mellencamp) to mix this song and most of the album.'
'Beautiful Now' will be the first single from Woodard's upcoming album. Woodard has been a notable indie artist for several years, releasing quality albums such as Mile High (produced by Pete Droge) in 2004 and Up With The Sun in 2006. However, 'Beautiful Now' and his album will be promoted in a more aggressive way, with higher visibility. Woodard will be utilizing a radio promotion firm to push 'Beautiful Now,' and he is working with Shorefire Media (which represents Bruce Springsteen, Elvis Costello and many other artists) to maximize publicity results.
In addition to 'Beautiful Now,' Woodard's album (which he wrote all the songs) will feature other key cuts. On the ballad 'Reno,' he sings a duet with Sara Watkins of the popular bluegrass group, Nickel Creek. Watkins also contributes vocals on 'No More Time To Waste,' and plays fiddle on other songs. Another key cut is the uptempo rocker, called 'Older.'
With his new album being released this August, Woodard is excited about the album's prospects, and the creative and promotional team he is working with. 'I feel like I have a shot ' there are some great players involved now.' Woodard is also looking forward to touring again; he'll be going back on the road in late July.
Top Five Songs Of The Month
Here are the Top Five Songs which were submitted for this month's contest, with the songwriter credits, plus their e-mail and website links. You can listen to the winning songs by clicking the music players below.
"Best Song Of The Month" Winner
Song Title:
"Beautiful Now."
Written by:
Alex Woodard of San Diego, CA. Performed by Alex Woodard.
More Best Songs Of The Month
To enter the next "Best Song Of The Month" Contest (the deadline is the last day of each month), please
Click Here