Ruthie Bram's "Will She" Named February "Best Song Of The Month"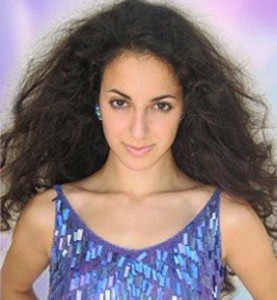 Ruthie Bram, 19, a promising funk/pop/rock singer/songwriter & guitarist based in Amarillo, Texas, has won the SongwriterUniverse 'Best Song Of The Month' Contest for February, for her song 'Will She' (lyrics co-written by her brother, Isaac Bram). This song is included on her six-song EP Ruthie Bram, which she released independently last month (Jan. 2008).
'Will She' is a heartfelt, midtempo pop/rock ballad, which starts with an intimate, acoustic guitar intro, then gradually builds into a soaring, full-band arrangement. This song features an appealing pop melody, plus a hooky chorus which is bolstered by Bram's expressive lead and harmony vocals. Also noteworthy is Bram's electric guitar solo following the second chorus, which helps drive the song's momentum and energy.
Bram was born in Lebanon in 1988 during the Lebanese civil war, and she was adopted as an infant by American parents. She was then raised in Amarillo, TX, where she learned to play violin, and then piano. Interestingly, it was just last year (2007) that she also started playing electric lead guitar, and she quickly became skilled at it. As a guitarist, she has been inspired by some of her favorite artists, such as Prince, Stevie Ray Vaughan and Jimi Hendrix. Impressively, Bram now has a sponsorship deal with Daisy Rock Guitars.
When she was 15, Bram wrote and recorded a 3-song EP, which subsequently was named one of the Top 25 Demos (of 2004) by Music Connection magazine. The magazine also named her as one its Top 100 Unsigned performing artists for that year. When she was 16, she met funk/R&B artist/musician John Wilson, who played with James Brown. 'John introduced me to a lot of great funk musicians,' she said. 'I love this music.'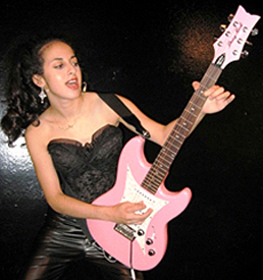 Since then, Bram has built a solid live following, by touring steadily in several U.S. regions. 'I now play between 150-200 shows per year,' said Bram. ' I play a lot of shows in Texas, Los Angeles (she's playing the Key Club this month), New York, Tennessee, and I play casino gigs in Rhode Island. And I am looking to get on a more commercial tour, like a House Of Blues tour.' Notably, Bram has opened shows for major artists Sting and Natalie Cole.
All of this touring has helped give Bram a high internet profile ' her MySpace page has now attracted over 115,000 visitors. 'Thing are going well,' she added. 'I've had some interest from a music licensing company in New York. Currently, I'm working on songs for my next EP and touring. I'd also like to mention that I'm looking for a heavy-duty manager, to help take my career to the next level.'
Top Five Songs Of The Month
Here are the Top Five Songs which were submitted for this month's contest, with the songwriter credits, plus their e-mail and website links. You can listen to the winning songs by clicking the music players below.
"Best Song Of The Month" Winner
Song Title:
"Will She."
Written by:
Music written by Ruthie Bram of Amarillo, TX. Lyrics by Ruthie Bram and Isaac Bram.
More Best Songs Of The Month
To enter the next "Best Song Of The Month" Contest (the deadline is the last day of each month), please
Click Here