Linda M's "Beautiful Today" Named January "Best Song Of The Month'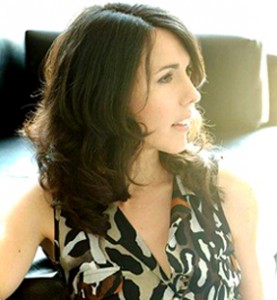 Linda M, a talented, pop/rock singer/songwriter based in Toronto, ON, Canada, has won the SongwriterUniverse 'Best Song Of The Month' Contest for January, for her song 'Beautiful Today.' Linda M has independently released three albums to date, and 'Beautiful Today' is the lead track on her latest CD, Pretty on the Inside.
'Beautiful Today' is a intelligently written, modern pop/rock song, which has a slight alternative edge to it. The song features a memorable chorus and hook, and the arrangement builds in emotion and momentum. The lyric is positive and self-empowering, about a woman who develops a stronger sense of herself following the end of a relationship. 'Beautiful Today' also provides a terrific showcase Linda M's expressive lead and background vocals, and her acoustic guitar playing.
Linda M was born and raised in Montreal, where she was classically trained in piano, and she taught herself to play guitar. Later on, she was inspired to become a songwriter by listening to Sarah McLachlan, and some of her other favorite artists are Carolyn Dawn Johnson, Gavin DeGraw and Shania Twain. For college, Linda M attended the University of Guelph in Ontario, where she subsequently graduated with Bachelor's Degree in English/History.
For her latest album, Linda M. teamed up with veteran Toronto producer Sean Baillie. 'Sean produced the whole album,' she said. 'We met working on some demos, and we decided to turn them into this whole album. Sean played bass, and he played an awesome electric guitar solo on 'Beautiful Today."
Upon its release, her album Pretty on the Inside attracted the attention of Los Angeles-based music publisher Jay Warner, which led to Linda M. signing a contract with his company. Warner is now handling licensing for her, and he is seeking label interest on her behalf.
In addition to promoting her CD and writing new songs (including several writing trips to Nashville), Linda M. performs live regularly, touring both in the U.S. and overseas (she has toured Germany for four years in a row). Also, she has also been very successful at placing her songs in TV shows and films, such as the series Dawson's Creek and several shows on City TV, the WB Network, Global TV and the A Channel. Linda M is also a two-time nominee with the Toronto Independent Music Awards, for Best Female Performer and Best Live Act ' Acoustic.
Top Five Songs Of The Month
Here are the Top Five Songs which were submitted for this month's contest, with the songwriter credits, plus their e-mail and website links. You can listen to the winning songs by clicking the music players below.
"Best Song Of The Month" Winner
Song Title:
"Beautiful Today."
Written by:
Toronto, ON, Canada.
More Best Songs Of The Month
To enter the next "Best Song Of The Month" Contest (the deadline is the last day of each month), please
Click Here