Brea Lawrenson's "If I'm Not Here Tomorrow" Named November "Best Song Of The Month"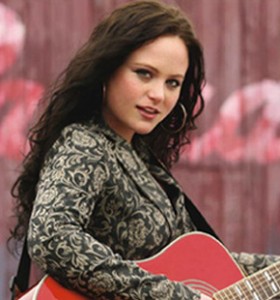 Brea Lawrenson, a promising country singer/songwriter based in Ottawa, ON, Canada, has won the SongwriterUniverse 'Best Song Of The Month' Contest for November, for her song 'If I'm Not Here Tomorrow' (co-written by Joe Turner). This song is featured on her 16-song CD No Regrets, which Lawrenson released independently in June (2007).
'If I'm Not Here Tomorrow' is a heartfelt, graceful ballad, which has a beautiful pop/AC melody. The song starts off in an understated manner, then gradually builds in emotion and intensity. This recording provides a terrific showcase for Lawrenson's clear, passionate vocals. 'If I'm Not Here Tomorrow' was skillfully produced by noted British producer/engineer Stuart Epps, who has worked with Elton John, Led Zeppelin and Oasis.
Lawrenson, who is 20 and currently attends Algonquin College in Ottawa, was born in Toronto and then moved with her family to Carleton Place (near Ottawa). She began taking singing lessons when she was eight, and when she was 14 she learned to play guitar. Lawrenson has been inspired by such artists as Martina McBride, Michelle Branch and Rascal Flatts.
At age 12, Lawrenson signed with a talent agency, and she subsequently won several talent competitions (including the Montreal Music Festival) and performed at charity events. She also received extensive publicity in 2002, when she released her first CD Live No Lies, and impressed local media with her strong, live performances. Lawrenson has been managed for the past five years by Robin Moire.
Another key member of Lawrenson's team is Joe Turner, who has been her main co-writer and producer on both of her albums. Lawrenson & Turner co-wrote 12 of the 16 songs on her latest CD, No Regrets.
Lawrenson recalled how she wrote 'If I'm Not Here Tomorrow': 'I originally wrote this song when I was 15, but it wasn't finished. When I was working on my new album, we dug up this song and completed it. I then played it for Stuart Epps, whom I had met via MySpace. Then last November (2006), I flew to England to record it with Stu.'
Now that her CD No Regrets has been released (and sold 2,000 units), Lawrenson is looking forward to promoting it via radio airplay and internet exposure. She will also be touring again with her band, and she is already starting to collaborate with well known writers on songs for her next album.
Top Five Songs Of The Month
Here are the Top Five Songs which were submitted for this month's contest, with the songwriter credits, plus their e-mail and website links. You can listen to the winning songs by clicking the music players below.
"Best Song Of The Month" Winner
Song Title:
"If I'm Not Here Tomorrow."
Written by:
Brea Lawrenson & Joe Turner of Ottawa, ON, Canada. Performed by Brea Lawrenson.
More Best Songs Of The Month
To enter the next "Best Song Of The Month" Contest (the deadline is the last day of each month), please
Click Here