Nicola's "Lighthouse" Named August "Best Song Of The Month"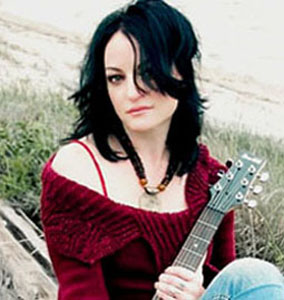 Nicola, a talented, modern rock singer/songwriter based in New York, NY, has won the SongwriterUniverse 'Best Song Of The Month' Contest for August, for her song 'Lighthouse.' This song is included on her third album Don't Take It Personally, which she released in November 2006 on her independent label, Hot Cherry Records.
'Lighthouse' is a dramatic rock cut, which mixes acoustic guitar riffs with an aggressive, Evanescence-like rock arrangement to create a distinctive sound. The highlight of the song is its chorus, which has a soaring melody and features Nicola powerfully singing the key lyrics: 'I am a lighthouse standing here, stuck in the middle of your ocean'calling 'Mayday', 'Mayday', but your ship won't turn around.' This song is expertly performed by her band (also named Nicola), which includes Jules Rosaly (bass), Eric Seiz (guitar), Leo McCluskey (keyboards/guitar), Jimmy Wilgus (drums) and Ray Diaz (percussionist).
Nicola (her given name is Vasquez) was born and raised in New York City, where she learned to play guitar and piano at a young age. She also took vocal lessons, and she began writing songs early on. For high school, Nicola attended the renowned Fiorello LaGuardia School Of The Arts, which is the school the hit movie Fame was based on. Then for college, she went to the Aaron Copland School of Music at Queen's College in NY, where she later graduated with a Bachelor of Music degree. Notably, it was during her college years that she landed a role in the hit Broadway show Les Miserables, and she toured nationwide with this production.
It was after college that Nicola began to seriously pursue her artist & songwriting career. She recorded and released her first album, called Real, in 2002. Then in 2004 she released her second album, What's The Point. Gradually, Nicola and her band built a solid following, and as a result, her latest CD Don't Take It Personally has received strong recognition. Billboard magazine has named Nicola its Featured Underground Breaking Artist/Band, and the band has also appeared on ABC-TV, MTV and VH1. To date, Nicola's three albums have sold a total of 15,000 units.
Her song 'Lighthouse' has been a focus of the band's good reviews and media attention. Nicola discussed her inspiration for the song: 'I've always been intrigued by lighthouses, which to me are a beacon of hope as they guide ships and people to safety. It's a great metaphor ' it's a symbol of light and hope, while also symbolizing the solitude and loneliness that the lighthouse or a person lost out in a desolate sea of love and despair must feel.'
Now with the success of her current CD, Nicola is starting to attract serious label interest. She is having discussions with a subsidiary of a major label, to re-work and then re-release her album Don't Take It Personally. Nicola is also looking to find an excellent booking agent, to help her band book bigger venues for nationwide tours. 'It's an exciting time for us,' she said. 'We're getting more exposure and good label interest. If we can find the right booking agent, it will help take us even further.'
Top Five Songs Of The Month
Here are the Top Five Songs which were submitted for this month's contest, with the songwriter credits, plus their e-mail and website links. You can listen to the winning songs by clicking the music players below.
"Best Song Of The Month" Winner
Song Title:
"Lighthouse."
Written by:
Nicola of New York, NY.
More Best Songs Of The Month
To enter the next "Best Song Of The Month" Contest (the deadline is the last day of each month), please
Click Here