Sarah Lewis & Jag Star's "Something Different" Named May "Best Song Of The Month"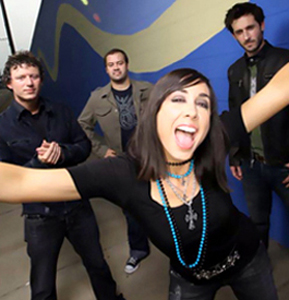 Sarah Lewis, lead singer & songwriter for the pop/rock band Jag Star of Knoxville, TN, has won the SongwriterUniverse 'Best Song Of The Month' Contest for May, for her song 'Something Different.' This is the second time Lewis has won this award ' she previously won in February 2006 for her song 'Leavin'.' Both 'Something Different' and 'Leavin" are featured on Jag Star's third album, The Best Impression Of Sanity, which was released last December (2006).
'Something Different' is a high energy, melodic pop/rock tune, which has a hooky, upbeat chorus. The recording provides a good showcase for Lewis' appealing lead and harmony vocals, plus the solid music tracks played by Jag Star, which includes Lewis' husband Just J (guitar), Jay Daniel (bass) and Brad Williams (drums). 'Something Different' was adeptly produced by Travis Wyrick (who has produced P.O.D., Charlie Daniels, and Pillar) with Lewis and Just J.
Jag Star recorded their 13-song CD, The Best Impression of Sanity, in August 2007 following the band's visit to the military base at Guantanamo Bay, Cuba. 'It was a great experience for us to go and perform for the troops there,' said Lewis. 'We played several shows, including headlining their Fourth Of July concert.'
Upon returning to Knoxville, the band worked with producer Wyrick to record their new album. 'Our previous album (Cinematic) was more midtempo and moody, and it sold well. But we decided that the new album would be more rockin' and high energy ' we were ready for a change.'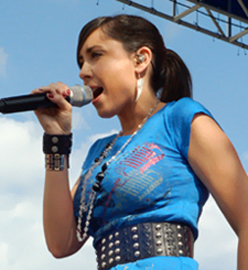 The new album is also selling well, via CD sales and downloads from iTunes. In addition, Lewis has placed many of Jag Star's songs in MTV shows (The Real World, Laguna Beach, Road Rules) and on the Lifetime Channel (the show Strong Medicine) and the ABC Family Channel (Beautiful People).
Currently, the group keeps a busy touring schedule, playing many shows throughout the Southeast. 'We recently played in Knoxville at the Rox Knox Concert, on the same bill with Joan Jett and Lifehouse,' said Lewis. 'It was a great show, in front of 10,000 people. Joan Jett said she liked our band, which made us feel really good.' In addition, the band has been contacted by record labels, and they are currently looking to find the right management team.
In addition to the band's success, Lewis has received another honor ' she was selected as a 'Fresh Face' by the Wet 'n Wild cosmetic company, for a national print ad campaign. Her photo (onstage with Jag Star) can be found in ads which have appeared in Cosmopolitan magazine and other publications.
Top Five Songs Of The Month
Here are the Top Five Songs which were submitted for this month's contest, with the songwriter credits, plus their e-mail and website links. You can listen to the winning songs by clicking the music players below.
"Best Song Of The Month" Winner
Song Title:
Something Different.
Written by:
Sarah Lewis of Knoxville, TN.
More Best Songs Of The Month
To enter the next "Best Song Of The Month" Contest (the deadline is the last day of each month), please
Click Here