Canadian Duo Fera's "Fairytales" Named January "Best Song Of The Month"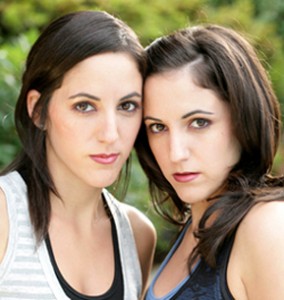 Fera, a promising, alt./country duo based in Coquitlam, BC, Canada, has won the SongwriterUniverse 'Best Song Of The Month' Contest for January, with their song 'Fairytales'. Fera consists of identical twin sisters, Courtney & Stephanie Fera, who both sing and write. 'Fairytales' is included on the duo's new 11-song CD, Familiar Feeling, which was released independently last month (Dec. 2006).
'Fairytales' is a fresh-sounding, uptempo tune, which features an appealing melody throughout the song. The chorus is particularly catchy, featuring the duo's infectious harmony vocals. The Fera sisters also played acoustic guitars on this track, and the recording features excellent lead guitar-playing by Robbie Steininger. 'Fairytales' was expertly produced by Tom McKillip, who is known for producing Canadian artists Aaron Pritchett and Karen Lee Batten, and for being the band manager of country singer/songwriter Lisa Brokop.
Courtney & Stephanie Fera were born and raised in Coquitlam, BC, which is near Vancouver. They grew up in a healthy music environment ' they're father is a musician who played in several bands, and built a studio in their home. Courtney and Stephanie both learned to play acoustic guitar and drums, and Courtney also plays harmonica. The duo were inspired by such diverse artists as Hanson, Patty Griffin and Bryan Adams.
Following high school, the sisters began to concentrate more on their songwriting, and they also took music production and studio recording classes at the British Columbia Institute of Technology. Fera also accepted an invitation to showcase to perform at a major country showcase, the Merritt Mountain Music Festival. In addition, the duo recorded a six-song demo CD in 2004, and soon after focused on creating their first full CD, Familiar Feeling, with producer Tom McKillip. Recording sessions for the album began in February 2006, and the CD was completed in December.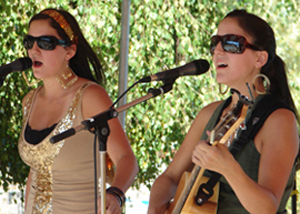 One of the album's key songs is 'Fairytales.' 'We wrote 'Fairytales' in 2003,' explained Courtney Fera. 'It's about the heartache of someone who puts themselves on the line for someone else, with the hope that they feel the same way. It's based on a true story, but in real life it didn't turn out like it would in a fairytale. In fact, the theme of the song actually is, 'it ain't no fairytale.'
Now with the release of their CD, Fera is looking forward to promoting the album via radio airplay and touring. 'We're starting to get airplay, and we want to play more major music festivals,' said Stephanie Fera. 'We've put together a full band, and we're doing more shows. With the release of our new album, we're hoping that with a lot of hard work, Fera will eventually become a household name in Canada.'
Top Five Songs Of The Month
Here are the Top Five Songs which were submitted for this month's contest, with the songwriter credits, plus their e-mail and website links. You can listen to the winning songs by clicking the music players below.
"Best Song Of The Month" Winner
Song Title:
"Fairytales."
Written by:
Fera (Courtney & Stephanie Fera) of Coquitlam, BC, Canada.
More Best Songs Of The Month
To enter the next "Best Song Of The Month" Contest (the deadline is the last day of each month), please
Click Here