Ann Chaplin's "Without Warning" Named December "Best Song Of The Month"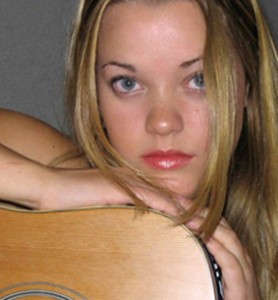 Ann Chaplin, a promising, acoustic/pop singer/songwriter based in Deep River, ON, Canada, has won the SongwriterUniverse 'Best Song Of The Month' Contest for December, for her song 'Without Warning'. This song will be included on her upcoming four-song EP, which she will release independently this February (2007).
'Without Warning' is a graceful, heartfelt pop/folk tune, which is reminiscent of Jewel's early acoustic hits. The song has an appealing melody which flows easily, and it provides a terrific showcase for Chaplin's pure, expressive vocals. In addition, Chaplin played piano and guitar on this cut, and she skillfully produced this recording.
Chaplin, who is 21, was born and raised in Deep River, which is in Northern Ontario near the Quebec border. She started to play piano at a young age, and later learned to play guitar and began writing songs. During her high school years, she recorded her first demos, and played gigs as a solo artist and with a band.
For college, Chaplin turned down a scholarship offer from the University Of Waterloo, and instead attended Seneca College in Toronto. 'I went to Seneca to take a brand new program called Independent Music Production,' recalled Chaplin. 'I learned how to operate a studio, develop my songwriting, and I learned the music business end, including marketing and booking. It was a good experience ' it made me decide to get serious about pursuing the music business.'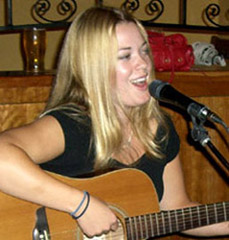 It was at one of Seneca's studios that she recorded and produced 'Without Warning,' which she had written during the summer of 2004. "Without Warning' is my wishful-thinking song,' she explained. 'The lyric is about imagining how someone could come into your life, and make this positive thing happen.'
Currently, Chaplin is completing two more songs for her upcoming EP. She is co-producing these songs with two of her fellow music students from Seneca, Tony Davis and Warren Burbine. 'I'm looking forward to releasing my EP,' said Chaplin. 'I've also been writing more songs, for a full CD that will hopefully be released later in 2007.' In addition, Chaplin has been performing solo gigs, and she is submitting her material to music publishers and for grants.
Top Five Songs Of The Month
Here are the Top Five Songs which were submitted for this month's contest, with the songwriter credits, plus their e-mail and website links. You can listen to the winning songs by clicking the music players below.
"Best Song Of The Month" Winner
Song Title:
"Without Warning."
Written by:
Ann Chaplin of Deep River, ON, Canada.
More Best Songs Of The Month
To enter the next "Best Song Of The Month" Contest (the deadline is the last day of each month), please
Click Here