Billy Redfield's "Die For You" Named November "Best Song Of The Month"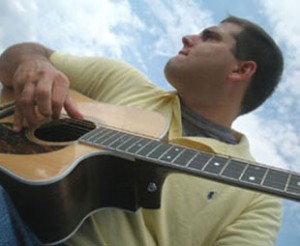 Billy Redfield, a talented, acoustic-rock singer/songwriter based in Baltimore, MD, has won the SongwriterUniverse 'Best Song Of The Month' Contest for November, for his song 'Die For You.' This song is featured on his 11-song CD Two Steps Closer, which he released independently this past April (2006). The album has already sold 4,000 units in the past six months.
'Die For You' is a graceful, heartfelt love song, which is musically in the vein of soulful, acoustic cuts by  Jack Johnson and David Gray. The song starts out with a sparse, acoustic guitar riff in the intro, then gradually builds to a full-sounding track in the chorus. The recording provides an excellent showcase for Redfield's expressive lead vocals, and also features elegant piano playing by Daniel Park. 'Die For You' was expertly produced by Chris Keup, who is known for producing Jason Mraz and Liz Phair.
Redfield grew up in Potomac, MD (a suburb of Washington, D.C.), and then he moved with his family to Baltimore when he was 15. Early on he was very active in sports, playing basketball, soccer and joining the swim team. However, when his father bought him a guitar at age 14, he began to focus more on his music and songwriting. After high school, Redfield attended Loyola College in Baltimore, where he subsequently graduated with a B.A. degree in Business. During college, Redfield continued to develop his music, writing songs and playing gigs at coffeehouses.
Then after college, Redfield began writing and recording new material, and he released a five-song EP called Made You Smile in October 2005. Redfield received good feedback on his EP, which led to modern rock station Z-104 inviting him to perform his songs live on a broadcast. Redfield also won an Opening Band Contest held at the 9:30 Club ' his performance earned him the opening slot for a concert headlined by the Pat McGee Band and Hanson.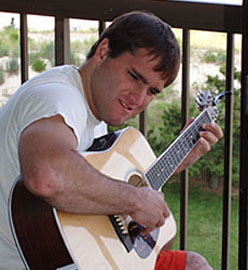 Redfield continued to build his career momentum with the April 2006 release of his first, full-length album, Two Steps Closer. 'I wrote the album during a two-month period in 2005,' explained Redfield. 'For 'Die For You,' I came up with the opening guitar riff first, and then came the music, followed by the lyrics. The theme of the song is, 'Would you give up everything for the person you love?' I thought this would be a good theme to write about.'
'Die For You' was recently selected to appear on the CD compilation 'Craft The Music,' which was produced by American Songwriter magazine. And Two Steps Closer has already sold an impressive 4,000 units. Currently, Redfield is aggressively promoting his CD in two different ways: (1) he's hired the firm Planetary Group to promote his CD to college radio stations; and (2) he's signed on with agent Eugene Foley to shop his CD to major labels. 'I would also like to sign a publishing deal,' said Redfield. 'I love the whole songwriting process. Besides writing for my own albums, I would like to collaborate with writers for other projects.'
Top Five Songs Of The Month
Here are the Top Five Songs which were submitted for this month's contest, with the songwriter credits, plus their e-mail and website links. You can listen to the winning songs by clicking the music players below.
"Best Song Of The Month" Winner
Song Title:
Die For You.
Written by:
Billy Redfield of Baltimore, MD.
More Best Songs Of The Month
To enter the next "Best Song Of The Month" Contest (the deadline is the last day of each month), please
Click Here