Casey Desmond's "Save Me Now" Named September "Best Song Of The Month"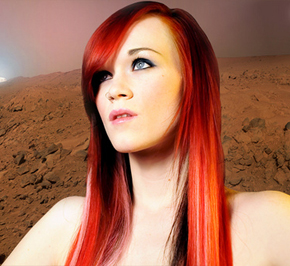 Casey Desmond, 20, a talented, pop/rock singer/songwriter based in Boston, MA, has won the SongwriterUniverse 'Best Song Of The Month' Contest for September, for her song 'Save Me Now.' This song will be featured on her next album (to be released in a few months), which will be the follow-up to her successful, debut indie album, Casey Desmond (released in 2005). Desmond has proven to be adept at singing and songwriting. In fact, in July 2005 she won our SingerUniverse 'Best Vocalist Of The Month' Competition, for her song 'Scenario.'
'Save Me Now' is a modern, uptempo pop/rock song, which starts subtly with an acoustic guitar track, then shifts into a more electric rock sound by the chorus. The verses are also interesting, due to Desmond's fast-paced, dexterous vocal phrasing which resembles a rap approach. The recording was skillfully produced by Bill 'Des' Desmond & Kathy Desmond (her parents, who also manage her), and engineered by Taylor Barefoot. Des Desmond also directed her first-rate video of 'Save Me Now.'
Desmond was born and raised in Boston, MA, where she grew up in a very music-oriented environment. Both of her parents are professional musicians, who helm the regionally popular, theatrical rock band the Bentmen. Desmond starting singing at a very young age, and subsequently began playing guitar and writing songs by age 11. Then in high school, she formed an alternative rock band called Adore, for which she sang lead and played bass.
When she was 17, she recorded a song at the well known Q Division studio in Boston, with producers Mike Denneen (Howie Day, Jen Trynin, Aimee Mann) and Tom Polce. Desmond was offered a development deal by Q Division, but she and her parents decided she would stay independent and record on her own. 'We decided to proceed ourselves,' explained Desmond. 'We started recording songs at Taylor Barefoot's studio, and at Will Ackerman's (Grammy-winning founder of Windham Hill Records) Imaginary Road studio.'
Her first album Casey Desmond was released in 2005 and has fared well, receiving exposure via iTunes, CD Baby, MySpace and other internet sites. Desmond has won several music contests, and notably, 'Save Me Now' was named Best Indie Song by the Philadelphia-based Independent Music Awards. She also received several other nominations, including Best New Artist.
Currently, Desmond is recording songs for her upcoming second album, while also touring steadily with her band (Desmond plays guitar and keyboards, accompanied by bassist Nate Christie and drummer Andy Weitz). She has recently traveled to England to play the London Calling Festival, and she has played festivals in Colorado and Indiana.
'I'm excited about recording my second album, plus touring and traveling,' said Desmond. 'Playing the music festivals has been great for networking and getting exposre. I'm now concentrating full-time on my music career, and hopefully things will continue to progress.'
Top Five Songs Of The Month
Here are the Top Five Songs which were submitted for this month's contest, with the songwriter credits, plus their e-mail and website links. You can listen to the winning songs by clicking the music players below.
"Best Song Of The Month" Winner
Song Title:
"Save Me Now."
Written by:
Casey Desmond of Boston, MA.
More Best Songs Of The Month
To enter the next "Best Song Of The Month" Contest (the deadline is the last day of each month), please
Click Here