Antonio Pontarelli's "Things Fall Apart" Named March "Best Song Of The Month"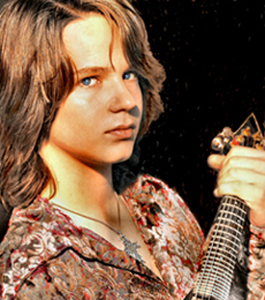 Antonio Pontarelli, a highly gifted, singer/songwriter & violinist who is just 14, has won the SongwriterUniverse 'Best Song Of The Month' Contest for March, for his song 'Things Fall Apart.' Pontarelli, who lives in Temecula, CA (south of Los Angeles), will be including 'Things Fall Apart' on his new, 3-song demo CD, which he wrote, sang, played electric and acoustic violin, and co-produced (with Dan Monti).
'Things Fall Apart' is a powerful, soaring rock cut which has a bluesy edge to it. The song's lyric is about fighting back and recovering from major setbacks in life, and about having faith in yourself. The production of this song is excellent – it features strong lead vocals by Pontarelli, plus an electric violin solo which resembles the intensity of a Jimi Hendrix-like guitar solo. The recording also features solid guitar, keyboard and bass tracks by co-producer Dan Monti (who plays in Pontarelli's band, and is also a member of experimental rock artist Buckethead's band).
Pontarelli grew up in Temecula, where he started playing violin when he was four years old. He learned to play classical music first, and he won a classical violin competition when he was six. But it was at the age of 10 that he got into rock music, and realized that he could play rock with his violin. 'I found about the electric violin The Viper, which is a great instrument that allows me to play rock with my violin,' said Pontarelli. 'It was soon after that I started writing and performing rock songs, and I also started getting serious with my vocal training.'
When he was 11, Pontarelli formed his first rock band, and he also started writing and recording demos in his home studio. More recently, he has worked at the Village Recorders studio in Santa Monica with Dan Monti, who also serves as his engineer and studio collaborator. It was at Village Recorders that Pontarelli recorded 'Things Fall Apart,' plus two other key songs, 'Follow Me' and 'Under Age.'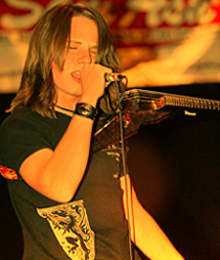 Pontarelli has already received many honors, both musically, and for his school work. With his music, he was selected by the Grammy Foundation to participate in its Grammy Camp, which is a 10-day camp where musicians/writers learn from such top pros as David Foster and Lamont Dozier. Regarding his school work, Pontarelli is a John Hopkins University Scholar, which allows him to take special college classes online.
Also notably, Pontarelli received extensive publicity in 2004-5, when he was featured on the NBC's PAX TV's talent show, America's Most Talented Kids, and was named the winner. He subsequently was featured on the show's Tournament Of Champions finale. As a result of this exposure, Pontarelli won prizes from the show, and he also made many music industry contacts.
Pontarelli is looking forward to further advancing his music career in 2006. 'I will be releasing my (3-song) CD independently, and I'm continuing to write and record more songs,' he said. 'Also, I am looking to sign a label deal, and put together a good (music business) team.'
Top Five Songs Of The Month
Here are the Top Five Songs which were submitted for this month's contest, with the songwriter credits, plus their e-mail and website links. You can listen to the winning songs by clicking the music players below.
"Best Song Of The Month" Winner
Song Title:
"Things Fall Apart".
Written by:
Written and performed by Antonio Pontarelli of Temecula, CA.
More Best Songs Of The Month
To enter the next "Best Song Of The Month" Contest (the deadline is the last day of each month), please
Click Here