Julie Durden's "Perfect That Way" Named October "Best Song Of The Month"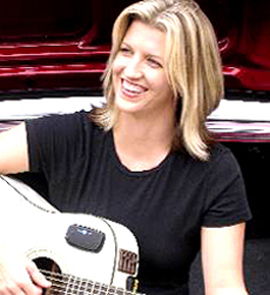 Julie Durden, a talented, AAA/pop singer/songwriter based in Jacksonville, FL, has won the SongwriterUniverse 'Best Song Of The Month' Contest for October, for her song 'Perfect That Way' (which was co-written by Nashville pro songwriter Tim Johnson, who has had hits with Kenny Chesney, Alan Jackson and others). This song is featured on Durden's second CD Free, which she released independently in July.
'Perfect That Way' is a beautiful, heartfelt ballad which is musically reminiscent of the elegant, piano-based ballads of Bruce Hornsby or Don Henley. The song has a special lyric message, telling the story of a girl who was born with a hearing impairment, but is nevertheless a wonderful, intelligent person who is 'perfect' in many other ways. It was inspired by Durden's niece Lindsey, 11, who happens to be deaf. The recording of 'Perfect That Way' features expressive, tender vocals by Durden, excellent piano tracks by Tory Harris, and it was expertly produced by Durden and Harris.
Durden grew up in Live Oak, Florida (near Jacksonville), and her father taught her to play guitar and mandolin at an early age. She began writing songs in her early teens and throughout high school. For college, Durden attended Tallahassee Community College, before moving to Jacksonville and graduating from the University of North Florida (with a B.A. in English). During her college years, she would play solo, acoustic shows at various 'writer's night' gigs and other venues.
She subsequently moved to Nashville for a few years, but Durden eventually returned to Jacksonville, where she wrote and recorded the songs for her debut CD Simple Things  (which was released in 2003 and sold 3,000 units). Durden also commuted to Nashville for writing trips, and it was in February 2005 that she met hit writer Tim Johnson at a NSAI (Nashville Songwriters Association International) convention. Johnson liked one of her songs, so he invited Durden to collaborate with him.
When Durden and Johnson got together, she mentioned that she was a sign language teacher and told her about her niece, Lindsey. They decided to write a positive song about her and other people with disabilities. 'Lindsey being born opened [my family's] mind and thoughts,' explained Durden. 'It changed my life and perspective. We wanted the song to be very positive, where people no longer judged deaf people, and to open people's minds. People with disabilities are capable of doing practically anything anybody else is doing in the world.'
'Perfect That Way' is a key song on Durden's new CD Free, and it is already receiving airplay and drawing attention due to its subject and positive message. In her concerts now, Durden brings a sign language interpreter, Lori Cimino, to sign the lyrics for her audience. 'I have a large deaf audience,' said Durden. 'They can feel the music, and see my emotions.'
Durden discussed her goals for the coming year. 'I'm looking forward to promoting my album, and putting together a band and tour. I also want to write more songs in Nashville and Los Angeles, to place songs with other artists. And I would like to share 'Perfect That Way' with deaf associations and communities. [Tim and I] hope that this song trickles down to all deaf organizations and schools, and especially for families with children who are born deaf'because it is a blessing.'
Top Five Songs Of The Month
Here are the Top Five Songs which were submitted for this month's contest, with the songwriter credits, plus their e-mail and website links. You can listen to the winning songs by clicking the music players below.
"Best Song Of The Month" Winner
Song Title:
"Perfect That Way".
Written by:
Written by Julie Durden of Jacksonville, FL and Tim Johnson of Nashville, TN. Performed by Julie Durden.
More Best Songs Of The Month
To enter the next "Best Song Of The Month" Contest (the deadline is the last day of each month), please
Click Here