Abby SomeOne's "Fall Down" Named June "Best Song Of The Month"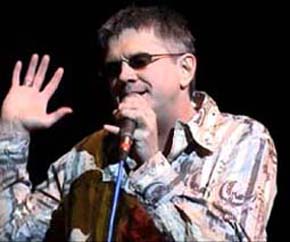 AbbySomeone, a hard-working, Americana rock band based in Black Hills, South Dakota, has won the SongwriterUniverse 'Best Song Of The Month' Contest for June, for their song 'Fall Down'. This song was written by the band's lead singer and writer, Shawn Michael Bitz. 'Fall Down' is a key cut from AbbySomeone's latest album, Schizosonic, which was released in July 2004.
'Fall Down' is a well crafted, appealing, uptempo cut, which is fun to listen to. The highlight of the song is its strong chorus, which features a hooky melody, plus excellent background harmonies. This recording is crisply produced and mixed by Blake Althen of the Human Factor (a music production studio in Washington DC), and band tracks were adeptly played by Abby SomeOne's Shawn Michael Bitz (acoustic guitar), Chambers Waller (lead guitar), Gary Rose (bass) and Brad Williamson (drums). In addition, each member of the band contributed backing vocals.
Group founder Bitz is a veteran performer and writer, who has been active in the Midwest music scene for two decades. He was born and raised in the hills of South Dakota, and started playing music at a young age. Bitz's father is popular comedian and musician Gary Mule Deer, who has appeared on many TV shows, including Laugh-In, The Smothers Brothers, The Tonight Show, and Late Night With David Letterman.
Bitz started to write songs when he was 20, and he sang lead and wrote songs for several bands, before forming Abby SomeOne in 1998. The group has since released five albums, all which have sold between 2,000 and 7,000 copies. The band has also been a solid touring act for several years, headlining gigs and playing many outdoor festivals throughout the Midwest.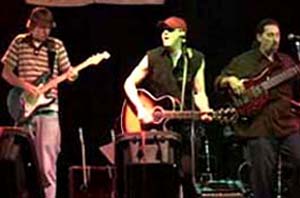 'Fall Down' has been a very successful cut for the band, receiving substantial airplay in 22 states. "Fall Down' is a spiritual song,' explained Bitz. 'It's about the need to surrender to love, and to embrace love, rather than to cow down to fear.' The key phrase in the song's chorus is 'fall down in love.'
Currently, Abby SomeOne is touring steadily, and also looking forward to recording their next album. 'Things are going well,' said Bitz. 'We have an excellent, new manager, Mark Weinand. And we're hoping to record again with Blake (Althen).'
Abby SomeOne isn't the trendy, young band that major labels often look for. But the band has nevertheless built a solid fan base, and continues to grow in popularity. 'We don 't fit the mold of the music industry,' added Bitz. 'We're real guys in a real rock band. We're proud of who we are, and how old we are.'
Top Five Songs Of The Month
Here are the Top Five Songs which were submitted for this month's contest, with the songwriter credits, plus their e-mail and website links. You can listen to the winning songs by clicking the music players below.
"Best Song Of The Month" Winner
Song Title:
Fall Down.
Written by:
Written by Shawn Michael Bitz of Abby SomeOne, Black Hills, South Dakota. Performed by Abby SomeOne.
More Best Songs Of The Month
To enter the next "Best Song Of The Month" Contest (the deadline is the last day of each month), please
Click Here