Kim Erin & Michael Whittaker's "Twisting In A Circle" Named September "Best Song Of The Month"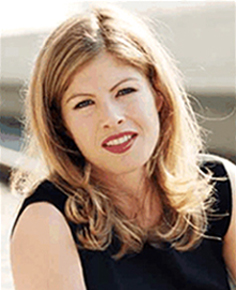 Kim Erin is a talented singer & writer based in Los Angeles, who is coming into her own as an artist and performer. She teamed up with producer/writer/musician Michael Whittaker to write 'Twisting In A Circle,' which has won the SongwriterUniverse 'Best Song Of The Month' Contest for September.
'Twisting In A Circle' is a dynamic, uptempo rock tune, which has a bluesy edge. It has an unique title and descriptive lyric, about surviving and conquering all the twists and turns life can bring. In addition, the recording of 'Twisting In A Circle' is well produced, providing an excellent showcase for Erin's soulful, aggressive vocals, and also spotlighting Whittaker's keyboard & arranging skills.
Erin was born and raised in Toronto, where she learned to play piano and sing at an early age. She later majored in music theatre at Etobicoke School Of The Arts (a renowned arts school) and completed a university degree in Canada. Erin then moved to Los Angeles and entered the graduate program at the Musician's Institute, where she began writing and recording her songs. Erin has since had a couple of noteworthy song credits, writing and singing the songs 'Home' (for the Hallmark CD, A Mother's Heart) and 'Believe' (for the HBO film, Zebra Lounge).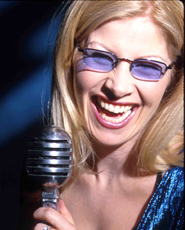 It was during a trip back to Toronto, that Erin came up with the idea for 'Twisting In A Circle.' 'This song was born out of a conversation I had with my brother Darren at a family Christmas reunion,' she explained. 'We're very close, and we talked about our lives, and how we've always been there for each other. I ended up writing the lyrics to 'Twisting In A Circle' with my brother in mind.'
Erin subsequently presented a rough version of this song to Whittaker, whom she had begun collaborating with in Los Angeles. She said, 'Michael helped improve and streamline the song, by re-writing the verse chords, and he also created a great arrangement for the song.'
Currently, Erin is completing her first, full-length CD, which is being produced by Whittaker (a three-song, demo CD is available now). This CD could mark an auspicious debut for this emerging artist. 'Michael and I are very excited about the response to 'Twisting In A Circle,' and we feel strongly about the other songs we're recording. I'm looking forward to finishing the full CD [and releasing it] soon.'
Top Five Songs Of The Month
Here are the Top Five Songs which were submitted for this month's contest, with the songwriter credits, plus their e-mail and website links. You can listen to the winning songs by clicking the music players below.
"Best Song Of The Month" Winner
Song Title:
"Twisting In A Circle".
Written by:
Written by Kim Erin & Michael Whittaker; performed by Kim Erin, Los Angeles, CA.
To enter the next "Best Song Of The Month" Contest (the deadline is the last day of each month), please
Click Here