Darren Moss' "The Real Me" Named January "Best Song Of The Month"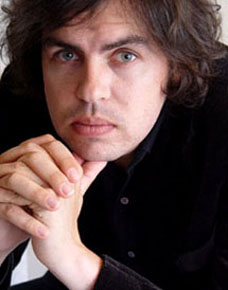 Darren Moss, a talented, singer/songwriter based in Melbourne, Australia, has won the SongwriterUniverse 'Best Song Of The Month' Contest for January, for his song 'The Real Me.' This song was co-written by Jason Bond, who is also based in Melbourne. 'The Real Me' is one of five cuts featured on his new EP, Winning The War, which will be released on January 15 and be available via CD Baby and iTunes.
'The Real Me' is a passionate, mainstream rock/pop song, which has an universal lyric theme that anyone can relate to. It's about believing in yourself and having inner strength, and about getting other people to believe in what you can achieve. The recording features a strong, emotional vocal performance by Moss, plus exceptional production values and musicianship. The overall sound has a majestic, soaring feel to it, especially with its dramatic, string arrangement.
Moss, 26, was born and raised in Melbourne, where he still lives. He grew up in a good, creative environment, with both of his parents loving music. When he was 13, he learned how to play guitar, and soon after he started writing songs. Then in high school, Moss also began playing bass and drums, and formed his first band. Following high school, he formed his second band, called Eye-2-Eye, which stayed together for several years, released some recordings, and played live regularly in Melbourne. By this time, Moss had also become adept at playing piano and other keyboards.
It was in 1997 that Moss began focusing on writing and recording as a solo artist. He was able to develop his songwriting, while simultaneously working days as a copywriter for an advertising agency. 'Being a copywriter helped me with my lyric writing,' explained Moss. 'This is because I had people regularly critiquing my work as a writer, so it improved my level of writing. Then (eventually) with my connections at the agency, I was able to launch, with a friend, a jingles company called Wise Monkey Records. Fortunately, the jingles income helped pay for my recordings as an artist, and gave me the time and flexibility to work on my music and promote it.'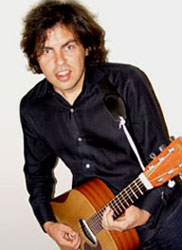 It was in October 2004 that Moss wrote and recorded his song, 'The Real Me.' 'I got a call from a publisher in Los Angeles that I'd been working with, Skip Adams of Global Graffiti,' recalled Moss. 'He asked me to write a song for the NBC-TV show, The Biggest Loser. I wrote the first draft of the song within a day, made some revisions, then I recorded the demo. I sent it to Skip, and he placed it on the show. It's been very exciting, especially since 'The Real Me' was played in four episodes in-a-row.'
Currently, Moss is writing and recording songs for his full,12-song CD, which is scheduled for release in April 2005. He also been performing live regularly as a solo act, and he is planning to put a band together soon. 'Eventually, I would like to make Melbourne and Los Angeles my two home bases, and perhaps have a band in both cities,' said Moss. 'I'm looking forward to releasing my new EP this month, and to finishing my full album. I would love to get involved with a major label, or a top indie label.'
"Best Song Of The Month" Winner
Song Title:
"The Real Me".
Written by:
Written by Darren Moss & Jason Bond of Melbourne, Australia. Performed by Darren Moss. Published by Global Graffiti.
To enter the next "Best Song Of The Month" Contest (the deadline is the last day of each month), please
Click Here