Sherise Valley's "Over The Border" Named December "Best Song Of The Month"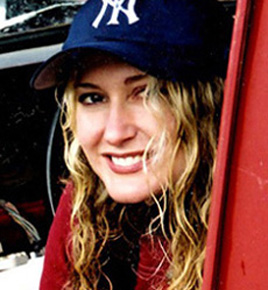 Sherise Valley, a promising, pop/rock, singer/songwriter based in Vancouver, BC, Canada, has won the SongwriterUniverse 'Best Song Of The Month' Contest for December, for her song 'Over The Border.' This song is one of 12 cuts that will be featured on her debut CD, which will be released in early Spring, 2005.
'Over The Border' is a fresh-sounding, modern pop/AAA song, which has a very hooky chorus. The song's lyric chronicles the break-up of a relationship, and how she has moved on from it, with a positive attitude. The recording of 'Over The Border' features Valley's distinctive, appealing lead and harmony vocals. Valley wrote this song by herself, and she also played most of the guitar tracks on this cut, including lead, electric guitar.
Valley was born and raised in a suburb of Toronto, where her family still lives. She grew up loving music, but she didn't seriously pursue writing and performing until much later on. Valley earned her undergrad degree at the University of Toronto, then she moved to Victoria, BC where she received her Master's degree (in environmental law & policy) from the University of Victoria.
It was after completing her education, that Valley focused more on her songwriting and playing. 'Two years ago, two things happened which gave me confidence in my music and writing,' explained Valley. 'I received a grant from FACTOR (Foundation to Assist Canadian Talent on Records). I also was accepted by the British Columbia Festival of the Arts for their songwriting workshop.'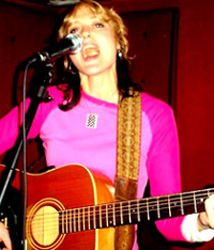 One of the first songs she wrote for her upcoming album was 'Over The Border.' 'I wrote 'Over The Border' after my boyfriend dumped me,' said Valley. 'I decided to take that experience (of the break-up), and channel it into a positive song, about freedom and power as an individual. The title is a metaphor for getting past something, and moving forward.' Notably, 'Over The Border' has been selected for the It Came Out Of Fernwood CD, which is a compilation of cuts by promising artists from the Victoria/BC region.
Valley is in the process of completing her album, which is being co-produced by Juno-nominated producer/musician Mark Makoway (who is guitarist for the rock band, Moist). 'I've recorded tracks at several studios, but the constant thread of the album, is that every cut is being mixed and co-produced by Mark (at this Rumblecone Studio in Toronto). 'I'm really happy with how the songs are turning out, and I'm looking forward to either releasing the album independently, or possibly signing with a [major] label. My plan is to play more live shows, and to get my CD to as many people as possible.'
"Best Song Of The Month" Winner
Song Title:
"Over The Border".
Written by:
Written & performed by Sherise Valley of Vancouver, BC, Canada.
To enter the next "Best Song Of The Month" Contest (the deadline is the last day of each month), please
Click Here