Kristy Kay's "Not So Perfect World" Named August "Best Song Of The Month"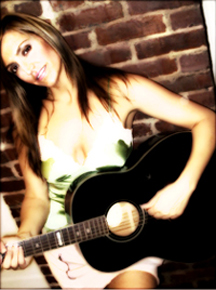 Kristy Kay, a talented, singer & writer based in Nashville, TN, has won the SongwriterUniverse 'Best Song Of The Month' Contest for August, for her song 'Not So Perfect World.' She wrote this song with Michael Patzig of New York City, who also produced the recording. 'Not So Perfect World' is one of ten cuts Kay has written with Patzig, several which will be included on her upcoming, full album release.
"Not So Perfect World' is a very well crafted, modern pop/rock tune, which has a powerful, emotional chorus. The first chorus immediately grabs the listener's attention, and the song continues to build until the final chorus & fade. The recording features Kay's strong, passionate vocals, plus excellent music tracks played by Patzig (acoustic & electric guitars) and other pro musicians.
Kay grew up in Los Angeles, and she was raised in a very music-oriented environment. Not only were her parents classically-trained musicians, but her grandparents and great-grandparents were also expert musicians. 'I was surrounded by music growing up,' recalled Kay. 'I was always singing, whether it be for choir or musical productions, or for civic performances, such as national anthems and political fund-raisers. Then after high school, I was able work professionally as a singer, doing commercials and film projects.'
It was also following high school that Kay started writing songs. In fact, it was her strong interest in songwriting that led her to move to Nashville in 1997. 'When I visited Nashville, I learned it was such an amazing songwriter town,' said Kay. 'So I moved to Nashville and really focused on writing. I've been living in Nashville ever since, although I commute a lot to New York and LA for my work as a singer.'
During one of her trips to NYC, Kay was introduced to Michael Patzig by Patrick Conseil (who was then a creative exec at Warner-Chappell Music). The first song she and Patzig wrote was 'Not So Perfect World.' 'Michael and I hit it off as a writing team; we've now written 10 songs together,' explained Kay. "Not So Perfect World' is about infidelity. It's about being in a relationship, but then seeing someone else that you might want to be with. It's kind of a Nashville cheating song, with a pop-rock music track.'
Kay is currently meeting with A&R execs for a new label deal (she was signed to Universal Records for a singles deal in 2002), and she is also being pursued by several music publishers. In addition, she has a five-piece band, and performs regularly at clubs in Nashville (the Sutler, Exit Inn, and 12 & Porter) and in NYC (Arlene's Grocery, Knitting Factory, the Living Room). 'Things have been very busy, between my writing and performing (as an artist), plus my singing gigs (commercials, sessions, film work). I'm looking forward to finishing my album, and it would also be great to write songs for other artists.'
Top Five Songs Of The Month
Here are the Top Five Songs which were submitted for this month's contest, with the songwriter credits, plus their e-mail and website links. You can listen to the winning songs by clicking the music players below.
"Best Song Of The Month" Winner
Song Title:
"Not So Perfect World".
Written by:
Written by Kristy Kay (of Nashville, TN) & Michael Patzig (of New York, NY). Performed by Kristy Kay.
To enter the next "Best Song Of The Month" Contest (the deadline is the last day of each month), please
Click Here