Salme Dahlstrom's "Thinking About It…Baby" Named July "Best Song Of The Month"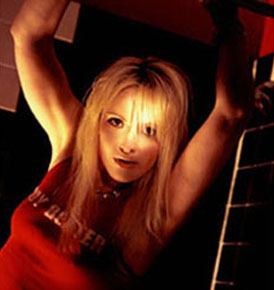 Salme Dahlstrom, a multi-talented, singer/writer/producer/musician based in New York City, has won the SongwriterUniverse 'Best Song Of The Month' Contest for July, for her song 'Thinking About It'Baby.' This song was co-written by Mark Partridge, who wrote the lyrics to the second verse. 'Thinking About It'Baby' is one of five cuts featured on her just-released EP, The Acid Cowgirl Audio Trade, an online release by Innerdream Records, which is available via the iTunes website.
'Thinking About It'Baby' is an exciting, electronic dance/rock cut which practically jumps out of the speakers. It immediately catches the listener's attention, and sustains a high-energy level via its propulsive beat and techno sound effects. It also has a very catchy melody, particularly in the chorus. Impressively, Dahlstrom produced this recording, sang all the vocals, and played most of the instruments (everything except the guitar tracks, which were expertly played by Aaron Freeman).
Dahlstrom grew up in Stockholm, Sweden, where she learned to play piano and guitar at an early age. She got into songwriting at age 10, and became a fan of top, pop songwriters such as Desmond Child, Billy Steinberg and Diane Warren. 'I really loved [these writers'] great songs,' said Dahlstrom. 'I like the way they get into the character and thoughts of the singers they're writing for. I really tried to learn from their songs.'
Dahlstrom later played in bands as a teenager, and she subsequently signed a label deal with Stockholm/Polygram Records. She released several singles, as a solo artist and with a band. In 1996, she also signed a publishing deal with EMI. 'Signing with EMI was the best education I could get,' she explained. 'I spent a lot of days and nights working in their studio, learning the crafts of songwriting, engineering and producing.'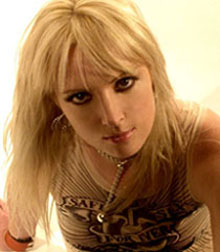 At the end of 1999, Dahlstrom moved to New York City, where several labels expressed interest in her new band, called Aboyandagirl. Also by this time, she became excited about creating new music with an electronic/techno sound, having been influenced by such cutting-edge, U.K. artists as Fatboy Slim, Prodigy and the Chemical Brothers. Then in 2002, Dahlstrom was signed briefly to Ruff Life/Warner Bros. Records. But ultimately, she decided to create and record her music as an independent artist.
Dahlstrom has devoted this year to writing and producing her new songs, five of which appear on her EP, The Acid Cowgirl Audio Trade (via her licensing deal with Innerdream Records). These five songs truly mark a creative breakthrough, with her excellent writing, production and musician skills in full display. 'I'm excited about the new EP, and being able to release it on iTunes,' said Dahlstrom. I am in the midst of writing and recording several new songs, for an upcoming, full album release. Also, I'm looking forward to collaborating with some terrific new producers & writers, and performing live again.'
"Best Song Of The Month" Winner
Song Title:
"Thinking About It...Baby".
Written by:
Written by Salme Dahlstrom & Mark Partridge of New York, NY. Performed by Salme Dahlstrom.
To enter the next "Best Song Of The Month" Contest (the deadline is the last day of each month), please
Click Here