Meg Tennant's "Driving With You" Named May "Best Song Of The Month"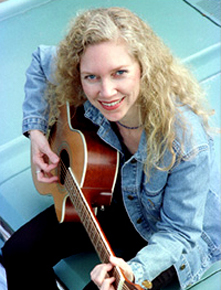 Meg Tennant, a gifted, veteran singer/songwriter based in Vancouver, BC, Canada, has won the SongwriterUniverse 'Best Song Of The Month' Contest for May, for her song 'Driving With You.' This song is one of 10 cuts featured on her debut CD release (also titled Driving With You), which was released in June 2001.
'Driving With You' is an excellent, midtempo, acoustic/folk cut, which features Tennant's expressive vocals, and solid, backing music tracks by Tennant (who played acoustic guitar) and her producer, John Ellis (who played guitar, bass and drum programming). The music arrangement creates a gentle, easy-going mood, and the Tennant's lyrics are thoughtful and articulate.
Tennant grew up in Sault Ste. Marie, Ontario, and she learned to play piano at an early age. During high school, she also started playing guitar, and she eventually began writing songs on both guitar and piano. Her favorite artists growing up were Joni Mitchell, CSNY, Bob Dylan and the Eagles. Then in her early '20s, she moved to Vancouver, where she sang and played in several groups, including the Lingo Sisters, a duo she formed with her friend, Janet Russell. The Lingo Sisters performed actively in the Vancouver area for five years, and Tennant & Russell wrote all of the duo's songs.
Subsequently, Tennant decided to concentrate on her solo career, and she began writing and recording her album. 'I'd been wanting to make a CD for many years, but I waited until I was happy with all the songs,' explained Tennant. 'I was excited to work with John Ellis, who is an amazing producer and musician (who is known for producing prominent, Vancouver-based acts the Be Good Tanyas and Wyckham Porteous).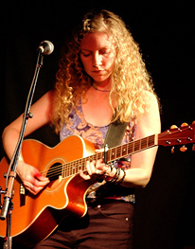 'Driving With You' is a contemporary love song, but it was also inspired by Tennant's fond memories of growing up, and riding in the back seat of her parents' car. 'When I was young, I really enjoyed riding with my family, sitting in the back seat, and watching the world go by,' recalled Tennant. 'I wanted to evoke the carefree, breezy feeling of driving along. It feels very free.'
Since its release, 'Driving With You' and her CD have gotten a very good response in the Vancouver area, and in the Canadian folk music community. The album has received airplay in Vancouver, and throughout Canada on CBC radio. Tennant also performs regularly in the Vancouver area, including both club gigs, and local festivals. 'I just want to keep writing, and also do more touring,' said Tennant. 'I'd love to get my songs covered by other artists. It would also be great to collaborate with other writers. I love co-writing, and just creating a good song.'
Top Five Songs Of The Month
Here are the Top Five Songs which were submitted for this month's contest, with the songwriter credits, plus their e-mail and website links. You can listen to the winning songs by clicking the music players below.
"Best Song Of The Month" Winner
Song Title:
"Driving With You".
Written by:
Written & performed by Meg Tennant, Vancouver, BC, Canada.
To enter the next "Best Song Of The Month" Contest (the deadline is the last day of each month), please
Click Here