Sarah McMullen's "Now Or Never" Named August "Best Song Of The Month"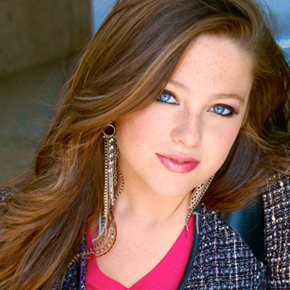 Sarah McMullen, a promising, pop singer/songwriter based in Kansas City, KS, has won the SongwriterUniverse 'Best Song Of The Month' Contest for August, for her song 'Now Or Never" (co-written by Jonathan George, Andrew Lane & Kendra Pruitt). This song is included on current 3-song EP called Skyscraper, which she released independently in July (2011).
'Now Or Never" is a well-crafted pop uptempo song, which seems ideal for contemporary pop radio airplay. The recording has a modern, keyboard-based arrangement, and features a strong chorus section. McMullen sings this song with energy and emotion, particularly in the chorus. "Now Or Never" was adeptly produced by Jonathan George & Andrew Lane, with Lane playing the keyboard tracks. Notably, George is a vocal & performance coach and writer/producer who has worked with the Pussycat Dolls and Dream. Lane is a writer/producer who has worked on the High School Musical and Hannah Montana soundtracks, and worked with rock band Paramore.
McMullen, who is 16, was born and raised in Kansas City. She currently attends high school, and she is pursuing both a music and acting career. By age 13 she was signed to two agencies (for her acting), Savage Agency in Los Angeles and Exposure Inc. in Kansas City. McMullen landed a supporting role in the film Last Ounce Of Courage, which stars Marshall Teague and Jennifer O'Neill. She also began writing songs (mainly lyrics and melody), and her first song was called "How Do I Break Free."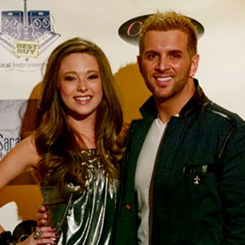 Three years ago, when McMullen was in Los Angeles for auditions, she was referred to Jonathan George. He helped her with performance and vocal coaching, and they began writing together. They wrote several songs which were included on McMullen's debut 8-song CD, which was called Surround Me and released in October 2010. The songs on Surround Me were more in the pop/rock genre.
For her new EP Skyscraper, McMullen decided to create songs that were more in a pop/dance style. "We wanted to the songs to have more dance–more electric and feel good, making beats and melodies," explained McMullen. "I'm also excited about the [dance song] 'Skyscraper," for which we produced a new video."
In addition to her writing & recording, McMullen has also been developing her live performance skills, and she is playing gigs steadily. She recently was the opening act for a Red White & Boom Show in Kansas City, which was headlined by Big Time Rush and Shontelle and sponsored by Mix 93.3 radio station. In September, McMullen will also be performing in the VIP Lounge for the Selena Gomez show at the Starlight Amphitheatre.
Top Five Songs Of The Month
Here are the Top Five Songs which were submitted for this month's contest, with the songwriter credits, plus their e-mail and website links. You can listen to the winning songs by clicking the music players below.
"Best Song Of The Month" Winner
Song Title:
"Now Or Never."
Written by:
Sarah McMullen, Jonathan George, Andrew Lane & Kyndra Pruitt. Performed by Sarah McMullen.
More Best Songs Of The Month
To enter the next "Best Song Of The Month" Contest (the deadline is the last day of each month), please
Click Here