Jessica Caylyn's "Just Can't Help Myself" Named April "Best Song Of The Month"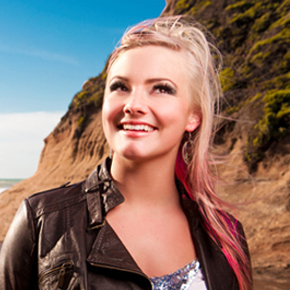 Jessica Caylyn, a promising, young country/pop/rock singer/songwriter based in Antioch, CA, has won the SongwriterUniverse 'Best Song Of The Month' Contest for April, for her song 'Just Can't Help Myself' (co-written by Steffon Hamulak, Emily Shackelton & Boh Cooper). This song will be included on her debut EP, On The Edge, which she will release independently in May (2011).
'Just Can't Help Myself ' is an appealing, uptempo country song which is well crafted, and features a hooky chorus. The song provides a good opportunity for Caylyn to showcase her expressive lead vocals, and to convey the playful attitude of the lyrics. "Just Can't Help Myself" was expertly produced in Nashville by Steffon Hamulak, who is known for his co-writing & production work with country duo Steel Magnolia and young artist Courtney Dickinson.
Caylyn (who is 18) was born in Berkeley, CA and she grew up in Antioch, which is 45 minutes northeast of San Francisco. She began taking singing lessons when she was 10, and she learned to play guitar so she could start writing songs. Caylyn also started to perform publicly as a teenager, singing the national anthem at the San Francisco Giants and Oakland A's baseball games, and performing at county fairs.
Caylyn also learned the craft of songwriting by attending several workshops hosted by NSAI and WCSA (West Coast Songwriters Association) during the past two years. "Going to these workshops has really helped my songwriting, and it's good to be a part of these songwriter organizations," said Caylyn.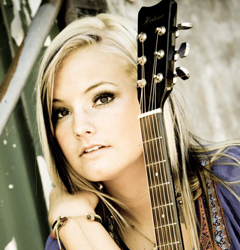 Following high school, Caylyn decided to focus on her music fulltime. She was able to contact producer Steffon Hamulak via his MySpace page, which led to her flying to Nashville for the first time in October 2010 to meet with Hamulak and other songwriters. She and Hamulak hit it off, so Caylyn flew to Nashville again in January 2011 to co-write and record her EP. "It was great working with Steffon, and he introduced me to Emily Shackelton (who is signed to the publishing company of Liz Rose, who wrote many hits with Taylor Swift) and Boh Cooper," she said.
Now with her EP On The Edge coming out in May, Caylyn is looking forward to promoting her EP and getting exposure. She now has a six-piece band, and they have been playing shows throughout California. "I want to perform many shows with my band, including festivals, fairs and fund-raisers," said Caylyn. "I also will be playing solo acoustic shows. And I'm planning more trips to Nashville to co-write, record and network."
Top Five Songs Of The Month
Here are the Top Five Songs which were submitted for this month's contest, with the songwriter credits, plus their e-mail and website links. You can listen to the winning songs by clicking the music players below.
"Best Song Of The Month" Winner
Song Title:
"Just Can't Help Myself."
Written by:
Jessica Caylyn, Steffon Hamulak, Emily Shackelton, Boh Cooper. Performed by Jessica Caylyn of Antioch, CA.
More Best Songs Of The Month
To enter the next "Best Song Of The Month" Contest (the deadline is the last day of each month), please
Click Here