AndrewVictoria's "It's Not Over" Named March "Best Song Of The Month"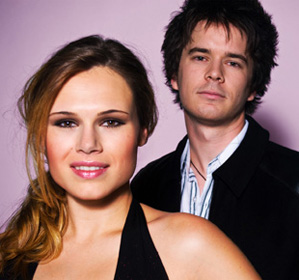 AndrewVictoria, a promising pop/rock, singer/songwriter duo based in Hamilton, ON, Canada, has won the "Best Song Of The Month" Contest for March, for their song "It's Not Over." This song is featured on their debut self-titled EP AndrewVictoria, which they released independently in October (2010). This duo consists of Andrew Rudd & Victoria Boland.
'It's Not Over ' is a midtempo acoustic ballad, which features expressive lead & harmony vocals by Victoria, with Andrew playing all the music tracks and expertly producing the cut. A highlight of the song is its intelligent, heartfelt lyric theme, which is about having the faith to move forward in positive direction, even after suffering a setback or disappointment.
"I wrote the lyrics in 2005 when I was going through some difficult times," explained Victoria. "Then in 2009 when I was writing with Andrew, he played some music which fit the lyric perfectly, so we finished this song. Since then (for the past two years), we've been performing 'It's Not Over' in our live show."
Before they had met, Andrew & Victoria each lived in several different countries; with both residing for years in Australia. But it was in Hong Kong that they met and began working together. "I had moved to Hong Kong, and I was playing in a band (as lead guitarist & bandleader) at the Cavern Club there," recalled Andrew. "Victoria (subsequently) moved to Hong Kong and she joined the group as lead singer. We started to collaborate and we really hit it off. After our contract with the band ended, we decided to move back to Australia and formed our duo, AndrewVictoria. We've now been a duo for five-and-a-half years now."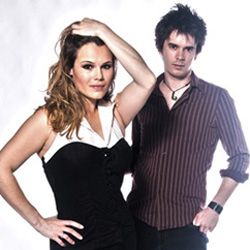 In addition to writing & recording their original music AndrewVictoria have made a living as professional musicians & performers. "We've had a lot of music jobs which have taken us to many countries," said Victoria. "We've played on the Holland America cruise line, and we've done many corporate bookings. For these jobs we mostly play cover music, but we do get to perform our original songs too. [Doing these jobs ] has been a good way to earn a living as musicians, and it gives us the time to write and record our own material."
With the release last October (2010) of their EP AndrewVictoria, the duo has been promoting their EP in a number of ways. "We've entered several song contests via Sonicbids and Broadjam," said Victoria. "We're also pitching our songs for film & TV and soundtracks, and we're performing more shows which focus on our own material. In addition, we're looking forward to starting a new recording project–we've written 30-40 new songs."
Top Five Songs Of The Month
Here are the Top Five Songs which were submitted for this month's contest, with the songwriter credits, plus their e-mail and website links. You can listen to the winning songs by clicking the music players below.
"Best Song Of The Month" Winner
Song Title:
"It's Not Over."
Written by:
Andrew Rudd & Victoria Boland of Hamilton, ON, Canada.
More Best Songs Of The Month
To enter the next "Best Song Of The Month" Contest (the deadline is the last day of each month), please
Click Here