Ellen Xylander's "One Day We'll Make It Home" Named May "Best Song Of The Month"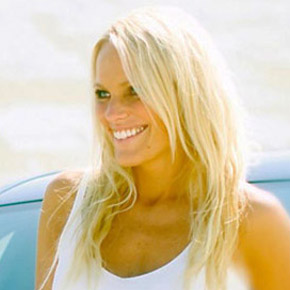 Ellen Xylander, a promising pop singer/songwriter based in Oslo, Norway, has won the SongwriterUniverse 'Best Song Of The Month' Contest for May, for her song "One Day We'll Make It Home.' This song was originally released as a single in 2011, and it will be included on her debut album, which she will release later this year.
'One Day We'll Make It Home' is an appealing, AC/pop midtempo song which has a pretty melody. The song starts off simply with an understated guitar track, and then builds into a full band sound in the chorus. The lyric has a positive, hopeful theme about not giving up, and keeping a positive attitude despite adverse events which may occur. Xylander sings this song with heartfelt emotion. The recording was expertly produced by Fredrik Larnemo at Recordia studio in Varberg, Sweden.
Xylander was born in Oslo, and she grew up in the countryside in Lier (population 22,000), which is a 40-minute drive from Oslo. She started to play classical piano at age six, and she later learned to play guitar. Xylander was inspired early on by listening to classical music (Grieg, Chopin, Beethoven) and watching music theatre productions such as Chess. Later on, she was influenced by pop artists such as the Corrs and Alanis Morissette. During her high school years, Xylander regularly played piano and sang at local venues, developing her performance skills.
For college, Xylander attended Queen Margaret University in Edinburgh, Scotland. She  subsequently graduated with a B.A. degrees in Communications and Journalism, but she decided instead to pursue her music career fulltime. She played keyboards in a band, and she developed her songwriting. It was in 2011 that she released "One Day We'll Make It Home" as her debut single. Notably, Xylander has also written songs for other artists. In 2012 she co-wrote "Try To Catch Me," which became an iTunes hit in Norway for Sony Music artist, Lene Alexandra. She also has a cut with Michelle Aavitsland, which will be released in 2014.
Xylander discussed the events which inspired her to write "One Day We'll Make It Home." "I was in a state of grief when I sat down at the piano to write this song. Two close people in my life had passed away from having cancer, and another close family member needed my daily care. I had also ended a long relationship. I needed a piece of hope…a song to cling to. I wanted to share a message to the world that no matter how our life looks, there is always hope in what we've still got, here and now. We make mistakes, we try to do our best in every moment, we cannot always change the hand life deals us; what counts is how we look at it and to make the decision to fight and live for what we've got, even if we're far from a life we dreamt of. Because one day we'll make it home; a "home" that can symbolize so many different things, most of all a better state of life."
Currently, Xylander is working on her debut album and playing live shows. She will be releasing two new singles from her album, "Reckless Hearted" (in June) and "Somebody" (in September). In addition, she has filmed a very good video of "One Day We'll Make It Home," which has been aired on Norwegian TV and on the interactive show, NRK Jukeboks.
Top Five Songs Of The Month
Here are the Top Five Songs which were submitted for this month's contest, with the songwriter credits, plus their e-mail and website links. You can listen to the winning songs by clicking the music players below.
"Best Song Of The Month" Winner
Song Title:
One Day We'll Make It Home.
Written by:
Ellen Xylander of Oslo, Norway. Performed by Ellen Xylander.
More Best Songs Of The Month
To enter the next "Best Song Of The Month" Contest (the deadline is the last day of each month), please
Click Here