Katherine Penfold's "Love" Named March "Best Song Of The Month"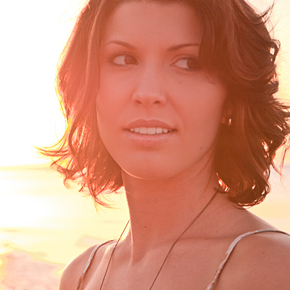 Katherine Penfold, a talented pop singer/songwriter based in Vancouver, BC, Canada, has won the SongwriterUniverse 'Best Song Of The Month' Contest for March, for her song "Love.' This song is included on her latest album, Love, which she originally released in Australia last September (2012). The album will be re-released in Canada this May, with a new cover.
'Love' is an appealing, breezy pop song which is pleasant to listen to. It starts with a simple, acoustic guitar intro, and then gradually builds into a full arrangement with strings and even a nice harp part. With its upbeat, lyric theme about "love," this song could work very well for a film/TV placement and possibly a commercial. The song also provides a good showcase for Penfold's clear, expressive vocals, and she plays acoustic guitar on the recording. "Love" was produced by Jordan Jackiew, a Juno Award winner who played keyboards on this cut.
Penfold was born in Nova Scotia and grew up in Manitoba, where she was inspired by listening to such favorite artists as Barbra Streisand, Joss Stone, Anne Murray and Marc Jordan. Early on she learned to play piano, and she started writing songs when she was 14.
For college, Penfield studied classical piano and jazz at Brandon University in Manitoba. However, she eventually decided to focus on pop music, and she left Brandon to pursue her artist and performing career.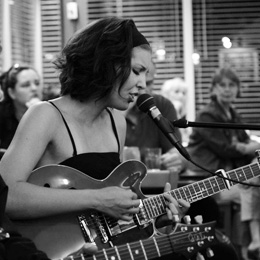 Notably, in 2008 Penford won a $25,000 prize for winning the Project Cool (Radio) Songwriters Award. She utilized this money to record her debut album Journals, which she released in 2009. Then a year later, Penfold released her second album, a live recording calledKatherine Penfold Live At The Park. Both of these albums were also produced by Jordan Jackiew.
Penfold's began to work on her latest album, Love, in 2010. "The new album took quite awhile to create'it's been two or three years in the making," explained Penfold. "I'm very happy with the album, and we've been busy promoting it. We've already filmed a video for my song 'Lullabies,' and we'll be doing a video for the song 'Love' too."
In addition, Penfold will be steadily performing live this year. She is preparing to embark on a two-month tour of Western Canada this July, which will include shows with her band and some solo gigs. Penford will also be playing some shows in Australia. Lastly, Penfold will be recording an EP of Christmas songs, which she will release at the end of this year.
Top Five Songs Of The Month
Here are the Top Five Songs which were submitted for this month's contest, with the songwriter credits, plus their e-mail and website links. You can listen to the winning songs by clicking the music players below.
"Best Song Of The Month" Winner
Song Title:
Love
Written by:
Katherine Penfold of Vancouver, BC, Canada. Performed by Katherine Penfold..
More Best Songs Of The Month
To enter the next "Best Song Of The Month" Contest (the deadline is the last day of each month), please
Click Here